If you've ever bought a cake at Carulla, you've almost certainly tried a cake made by Joyce, one of Bogotá's most famous bakeries. After nearly 46 years in the business, founder Joyce Mitrani shares some of the stories behind her brand and its longevity – though none of her secret recipes.
---
As niches in the market go, it was simple but highly effective. Bogotá in 1971 was a place where you could buy cake, but only by the slice. So when Joyce Mitrani – whose specialism in music analysis and criticism was not so highly sought after in Bogotá 45 years ago – ran into a neighbour looking desperately for an entire cake, she saw an opportunity.
Fast forward to 2017 and the Joyce brand is one of the most established in Bogotá, selling thousands of cakes a year in its five stores as well as directly supplying the likes of Carulla.
Yet to see Joyce – now 77 years old – in action at the cafe that serves as a headquarters on the Calle 90, is in some ways like watching an enthusiastic young entrepreneur building a business from the heart.
Related: Intern Colombia: Interning Internationally
She cares passionately about her business and products, and is constantly trying to improve them.
"The continued search for an excellent product is what keeps me going," she tells us. "It is always a challenge, because cake-baking is not as scientific as other industries. There is manual labour and human error involved."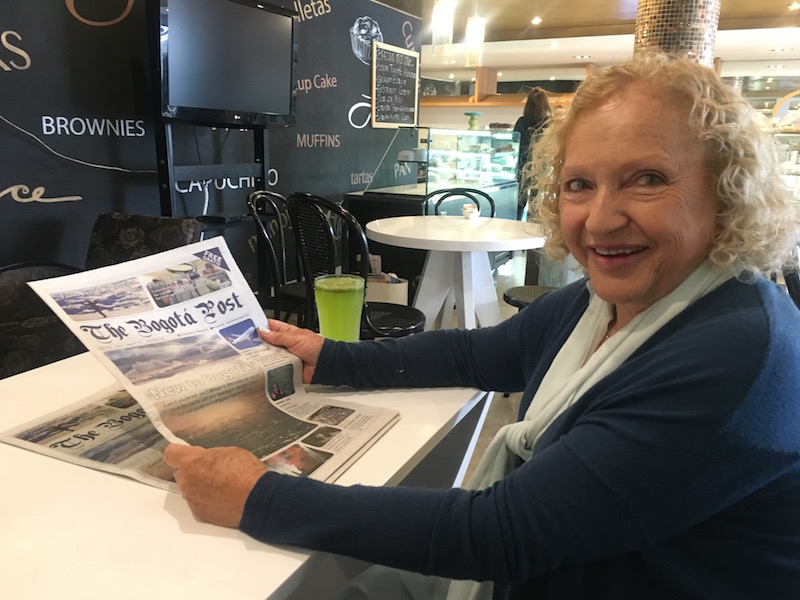 At the same time, Joyce carries all the authority of someone who has led a successful business for nearly half a century. No fewer than three times during our 40 minute coffee break, employees interrupt us with urgent queries.
First, there are some doubts from the kitchen about a batch of bread that is not turning out as planned. The tray of rolls is duly brought out to our table for inspection from Joyce's expert eye.
"It needs 15 minutes more, and it won't leave here until it's absolutely perfect," she says.
Then a customer comes in asking for a cake for a business meeting she's organising for some clients visiting from the USA and is seeking a recommendation on the flavour. The waitress immediately consults Joyce on the final decision: choconuez or just plain old chocolate?
"Chocolate", apparently, is the right choice.
Finally, there's a visit from an acueducto representative, who are doing some waterworks for a new build opposite the store and needs cooperation from the neighbours. Again it is Joyce who gives the final response.
It is quite remarkable to see the founder so hands-on in such an established business. But then, Joyce is more aware than anyone of the secret to keeping a business going for so long.
"Consistency is the secret," she says. "We have a name that is automatically associated with quality. Nothing will go out to a client if it not perfect. This has kept us in the market for so long."
Self-raising business
Though now looking eminently comfortable in her role as queen of cakes, it was not necessarily always going to end up like this. What started as a way to help the family economy soon took on a life of its own.
After that first cake for the neighbour came a coconut cake for a local deli where Joyce was a customer. Once that sold, the deli continued to buy and the business soon migrated from the kitchen to the garage, with three employees. Joyce's father was so impressed by the progress that he said he would help to industrialise the business – as long as her husband gave up his business within 15 days.
He duly obeyed and by early 1972 Joyce had the store on the Calle 90 where she can still be found most days.
"There was no one like us around, and the business just grew by itself," says Joyce.
After two years, and having started with just Betty Crocker's cookbook for guidance, Joyce realised she needed professional help.
"I hired an expert who worked here for nine months and taught me a tremendous amount," she says.
Not that she ever stopped learning. Finding herself at a crossroads at the age of 59, Joyce went back to school – to baking school in Fort Lauderdale, Florida.
"I was the oldest one there and nobody knew I had a bakery – I deliberately didn't tell them," she says. "I graduated as a pastry chef, which meant I was not as scared of the fancier pastries as I was before."
Baking for Bogotá
This determination to keep improving and beating the high standards she sets for herself is perhaps what has allowed Joyce to thrive across a rapidly changing and rather volatile Bogotá business environment.
In the early days, Joyce recalls mafia bosses visiting and ordering cake after cake, paying for everything in cash.
Then, when Enrique Peñalosa was in his first stint as mayor, what had been an ideal location of Joyce's flagship store suddenly turned into a nightmare. Peñalosa used the Calle 90 as a pilot for his famous bolardos scheme, designed to stop people parking on the street.
While bogotanos may have become more accustomed to getting around on buses, bikes or on foot, most would not dare to do so with a delicate milhoja in their hands.
"I went physically broke and had to sell seven of the 11 stores I had at the time," she says. "The main store, which accounted for 60% of our sales, was blocked for three years."
That wasn't the only setback they have survived. A four year venture making bread for McDonalds in an automated factory ended when the US company withdrew the market for Venezuela – where the plant was sending 87% of its produce.
Related: Colombian budget supermarket battle
One thing that has not changed, thankfully for Joyce, is the Colombian habit of sitting down for a tinto. But the pace of life has affected customers in other ways.
"Colombians still have time for a tinto, but they do not bake at home as much they used to, so they buy more cakes," she says.
Furthermore, Colombians travel more, gaining more sophisticated tastes, and compelling food businesses to become sophisticated. A business that began with eight recipes now has more than 160 – all Joyce's, of course.
"Developing products has been something that has kept us in the ball game," she says.
Perhaps this need to innovate is what enables Joyce to maintain the energy levels needed to work five and a half 10 hour days per week (though Joyce herself says she has no idea where this energy comes from).
"I love creating," she says. "Nothing drives me more than to create a new formula."
This could be Joyce's future; her dream is to dedicate herself exclusively to the development of new products.
But although the idea of retirement can sound attractive in a demanding business, I wouldn't bet my last slice of chocolate cake on it happening any time soon.
"I could not imagine myself not working," Joyce concludes. "After 45 years, I couldn't go back to playing cards and going out for lunch – I'd be bored to death."
And with that, off she went to check the latest batch of bread.
---