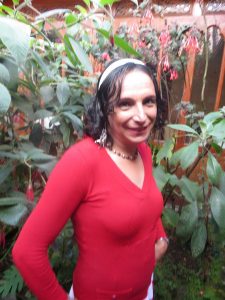 Derly Lizeth Linares, owner of Transtienda, speaks with The Bogotá Post about the shop she set up specifically for closet transvestites three years ago.
---
Having experienced the problems of coming out as transvestite first hand, she decided to create the boutique "as a place where they can come, dress up and spend some time as themselves."
Derly says the biggest barrier facing Colombian transvestites is the fear of being rejected by their family. It becomes "something so intimate that neither your mother, father nor spouses know about it, because when you tell them they associate it with homosexuality."
A common misconception people have is that appearance and sexuality are linked. Derly, for example, is in a relationship with a straight woman, with whom she is five months pregnant. It is also possible for transvestites and transgender people to identify as gay or bisexual: the fact they dress up in women's clothing is not indicative in any way of sexuality.
But there are a lot of other difficulties facing transvestites.
"On the social side, friendships are difficult – I have only two friends who support me," she said, adding, "It's not easy for transvestites to earn money. No one will employ you."
However, Derly believes times are finally changing. She says police have become more respectful and that street harassment is less common than in years past. In spite of this, when out with her transvestite friends, they regularly have problems with people making comments, and a friend was recently put in jail for 24 hours when stopped by police in her car while dressed as a woman.
With the only openly-transvestite shop in Colombia, Derly is not short of customers. She has had clients come all the way from Russia and says, "I have people coming from 14 years old, saving up pocket money to come to the shop."
She personally remembers dressing up as young as five, saying, "Transvestitism is not something you develop, it's born with you."
Derly has been 'out' fully for two and a half years, and hopes to help others to find the courage to be themselves. At the very least, she says, "I give them a place to seek respite."
Transtienda is located on Carrera 10 # 17-67, locales 450, 469 and 491. Phone: 3143324565.
Read more here, here and here.
---
By Steven Grattan