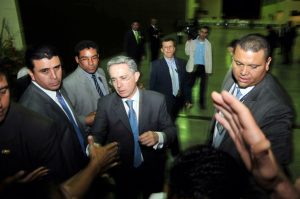 After much indecision on whether he will stay in Congress, Senator Álvaro Uribe has a date with the Supreme Court this Monday where he may provide evidence into charges made against him of procedural fraud and bribery.
Former President Uribe had initially challenged the impartiality of the three judges on July 30 on their suitability in hearing a case that he had deemed overly-politicised. The challenge of impartiality was directed towards Magistrates José Luis Barceló, Luis Antonio Hernández and Fernando Alberto Castro.
The Supreme Court has since declared that the challenge is unfounded and that Uribe will have his day in court. The hearing will now be in Room 3 of the Court's Criminal Chamber next Monday September 3.
On Monday, Uribe himself announced that he would not be appealing the Court's decision and would be withdrawing his initial challenge.
The Court will now have the opportunity to overlook evidence relating to witness-tampering of prisoners in claims involving the connection between Uribe's brother Santiago and paramilitary groups. The initial claims of witness intimidation had been made by Senator Iván Cepeda in Congress in an explosive testimony that eventually led to the Supreme Court wanting to proceed with its own investigation.
Anatomy of a Resignation: How Uribe went from kingmaker to out of Congress
The continuing of the investigation had been what originally led Uribe to claim on July 24  that he would resign from the Senate, citing the case against him would conflict with his obligations as a Senator.The next week, however, the former Colombian President had a change of heart and withdrew his resignation.
The Supreme Court on the other hand has remained consistent with their desire to investigate the charges of witness-tampering and one of the major decisions they will make in the next week is as to whether to open a formal investigation against Uribe on these serious charges.