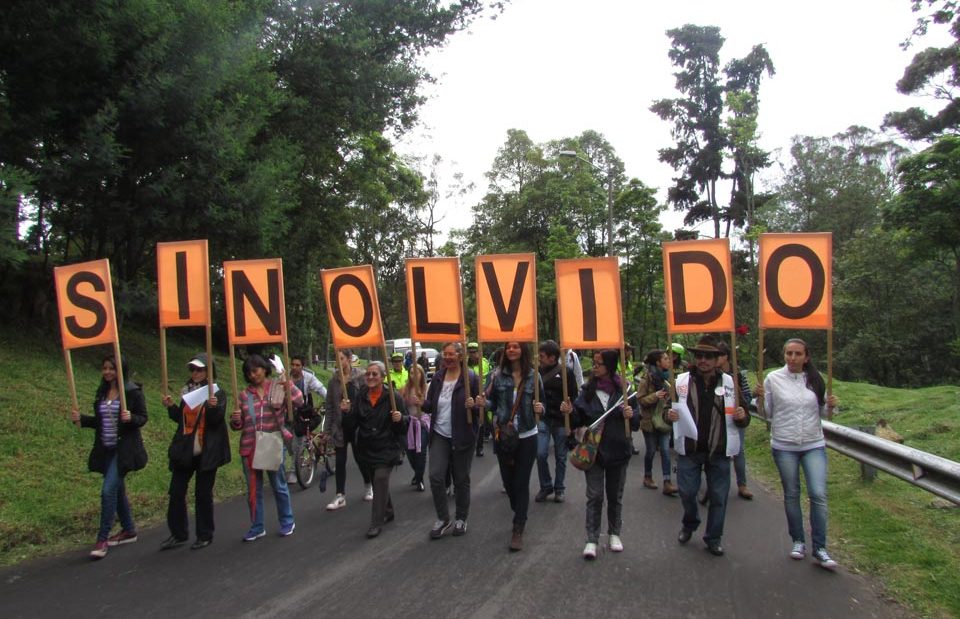 Faye Griffiths speaks to the sister of Rosa Elvira Cely, who is still seeking justice for her sister's rape and murder
---
In the small hours of Monday, May 28, 2012, Rosa Elvira Cely died alone in Bogotá's Santa Clara Hospital. She was 35 years old. It was a damp and grey morning; the sun didn't break through the clouds that day. Her family had been warned, before being sent home the night before, that only a miracle could save her. Of course, no miracle came, for there are none in this story. Hers is an appalling tale of multiple failings on behalf of the state and of the endemic political culture of impunity and victim-blaming.
Just five days earlier, Rosa Elvira, a single mother who had been studying nights to obtain her high school certificate, went for a couple drinks with two of her colleagues, Javier Velasco and Mauricio Ariza. Later, Velasco offered her a lift home on his motorcycle. However, instead of taking her home, he drove up the circumvular behind Parque Nacional, hit her over the head with a blunt object and dragged her into the park where, allegedly accompanied by Ariza, he raped, tortured her. He stabbed her with a knife, and vaginally and anally impaled her with tree branches. She was left for dead, but was able to phone 123.
Although Adriana Arandia Cely, Rosa's sister, stresses that it's impossible to know whether better emergency service response and medical care could have saved her sister's life, Rosa was clearly treated like a second class citizen before and after her death.
When her 123 call was first logged, the process of locating her should have begun. Instead, according to Adriana, the receiver asked her irrelevant questions, such as whether she had been drinking. Two calls were made and her desperation was clear in the phone call, but she was lucid and could explain where she was. An ambulance was not sent and she was instead collected by an ambulance passing some two hours later.
Despite being very close to three major hospitals where she could have been treated, Rosa Elvira was instead taken by paramedics to Santa Clara hospital which was much farther away. By the time she was taken by ambulance, it was rush hour and her journey was inevitably delayed.
As a single mother who sold sweets and minutos, she didn't have medical insurance. Nonetheless, according to Law 1257 of 2008, all victims of sexual attacks have the right to full emergency attention and medical treatment.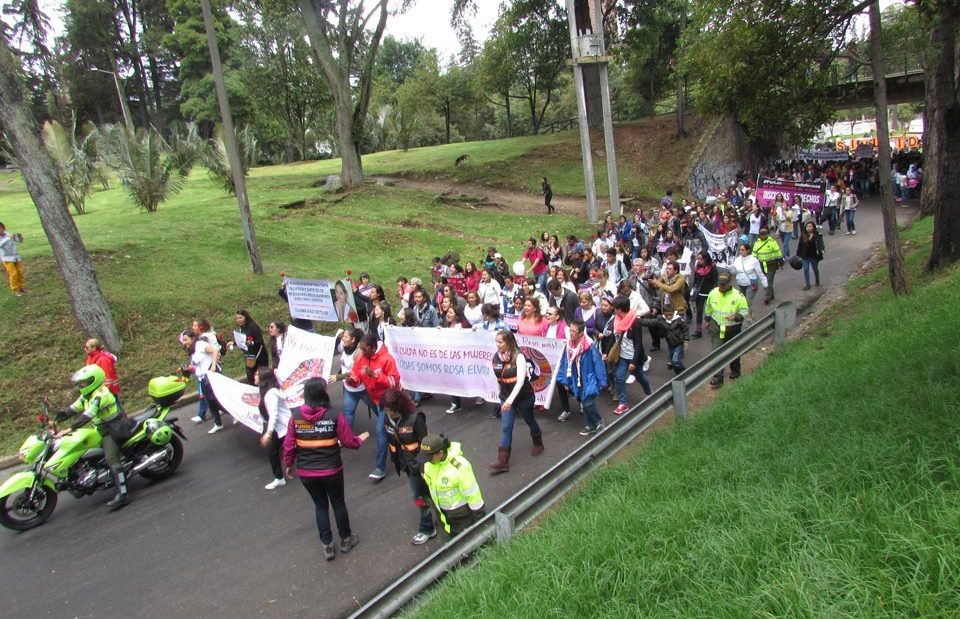 So after being taken to a hospital that was far away, and despite being conscious and complaining of severe stomach pain, Rosa Elvira was neither admitted to triage immediately (she had to wait some hours) nor did there seem to be any communication between the paramedics and doctors at the hospital. As is policy in most hospitals in Colombia, only one member of her family could be admitted to see her. However, photographers were allowed in after the story broke.
Meanwhile, instead of closing the park for forensics teams to search it, and instead of following up on the victim's report, the response of the police was passive. It fell to the victim's sister to log where the attack had taken place and begin the process. The problem was that in spite of days spent calling the two different stations, nobody could tell her whether it fell under the jurisdiction of Chapinero or Santa Fe.
It wasn't until the day of the funeral, some eight days after the attack took place, that the fiscalía, under mounting pressure from women's groups, called Rosa Elvira's family and asked that they come to the park in order to retrace her movements and look for any of her personal items that might still be there. It was then that a motorcycle jacket belonging to Velasco was discovered. However, the other alleged perpetrator of the crime, Ariza, had by this time had one whole week free of any police questioning. This, Rosa's family believe, was sufficient time for him to get rid of any evidence that could link him to the park on that day. He has not been found guilty of any crime.
What can only be described as inhumane treatment of a victim and the combined ineptness of the district, the police and the secretary of health would have be enough to justify a lawsuit. But when I asked her sister what was behind that course of action, she told me they made the decision when it transpired that Javier Velasco had a previous record of crimes against women. He had been found guilty of murdering another woman in 2002, but had only served nine months of that sentence after taking treatment in an Alcoholics Anonymous programme. Despite allegations about his behaviour by both a woman he met in the programme and by a sex worker, he was allowed to go free.
When I asked Adriana what she feels about the idea that femicide can have cultural roots, she refers to the lack of police attention to Velasco's previous behaviour. "The problem isn't cultural; it's systemic. Here, there are no school programmes, no safe houses or rape support centres. Victims are treated like criminals."
Unfortunately, the last part of this is something her family understands only too well. Last month the verdict of the case brought against the state was heard. The lawyer defending the district summed up her argument by saying that if Rosa had not gone for a drink with her school colleagues that evening, they wouldn't be talking about her death. I asked her sister if, in spite of the obvious indignation it caused her, she had really been surprised. For the first time in the conversation, this remarkably composed woman twitched her mouth a little and her eyes watered. "We knew," she said slowly, "that they were going to look for any detail, anything that could shift some of the blame away from the negligence of the state. But I couldn't believe they could say something so cruel. As long as women like Rosa Elvira are seen as responsible, there will always be femicide."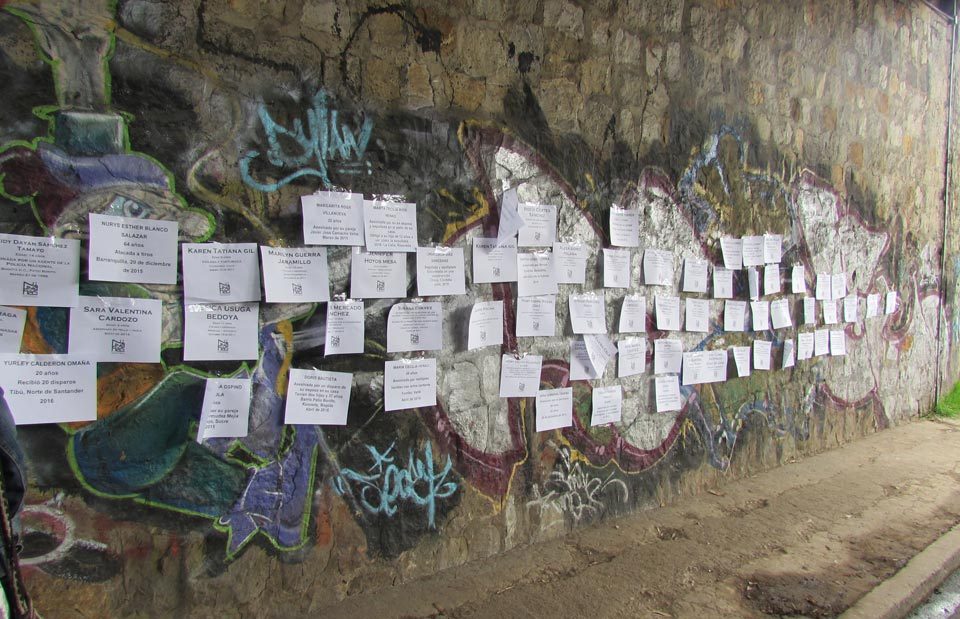 What happens now?
The fight continues. Adriana's time is now dedicated to campaigning for an end to impunity and particularly for better education about femicide and the more difficult task of tackling sexism within the police force. The family will appeal the verdict (where they blame the victim) but if a fair result is not returned, she is determined to take it to the Inter-American Court of Human Rights. "Although it would be a lengthy and expensive process, I'd welcome it. I think the court needs to know that in Colombia, women's rights go unprotected."
Before I left, I wanted to ask about the commemorative ceremony held last week to mark the four-year anniversary of Rosa's death. I found it brave but perhaps unusual that she decided to hold the event at the place where the horrific attack happened.
"It's about reappropriating our public space. It's a beautiful park. I don't want to avoid that place. They cannot take our public space from us, because this is part of the problem. If women cannot safely access these public spaces, then they cannot live fully as citizens. And look at the park today. It is no better policed, no better lit than it was four years ago."
---