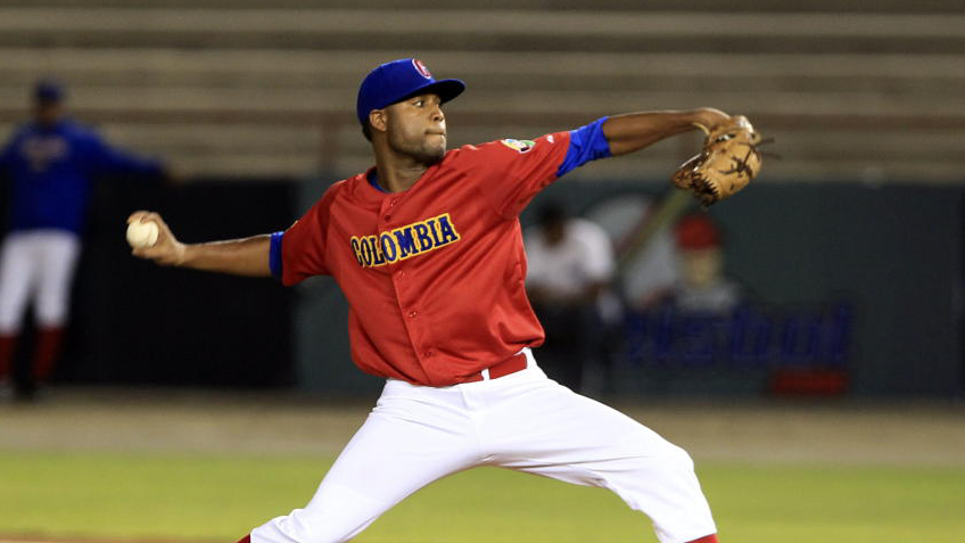 Colombia has a gruelling task ahead of them in their debut participation in the World Baseball Classics, facing tournament favourites Dominican Republic and USA in the pool stage. Frank Silva Cardona explores the newcomer's possibilities in the tournament.
---
Colombia will be participating in its first World Baseball Classics tournament ever when they face off with the USA on Friday March 10. Despite the lack of baseball fever here compared to other Latin American countries, Colombia has a rich history in the sport. The team will play in the Marlins Park in Miami, Florida, where 20 years ago the Colombian shortstop and legend Édgar Rentería – now bench coach for team Colombia – hit an 11th inning winner for the Marlins in the decisive game of the World Series against the Cleveland Indians.
"We're going to be in the same city, with some of the same fans [who saw the '97 World Series] and the Colombian fans in Miami are going to be rooting for [Rentería], against the man who gave him the opportunity to be a superstar. It's really exciting," Colombian manager Luis Urueta told MLB.com. He was making reference to the USA's manager Jim Leyland, who was Rentería's manager in Florida in 1997.
Colombia qualified for their first World Baseball Classics after beating Spain 9-2, then Panama 6-3 and 2-1 in the 2016 qualifiers with a heroic winning home-run from Cincinnati Reds second baseman Dilson Herrera in the final against Panama. Unfortunately, Herrera had to withdraw from the upcoming tournament due to a shoulder injury.
Now the Colombian team have a chance to cause the tournament's first major upset as they send star pitchers José Quintana and Julio Teherán back-to-back against the USA and Canada. The Colombian left-hander Quintana will have a tough matchup against tournament favourite USA, with a team that is loaded with a list of superstars like Andrew McCutchen, Giancarlo Stanton, Paul Goldschmidt and Daniel Murphy, amongst others in a seemingly never ending list of some of the best players in the world.
But Colombian manager Urueta is confident his pitcher can help upset the tournament favourites: "Quintana is the right guy to face the American lineup. From what we've scouted about them, what we know about them, most of them are National League guys. They haven't seen José often. Whenever you face a frontline starter like Quintana for the first time, the advantage goes to the pitcher," the manager told MLB.com.
The Colombian manager has slotted Julio Teherán to start Game two against the weaker but formidable Canadian team that features one MLB star: first baseman Freddie Freeman, alongside former MLB stars like 2006 MLB MVP Justin Morneau, Eric Gagne and Ryan Dempster. Regarding the Canadian team, Urueta said "I know Canada has a lot of lefties in the lineup, but Julio has shown that he can control lefties as well. Freddie Freeman is one guy who stands out, and he's never faced Julio because they're teammates [in Atlanta]. We can try to work around Freeman and get to the other guys if we feel like we have to."
Urueta has chosen journeyman William Cuevas – a non-roster invitee this spring for the Detroit Tigers – to start the third game against the 2013 defending champions Dominican Republic, who are favoured to win the pool with the USA team.
It will be up to the Colombian starters to pitch near perfect games, as a 65 pitch limit in pool play will prevent their star pitchers from going deep into games.
Despite the odds, Urueta is confident his team can win some games. "We feel pretty good about this. We're confident."
Two other teams to watch in the World Baseball Classics:
Venezuela: Venezuela is led by star players Miguel Cabrera, José Altuve, Carlos González and pitcher Felix Hernández. They've finished seventh in both of the last tournaments, and look to prove to the world that they belong in the same class as the Dominican Republic and the USA. Venezuela's best player and future Hall of Famer Miguel Cabrera hopes his team can win the tournament to bring some joy to fans in their struggling nation. "Our country's in bad shape right now. There's a lot of problems in Venezuela … I think sport can help any country," he told the AP in Florida this spring.
Puerto Rico: This will be a fun team to watch, as the Puerto Ricans debut three of the best young infielders in baseball with Carlos Correa, Francisco Lindor and Javier Báez who display a blend of speed, power and defence to anchor the team's infield and youth movement. Báez and Lindor were on opposing teams last autumn in the World Series, and happen to be close childhood friends who hope to bring glory to Puerto Rican baseball.
Colombia's up coming games:
Colombia vs United States March 10, 6pm
Colombia vs Canada March 11, 12pm
Colombia vs Dominican Republic March 12, 11.30am
---
By Frank Silva Cardona