After qualifying for the World Cup 2018, Colombia now set their sights on what they could go on to achieve in the final tournament. In the recent World Cup in 2014, Colombia managed to advance all the way to the quarter-finals where they got knocked out by the hosts of the tournament, Brazil. Colombia fans are wondering whether they could repeat the feat of 2014 or even surpass what they achieved in this year's World Cup in Russia. 
Colombia know that if they are to achieve something special, then their key players will have to show up to the tournament at their best form. But who are those key players that Colombia will have to depend on? Here are our picks for Colombian players to look out for at the 2018 tournament.
David Ospina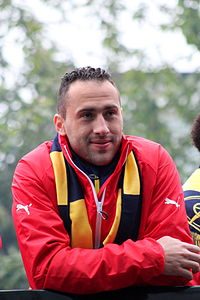 The 29-year-old Ospina plays for Arsenal and is Colombia's magnificent goalkeeper who has bailed his side out with brilliant saves on countless occasions throughout the years. Ospina has been the undisputed first choice goalkeeper for a while now and to date he has already made 81 international appearances.  He has been very consistent for his country and it is a very rare occurrence for him to disappoint with his performances. The Selección fans will be hoping that this is something that will continue in Russia and that Ospina will continue to help his country with more match-winning saves.
Christian Zapata
The 31-year-old Zapata is a quick and physically powerful central defender who is known for his tight marking and strength in the air. Zapata is also a versatile player and although he primarily plays as a centre-back he is very much competent playing in the full back positions either on the right side or left side. He has lots of experience playing at the highest level in Europe where he has proven to be successful in both Italy and Spain. He currently plays his football for Italian giants AC Milan where he has been playing since 2012. Zapata has already notched up 54 international appearances for his country and Colombia will be hoping that Zapata's ability along with his experience will prove to be vital in Russia.
Juan Cuadrado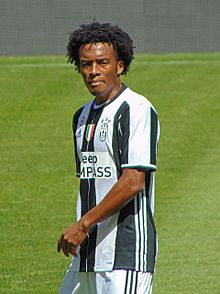 This 29-year-old winger is a real trickster on the ball with his pace and dribbling abilities. His direct style of play consistently causes a lot of problems for opposition defenders which has made him a really valuable player over the years for both his country and the clubs he has played for. Cuadrado started his professional career for Independiente Medellin before moving to Italy with Udinese. He is currently playing his club football with Juventus where he has been playing since 2015. Colombia will be hoping that Cuadrado who has already made 67 appearances for his country will prove to be a real threat on the right wing for opposition defenders in the upcoming World Cup.
James Rodriguez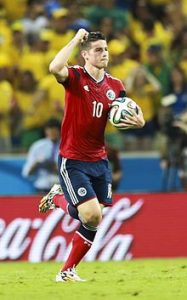 Rodriguez is Colombia's very own global superstar and commonly rated as one of the best players of his generation. He primarily plays in the midfield as a playmaker and he is famous for his great vision, technique and dribbling abilities. In the recent World Cup in 2014 Rodriguez was by far Colombia's best player as he finished as the top goalscorer and was selected for the cup's all star team. He also scored one of the most memorable goals that Colombia had ever scored in a World Cup with a stunning long distance volley in the 1st knockout match against Uruguay. His magnificent performances in the World Cup convinced Real Madrid to spend an eye-opening 80 million euros for his services which made him the most expensive Colombian player in history. He has yet to live up to his potential at Real Madrid where he has mostly had to settle for a place on the bench before he moved on to German club Bayern Munich on loan at the start of the current season where he is currently at. Rodriguez will be the Colombian player with the biggest weight of expectation in the upcoming World Cup and also the player with the biggest chance of being the decisive factor to his team's success.
Radamel Falcao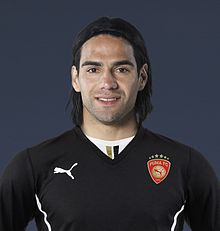 The 31 year old Monaco striker and deadly goalscorer nicknamed "El Tigre" is one of the best strikers in the world and has the biggest global stature in the current Colombian team after James Rodriguez. Falcao and Colombia were devastated when the player picked up an ACL injury prior to the 2014 World Cup in Brazil which ruled him out of the tournament completely. After he came back from his injury he was struggling for a while and was a mere shadow of his former self, who terrorized defenses and almost scored goals for fun for both country and Atletico Madrid in Spain. In a bid to regain old form he had two loan spells in England with Manchester United and Chelsea but both proved unsuccessful. It was not until last year at Monaco that we started to see the Falcao which resembled the player he was before his injury. He put in some magnificent performances in the Champions League and French League and he regained his place in Colombia's starting 11 which was previously taken from him by Carlos Bacca. Now the player that Colombia missed the most in the recent World Cup in Brazil will have the chance to redeem himself in the upcoming World Cup in Russia.