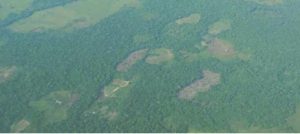 In the first of a two part series, Siddharth Mohan examines the resurgent coca production industry in Colombia. This edition focuses on the plight of the country's coca farmers
---
The agreement on June 10 between the Colombian government and the FARC on a pilot coca crop substitution plan may have got a bit lost in the groundbreaking announcements that followed. But it was significant in its own way, especially for the 60,000-plus Colombian farmers that the UN says are directly involved in coca production.
It will be the first time that the FARC and the government have actively co-operated to tackle the issue of coca production. It will begin in Briceño, Antioquia – one of the areas that was also part of the pilot joint de-mining project – and will be supported by the United Nations Office on Drugs and Crime (UNODC).
The news comes just weeks before the release of the 2016 Colombia Coca Survey. The joint report from the UNODC and the Colombian government shows that coca cultivation increased from 69,000 hectares in 2014 to 96,000 in 2015. The 39% increase comes on top of a 48% increase the year before. After a steady decline since 2007, more and more land is being used to produce the illicit crop. Colombia has now returned to growing more illegal coca than Perú and third-place Bolivia combined, just two years after it ceased to be the world's largest producer.
So why has coca growth risen so dramatically in recent years? And what difference might a final peace accord make?
One issue that will weigh heavily on the minds of negotiators and farmers alike are the worrying signs that other armed groups are waiting in the wings for when the FARC pulls out. Analysis from Insight Crime shows that the FARC control about 70% of the country's coca territory, and points to evidence that the ELN, as well as the Urabeños and other Bacrim groups, are already threatening community leaders and positioning themselves to take control of illegal mining and illicit crop production.
There are many factors behind the growth. Some – like Defence Minister Luis Carlos Villegas – have suggested that the FARC actually encouraged farmers to increase cultivation so that they could benefit from any development initiatives agreed in the peace deal. Others put it down to simple economics: the weak peso makes all Colombian exports attractive.
The lack of state presence is certainly a huge factor plaguing the Colombian government's efforts to curb the rise of coca production. However, Philip Laidlaw, Deputy Chief of Mission of the US Embassy in Bogotá, told The Bogotá Post that this is being addressed. At an event to promote their 'Cocoa for Peace' programme – a scheme to strengthen the cocoa (rather than the coca) industry – he said: "The Colombian government knows how to extend state presence. New strategies are being developed in strong collaboration with the Colombian government for the eradication of [coca] crops."
Despite differences arising between the US and Colombian government with regard to the ban on aerial fumigation of crops, Laidlaw was optimistic. "That was a decision taken by the Colombian government and we respect that." He stressed that the US will support new initiatives, "We have stayed with them in war and we will stay with them in peace."

Coca cultivation seems like the only choice
It can be easy to forget that behind all of the facts and figures there are real people at the bottom of the chain, who are trying to make a living and feed their families. Many farmers are driven to grow this dangerous and illegal crop by poverty and lack of opportunity, which is why governments around the world, including Colombia, are starting to tackle drug cultivation as a development issue as much as a criminal one. Last September, President Santos set out a new strategy aimed at addressing all parts of the chain: social investment, substitution plans, prohibition, investigation and prosecution, consumption and institutional reform.
US Embassy: Cocoa for Peace

"The world demand for cocoa is expected to grow 30% by 2020", Jonathan Cordone, Deputy Under Secretary of Farm and Foreign Agricultural Services told The Bogotá Post. "We see the potential of cocoa, being a high value product that would create jobs and economic growth."

This statement was made during an event called "Cocoa for Peace", conducted by the US Embassy in Bogotá, on June 23. The initiative is intended to focus on strengthening the entire value chain for cocoa in Colombia.

Through the plan, the US Agency for International Development (USAID), and the US Department of Agriculture will offer support to small time cocoa producers, and help them to maximise profit by ensuring easy international market access.

According to Cordone, the US government is committed to continue funding the project as they believe it will create a value chain that allows communities to gradually shift to cocoa bean production and so create a safer future for their children.
As Moises G. Huerta, the Scientific Director at the Corporación Colombiana de Investigación Agropecuaria (Colombian Agricultural Research Corporation), Corpoica told us. "One of the main reasons people rely on illegal crops is because no matter what you produce, somebody is going to buy. Somebody is going to go to your farm and buy it from you."
He explained, "If you produce plantain, cassava or other crops, you have to take it on your shoulder, walk 10 km, take a boat, and then, by the time you get there, you spend a lot more money than the actual price of the produce."
While coca is a higher yielding and faster growing crop than options like coffee, it is still not easy to farm.
Andrés, a coca farmer, tells National Geographic that he is forced to sow his coca fields in order to feed his family of five. He says, "The planting takes a lot of work. It takes between eight months and a year before it starts to produce leaves".
He continues, "I would like to give my daughters the education they deserve and I would really like them to have a good future".
The absence of government control in these areas, along with the lack of infrastructure, means that the farmers feel like they have no other options.
"The government tells us not to raise coca, and not to sell it to the guerrillas – but the state has no presence here at all", Carlos, a Paéz-Nasa tribe leader in Cauca, tells The Daily Beast.
Orlando Castilla, president of the Farmers' Association in the Guaviare region, said to Reuters that "The government does not want to resolve the huge problem we have here. We appear to be rich, millionaires on a national and international level, but we have nothing to live off."
Castilla makes an important point – while coca may seem like the only way these farmers can make a living, they receive only a fraction of the profits. Tom Wainwright, author of Narconomics, explains coca growers get paid about USD$400 for a ton of leaves, which is what's needed to make a kilo of cocaine that he claims fetches up to USD$100,000 on the streets of the United States.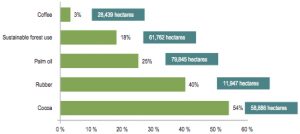 A new hope for the future
Historically, crop replacement schemes have been met with mixed success. One challenge is that when crops fail or commodity prices fall, farmers come under pressure to return to coca.
That's where projects like 'Cocoa for Peace', the joint initiative between the UNODC and the US Department for Agriculture, come in. The US government will invest USD$5 million in the project which aims to strengthen the cocoa value chain in Colombia through research and commercialisation.
It is not only outside organisations that are supporting such projects. The Colombian government has been working on alternative development schemes since 1985, and learned many lessons along the way. Although coca production is clearly rising, the government say that in 2014, alternative development programs reached 11,270 families.
And crops like cocoa, rubber, coffee and palm oil are starting to be cultivated in place of coca. According to the UNODC 2015 country report, 54% of the country's cocoa in 2014 was grown as part of alternative development schemes.
But, as with many peace and development initiatives, these are baby steps and much depends on the outcome of the talks in Havana. Right now, the only thing that is certain is that it will take time for new crops and new cultures to take root.
In the next edition we will look at the crop replacement schemes in more detail.
---
By Siddharth Mohan