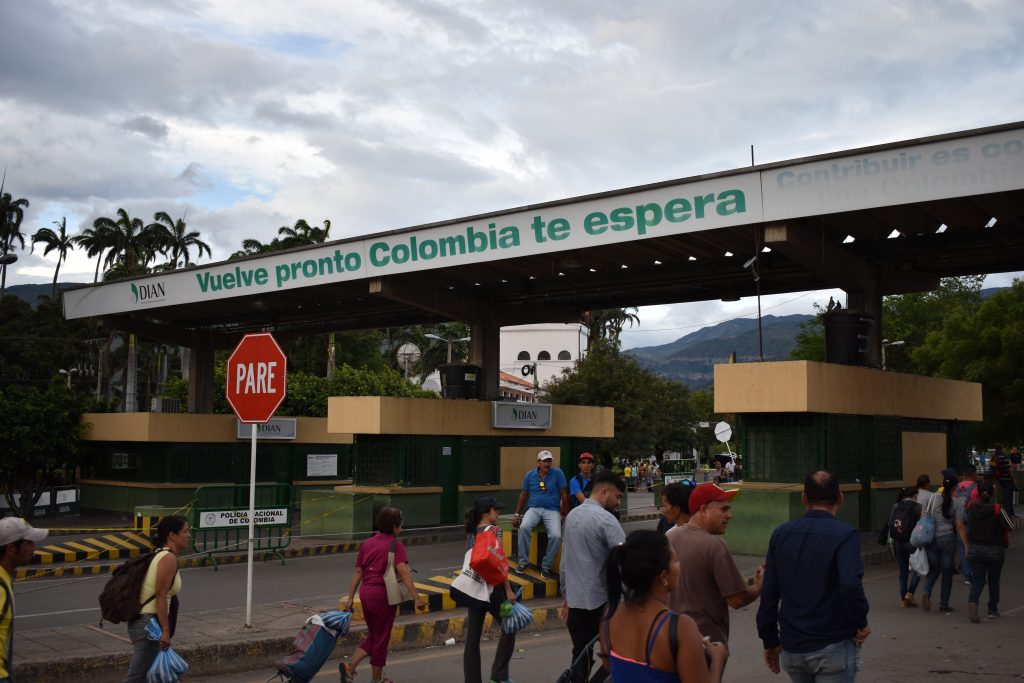 Almost as soon as Juan Guaidó arrived in Colombia, Venezuelan President Nicolás Maduro has locked the door behind him.

In a statement released via Venezuelan Vice-President Delcy Rodriguez, Maduro ordered that the border crossings into Colombia be closed off. On her twitter account, Rodriguez said that "due to the serious and illegal threats attempted by the Government of Colombia against the peace and sovereignty of Venezuela, it has taken the decision of a temporary total closure of the Simón Bolívar, Santander and Unión bridges!"

The bridges referred to as Simón Bolivar and Francisco de Paula Santander are pedestrian bridges and account for the majority of migration from Venezuela to Colombia. Simon Bolivar bridge alone sees over 70,000 migrants cross every day to find a better life or purchase hard-to-find groceries or pharmaceuticals in Colombia.

The closing of the bridges in the border city of Cúcuta now affects plans–initiated by Venezuelan opposition leader Guaidó– to transport aid across the border. The aim behind the move is to test the loyalties of the Venezuelan armed forces by choosing either to defend the borders by any means necessary or allow for the humanitarian aid to pass through.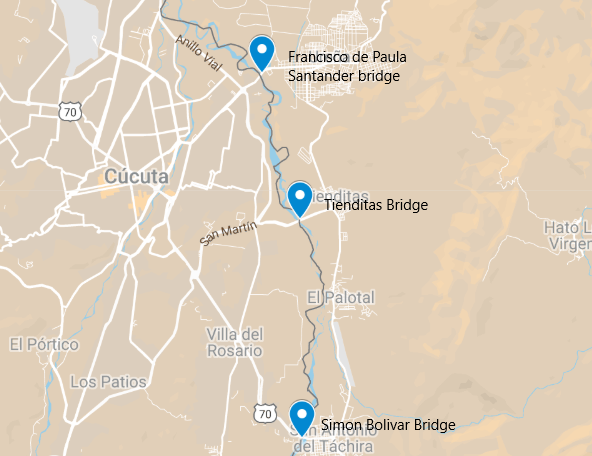 The closure will increase the anxiety around the possibility of violence this morning at the border crossings. On Friday morning, as a result of the closure of the border with Brazil, Reuters reported that two members of an indigenous group were killed and 15 injured by armed forces preventing them from entering with humanitarian aid.

President Maduro has also closed off the maritime borders with the Dutch islands of Curaçao, Antilles, Aruba and Bonaire in an attempt to defend Venezuela's borders from humanitarian aid entering for political purposes. Although willing to accept humanitarian aid recently from Russia, Maduro remains opposed to allowing aid from rival countries.

Prominent NGOs like The Red Cross have spoken out strongly against the politicised nature of the aid provided by the US and other geopolitical rivals to Venezuela.
Will Guaidó seize his political moment?

It has been a month since Guaidó first declared himself interim President of Venezuela, a gamble that succeeded in winning the approval of many Western nations as well as that of the Lima Group in Latin America.

However, despite this initial victory, the young leader of the National Assembly has been slow to win over the military; a fact that leaves the possibilities of today on edge. Although Guaidó received a rockstar reception on Friday on his arrival in Colombia at Venezuela Live Aid, at this stage, very few members of the armed forces have defected in his favour.
By way of comparison, more members of the military had defected in the 2002 coup attempt against former president Hugo Chavez. That coup deposed of Chavez for around two days but he was able to wrest back power and rule Venezuela until his death in 2013.

Guaidó is probably aware that history isn't on his side and that Maduro won't go down without a fight. But he's also aware that the world's eyes are on Cúcuta right now, so much so he may be willing to pull off a second gamble today. To complicate matters though, his arrival in Colombia violates a travel ban on him imposed by Maduro so he risks being arrested tomorrow were he to cross back into Venezuela.
His decision will be based on weighing up the security of his followers over the possibility that he can cause real change in Venezuelan politics. He will also be more emboldened if he has a sizeable presence supporting him at both ends of the bridge.

There is still little word as to what might happen from Guaido's camp as of Friday night. Saturday morning will shed more light on which path he'll take.