One of South America's biggest superstars has opted not to play and the winners won't even get their hands on the real trophy. But, as John Bartlett writes, the imperfect nature of the 2016 Copa América is in keeping with the rather inconsistent first 100 years of the tournament's history.
---
The 2016 Copa América is no ordinary football tournament. For a start, it turns 100 years old this year, making it the game's oldest international continental competition. But during its century-long existence the Copa has been nomadic, irregular, at times confusing, sometimes strange, and – on more than one occasion – it simply hasn't materialised at all.
Given its idiosyncratic history, it is perhaps fitting that the Copa América Centenario 2016 – a showpiece event to mark the one hundredth birthday of this South American football tournament – won't even take place in South America.
As a special "celebratory" bonus edition, the 2016 Copa América stands alone from any previous versions of the tournament, inevitably making it an event of many firsts. The USA become the first new hosts since Venezuela in 2007 – and the first outside of Latin America – while they compete for only the fourth time. Colombia, surprisingly, has only staged the event once, in 2001. Los Cafeteros won that year, although only after the tournament had been cancelled and then reinstated due to security fears that led Argentina to pull out and most teams to send understrength teams.
Panama and Haiti shall be participating for the first time after getting through a messy qualification stage that involved winning playoffs among the top four non-qualified teams from the 2015 North American Gold Cup. With 16 teams, this tournament will also have more than any other Copa América. No less significantly, some games will be played on artificial pitches (at least two for Colombia), and it will certainly be the first time Jason DeRulo has opened a major international sporting event.
The official tournament songs include Latin anthems from such as Cuban-American icon Pitbull and Puerto Rico's Yandel. But not wanting to stray too far from the tournament's tradition of serving up the bizarre and inexplicable, organisers have also added the rather uninspiring 2016 Eurovision entry 'Lighthouse' by Croatian Nina Kraljić, 'If Love Was a Crime' by Bulgarian Poli Genova and 'In My City' by Indian-American actress Priyanka Chopra to the list of official songs.
Integrity in question
The heavy international promotion of this special edition of the Copa América is plain to see, and has led many a cynic to suggest that commercialising a tournament with such obvious global potential played a key role in deciding to send the travelling circus beyond the confines of Latin America for the first time.
With this in mind, the centenary tournament will be the most widely broadcast Copa América in history. Blue chip North American companies have spotted an opportunity, with Ford Motors, insurers StateFarm and Coca Cola all listed among the official sponsors. Indeed, Kathy Carter, President of Soccer United Marketing, the commercial branch of Major League Soccer, told Forbes in January: "this will be the single biggest soccer event since the 1994 FIFA World Cup." The jury is still out in this regard.
An overbearing emphasis on commercial activities isn't the only question mark hanging over this instalment of the Copa América. Understrength teams and inconsistent rules and formats have frequently led the the Copa América's integrity and worth to be called into question, and 2016's tournament is the least official edition of them all. Being diplomatic, the sporting value of this year's tournament is dubious to say the least. Unlike regular versions of the Copa América, the winners of this 2016 tournament will not enjoy the relatively minor perk of qualification for the forthcoming 2017 Confederations Cup (Chile notched up this spot by winning last year's tournament). The winner will not even receive the tournament's proper trophy, but will take home a commemorative cup to keep permanently. What awaits us has been thus characterised as an unauthentic, franchised version of the Copa América.
Squeezed schedules
Further problems arise when you throw in the fact that the tournament is being squeezed into the same European off-season as the Rio de Janeiro Olympics and – significantly for TV audiences – the European championships. Football federations, coaches and players from the four nations taking part in both the Copa América and Olympics (Argentina, Brazil, Colombia and Mexico) have been forced to choose between the two. Brazil's attacking inspiration Neymar Jr., one of the most recognisable names in the game, will be absent having made the home Olympic Games – the only competition for which Brazil are eligible but yet to win – his priority. Following his announcement, promotional material was hastily altered to feature Brazilian wildman David Luiz in Neymar's place. Owing to coach Dunga's unorthodox selection policy, David Luiz now finds himself out in the cold and won't be making his way to the USA either.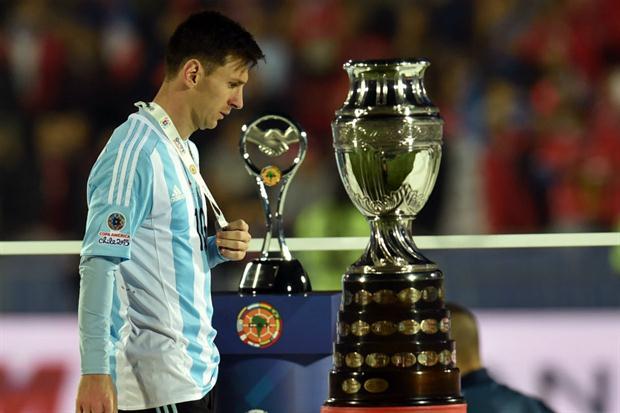 Of even greater importance is the World Cup qualifying campaign that the Centenario tournament disrupts. This has had a bearing on the squads selected by each nation, with the stated importance of this particular Copa América varying hugely between squads.
Peru's coach, Ricardo Gareca, has named a particularly youthful group for the tournament with a view to blooding players in a less results-oriented environment, while his Paraguayan counterpart Ramón Diaz has opted for a similar approach. Colombia's squad is strong if experimental, while Argentina's is virtually full strength with the tournament representing one of very few remaining opportunities for a golden generation including the likes of Lionel Messi and Javier Mascherano to claim some form of silverware.
Pan-American positives?
A more optimistic view of the Centenario tournament sees the possible ushering in of a new dawn of Pan-American football competition. Purists will certainly hope so, given that the event has at long last arrived at a period of relative stability and regularity; this special edition will not affect the fact that it is now hosted every four years, with the next tournament scheduled for Brazil in 2019. It surely makes more sense for the tournament to remain an all-American affair rather than hand out yet more commercially-minded invitations such as those extended to Japan and Spain in recent years.
Central and North American participation – along with Jamaica's second appearance as representatives of the Caribbean – is healthy for the game in the western hemisphere; although how long this will last remains to be seen. For the 2019 tournament two more teams are expected to be invited alongside the 10 eligible South American nations, which would make this centenary tournament the exception. This first Pan-American football tournament could therefore prove successful – even if it looks destined to go down as a disappointingly short-lived experiment.
Yet for the spectators there won't be much difference. There will be passion in the packed stands and technical brilliance from some of the greatest players in the world, all will be masterminded by prodigious hosts and entertainers in the USA. Whether you see value in this commemorative tournament or not, it is likely to be an unmissable spectacle. Whisper it quietly, but there is also an outside chance of Colombian success.
---
By John Bartlett