As the election looms closer, there are already a number of pre-candidates – with their respective alliances – that have started to pick up steam and pull away from the group. However, with almost seven months still to go, the field of presidential candidates is still wide open.
---
As coalitions between pre presidential candidates begin to form in anticipation of the Colombian presidential election, political factions and voters from across the country are beginning to pay attention to who's who – and whose support they may or may not have. The first round of voting is set to take place on May 27, 2018, where a majority of the vote will be required to elect a president. If there is no clear winner, there will be a second round of voting between the two top candidates on June 2018.
Latest from February 2018: Presidential election, what to expect?  
There is a high level of distrust towards the traditional political parties at the moment, making it difficult for them to resonate with voters. It is perhaps not surprising to see so many precandidates choosing to distance themselves from these distrusted entities and standing as independents.
The latest public opinion poll, carried out by Invamer in September 2017 (sponsored by Semana, Caracol Noticias and Blu Radio), saw both Sergio Fajardo and Claudia López gain points, while Germán Vargas Lleras and Gustavo Petro slipped.
Meanwhile candidates backed by – or associated with – the polarising figures of Santos and Uribe, including Iván Duque and Humberto de la Calle, have lost support. Analysts believe the polarisation in politics, which seemed to characterise much of the recent referendum, may be beginning to push voters towards the centre. Key campaign issues that will be high on voters' agendas are peace, corruption and Venezuela.
The list of candidates will be finalised in January, when the official presidential campaign begins. Until then, it remains to be seen who the heavyweight political figures will endorse, and what coalitions will form among the remaining pre-candidates. These are some of the candidates that are worth watching.
---
Sergio Fajardo
Coalición Colombia (centre-left)
Sergio Fajardo is one of many independent pre-candidates who are collecting signatures for their candidatures. He was an active 'yes' promoter in last year's plebiscite but has been careful not to associate himself with either Uribismo or Santismo movements. He leads the most recent opinion polls, with 21% of people indicating they would vote for him.
For next year's elections, Fajardo has formed a coalition with senators Claudia López – whose most recent polling saw her double in popularity – and Jorge Robledo called "Coalición Colombia."
The three, who aim to offer an alternative to the traditional faces, were the only declared coalition at the time of print. Fajardo served as mayor of Medellín from 2004 to 2007 and gained electoral experience when he ran with Antanas Mockus as his vice-president for the 2010 presidential race.
Most recently, he served as governor of Antioquia from 2012 to 2015. He holds a PhD in Mathematics from the University of Wisconsin-Madison and his 'equation' for the campaign is peace + legality + education = opportunities.
---
Germán Vargas Lleras
Independent (centre-right)
The former vice-president is another common name being bandied about as a potential future president. Vargas Lleras comes from one of the country's most prominent presidential families and is a lawyer from Universidad del Rosario. He holds a Master's degree in government and public administration from Universidad Complutense de Madrid.
Despite being the head of the political party Cambio Radical, Vargas Lleras has also chosen to run as an independent candidate in 2018. His slogan is "Mejor Vargas Lleras", and he characterises his campaign with the words 'leadership' and 'character.'
Related: Germán Vargas Lleras on trial
During his vice-presidency, he kept silent on the subject of peace, not showing full support for Santos's process with the FARC. In the end, Vargas Lleras clarified he would vote 'Yes' in the plebiscite but that he would have made some modifications to the agreement. He is especially sceptical regarding the JEP (Jurisdicción Especial para la Paz) and its exclusive faculties.
---
Gustavo Petro
Independent (left-wing)
The former mayor of Bogotá, Gustavo Petro, is another candidate who does not have a political party supporting him in his run for president. Petro is an economist from Universidad Externado de Colombia, with a specialisation in administration from Escuela Superior de Administración Pública.
He was a senator until 2010 and served as Bogotá mayor from 2012 – 2105. His presidential campaign has the name "Colombia Humana", whose pillars are "true democracy, social justice, fight against climate change and peace."
Last year, during the peace plebiscite, Petro was a big advocate for the 'Yes' campaign. He is likely to get support from environmentalists all over the country, but also marginalised groups like the victims of the conflict and members of the LGBT community. However, he is currently fighting a legal battle and will need to prove that a sanction imposed by the Contraloría Distrital does not disqualify him as a candidate.
Related: Gustavo Petro on trial
The most recent polls showed his support amongst voters weaken, and he was left out of the key Fajardo/López/Robledo coalition, which will likely take away votes from his traditional supporters.
---
Juan Manuel Galán
Independent (liberal)
Galán is one of the pre-candidates for the Liberal party, which will select its official candidate in November. Nevertheless, like most of the top candidates, Juan Manuel Galán has decided to enter the run for the presidency as an independent, at least for now.
He studied political science at the Instituto de Estudios Políticos de París and did a Master's degree in international relations and security from Georgetown University. Galán is the son of well-known presidential candidate Luis Carlos Galán, who was murdered back in 1989.
Juan Manuel has served as a senator since 2006 and is an advocate for liberalism like his father. He has been arguing against the current anti-drug policy for years, and is an advocate for the use of medical cannabis. He supported the peace agreement and encouraged young people to get involved in the process of ending the war.
---
Iván Duque
Centro Democrático (right-wing)
Even though Centro Democrático has not yet elected their candidate, Iván Duque seems to stand out within the pre-candidates. The senator affirms that his policy would be based on four key pillars: economic recovery, job generation, innovation and environmental sustainability and preservation. Duque graduated as a lawyer from Universidad Sergio Arboleda and has an M.A. in economic international law from American University and an M.A. in public management from Georgetown University.
When it comes to the peace process, he claims he won't destroy it, but will try to correct it. Among the modifications, he would try to exclude those who are guilty of drug trafficking from amnesties.
Related: Interview with Iván Duque
In terms of likeability, the ANDI (Asociación de Industriales de Colombia) and according to Datexco polls, the business class would likely support Duque in his run for the presidency. Duque is widely regarded as Uribe's chosen candidate, although the former president has not yet endorsed him.
---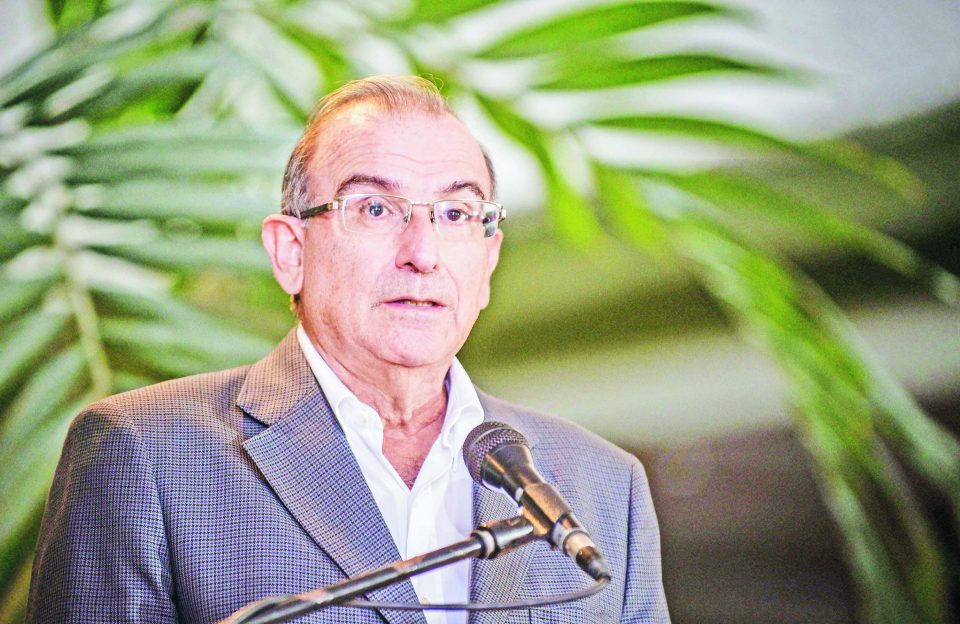 Humberto de la Calle
Independent (liberal)
Humberto de la Calle is best known for his role as the chief government negotiator in the Havana peace accords, and he will likely be backed by President Santos. De la Calle declared his candidature as an independent, surprising many who believed he would be vying for leadership of the Liberal Party.
It is expected that his candidature will revolve around the defence of the peace accords, as well as the fight against corruption. It remains to be seen whether he will form an alliance with liberal candidate Juan Manuel Galán in order to consolidate a strong voting bloc. Born in Manzanares, Caldas, De la Calle has a long career in public office.
Related: Humberto de la Calle announces new peace agreement
Notably, he was appointed to the Ministry of Government from 1990-1993 under Gaviria; was vice-president for Ernesto Samper from 1994-1996 (he resigned from that post), and interior minister for Andrés Pastrana from 2000 to 2001.
---
Daniela Cristancho