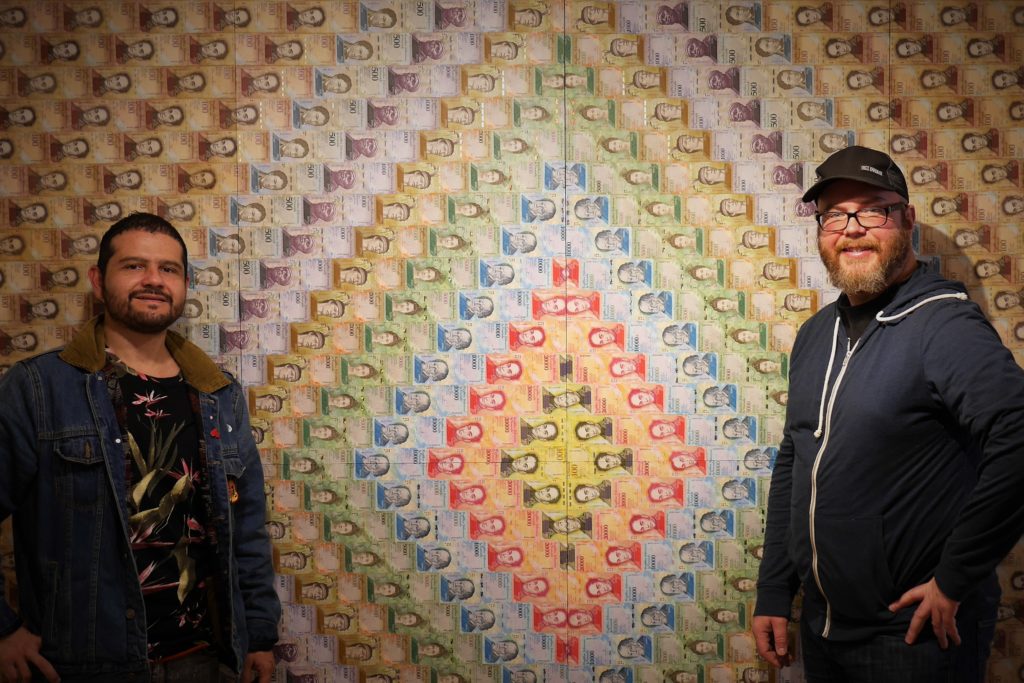 This banknote-themed exhibition is a timely reminder of the continuing crisis in Venezuela.
Ever wish you had a ton of money? You might think differently in Venezuela, where the collapsed economy has pushed inflation to 10 million per cent this year. This has rendered the local bolivar currency – which has gone through two reincarnations lopping off tens of zeros in recent years – into just so much coloured paper.
Which is the start point for Art for Impact's thoughtful exhibition Economía de Papel (Economy of Paper), showing at Crispeta Gallery in Chapinero this month.
The colourful banknotes are the raw materials for pop-art collages crafted by Andrés Chaparro, a Colombian artist teamed up with US photographer Jason Rovig to create a display aiming to 'put us in the shoes' of people living in the stricken country.
"We want people to see the collapse through migrants' eyes – and understand what triggered the biggest exodus in Latin American history."

Jason Rovig
The collages are partly a homage to the kinetic artwork of venerated Venezuelan maestro Carlos Cruz Diez, who died early this month, and whose most famous and accessible artwork – unfortunately too accessible – is the remarkable mosaic floor of Caracas's international airport.
According to local press, the small colourful tiles are being dug up as keepsakes by migrants flying out with the promise 'I'll put it back when I get home'. More prosaically, it seems lack of maintenance has led to the floor's destruction.
Chaparro's wooden retablos at first glance resemble Christian baroque art, but up close are revealed as satirical tableaux plastered with bolivars. In one, President Maduro is waving a coke bottle surrounded by angelic penises. This is a jokey reference to a slip-up by the Venezuelan leader in a televised speech when he likened his rule to Christ multiplying the 'penes' rather than 'peces' (fish).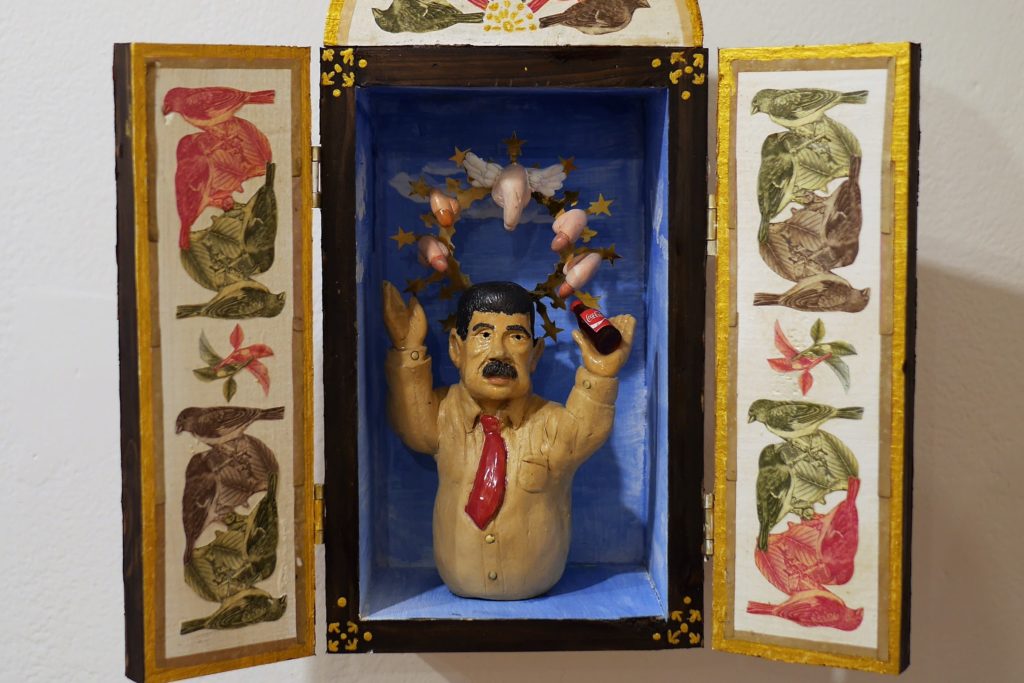 Meanwhile, Rovig's photos show weighing scales and the bulk of bolivars needed to buy basic goods. It brings home the daily struggle of life.
'We want people to see the collapse through migrants' eyes and understand what triggered the biggest exodus in Latin American history', explains Rovig, reminding us that an estimated 17% of Venezuelans have fled their homeland. 'We need to understand they had no money to buy food for the family. It takes strength to leave home and cross the mountains.'
Related stories: The Bogotá Post's coverage of the Venezuelan crisis.
It is something Rovig knows well: his fiancé is a Venezuelan migrant who crossed into Colombia. And the art collective has travelled to Venezuela, and several times to the Cúcuta and Maicao borders, donating supplies and giving basic first aid – call it the 'blister patrol' – to some of the thousands of migrants arriving on foot.
Along the way they've had some narrow escapes. Chaparro was nearly kidnapped on a dodgy border in Norte de Santander. Rovig was robbed in Caracas. They've stumbled into no-go zones run by illegal gangs. But they've also seen the brighter side of the crisis, such as the many acts of kindness from humble Colombians helping their neighbours.
"History shows in these situations the rhetoric gets stronger, leading to violence."

Jason Rovig
One question posed by the show is: how long can the goodwill last? To this end, the gallery is also a space for debate, encouraging viewers to engage with their feelings on migration – there are an estimated 1.4 million migrants sheltering in Colombia – and problems that come with it.
A young generation of Venezuelans raised under a 'discourse of subsidisation' will encounter culture shock in a Colombia where the state stays hands-off, says Chaparro. But lack of structured help in Bogotá has filtered the poorest migrants to become most visible – the ones with their hands out at traffic lights – fuelling xenophobia. Less noticeable are the more successful migrants contributing to Bogotá society, he says.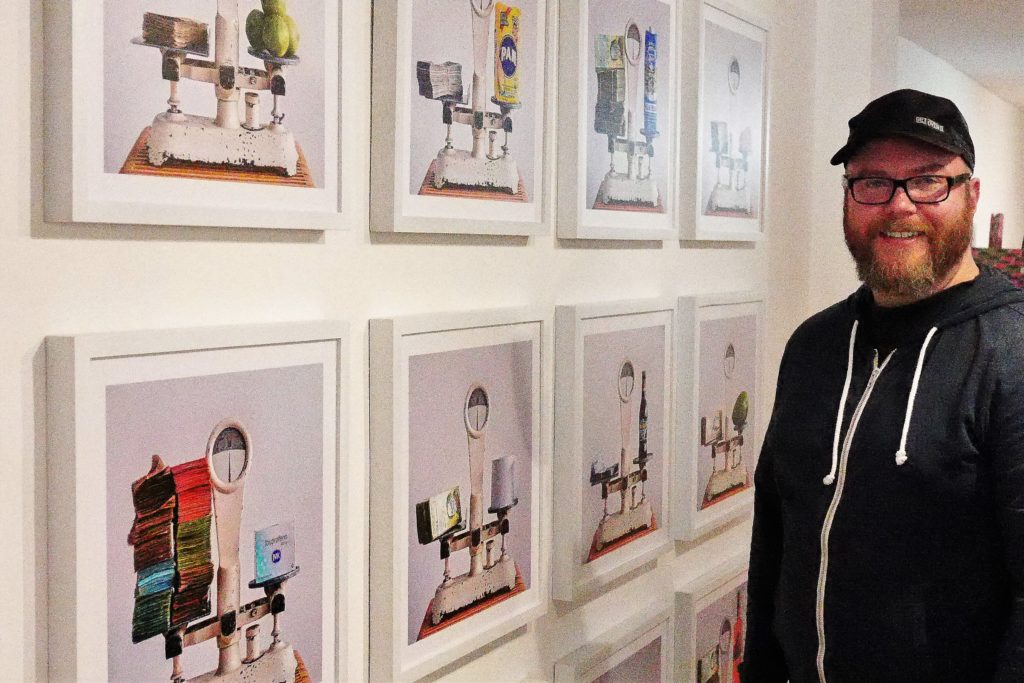 The risk is the issue becomes overlooked by media and society, later to be resurrected by politicians at polling time. 'History shows in these situations the rhetoric gets stronger, leading to violence,' adds Rovig.
As a practical way to support migrants, the gallery is also displaying handicraft made from banknotes by Venezuelan artists in Cúcuta, which Art for Impact purchases at a fair price to resell, with profits going towards humanitarian support.
The art collective has been able to engage with the artisans on the border to improve consistency and quality of the products, explains Chaparro. The result is an impressive range of items from toy trucks to wallets, all made from bolivars, and all for sale.
This craft comes at a human cost too: bolivars are illegal to export from Venezuela, so the banknotes are smuggled across trochas (clandestine crossings) over rivers, deserts and jungles to get to Colombia.
The result is an art show with edge: Economía de Papel aims to shift perspectives, which it does in fistfuls (of bolivars). And it's also good fun.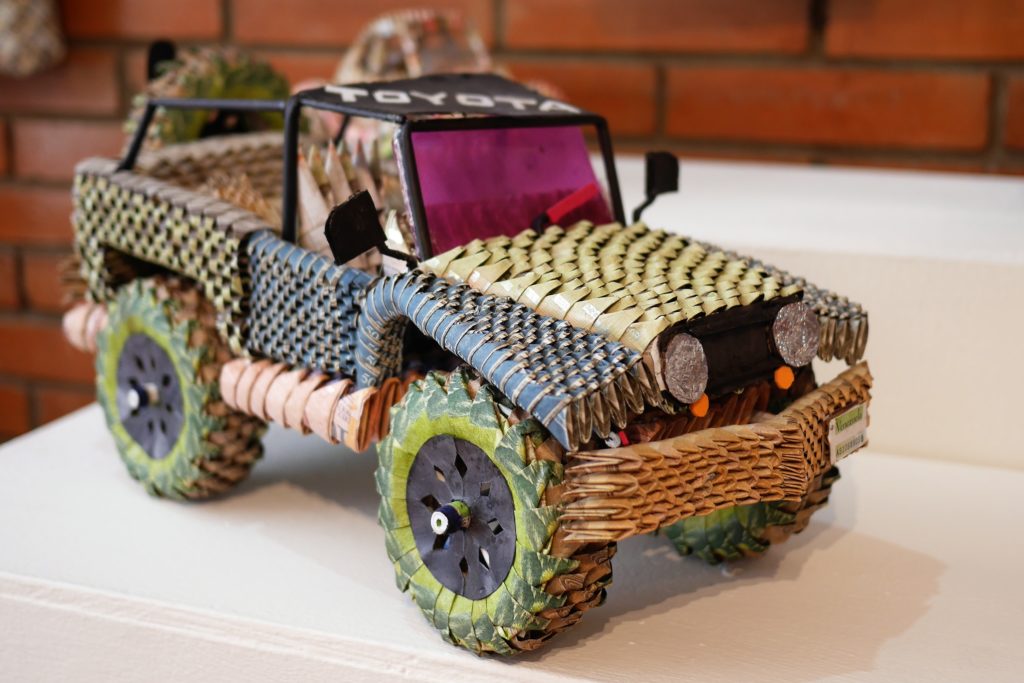 Economiá de Papel is at Galería Crispeta, Carrera 9 # 61-84, Chapinero, Bogotá, from August 22 to September 2.
For more information, and possible further shows outside of Bogotá, visit www.artforimpact.org