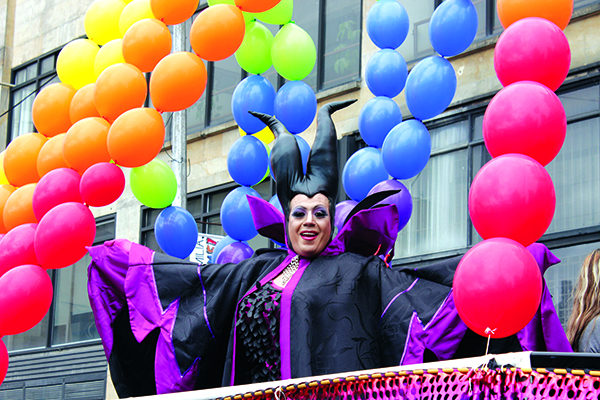 Kelsey Menzel gives us the lowdown on Bogotá Pride 2014 as hundreds of LGBTQ and allies gathered in Parque Nacional.
---
It was another cool, cloudy, grey day in Bogotá. Except on this Sunday afternoon, there was a little more colour than usual in the Parque Nacional.
All the colours of the rainbow, really.
Hundreds of LGBTQ and allies gathered in the park in the hours leading up to the Orgullo Gay parade, waving flags, painting faces and preparing for the peaceful march to Plaza Bolivar, some 40 blocks away.
The park was alive with anticipation. One group of transgender women glided around on sky-high heels, their thin, muscular legs the envy of everyone they passed. Why had they come today? To celebrate diversity in Colombia and the entire world, they said. With a flutter of their long lashes, they waved goodbye.
Across the street, orange, yellow, brown and white flags waved above a group of bearded men. One might have wondered if it was some spin on the German flag – until the paw print emblazoned on it came into focus. They were Bears – Osos – and their rugged masculinity was evident from blocks away.
Nearby a group of young guys sat, posed like Lady Gaga's backup singers. Their clothes wouldn't have attracted a second glance any other day – except for their stilettos, which towered at least seven inches high. Were they planning on walking all the way to Plaza Bolivar in those?
"Claro," they confirmed.
Everyone was in on the celebration – of all ages and species. Dogs pranced by in feathers and glitter, and proud parents passed their babies around for photos with the ladies decked out in drag.
Rain in Bogota is inevitable, and it turned out today was no exception. But the soggy skies didn't seem to dampen anyone's spirits – in fact, the more prepared of the group brought out their rainbow umbrellas to welcome the brief downpour.
Sometime around 3 o'clock, seemingly at the sole decision of a group of half-dressed marchers, the parade was off. Chanting and drumming with breasts and other bodily equipment flopping about like fish washed ashore, the half-naked processional hadn't gotten through the first block when a miraculous thing happened – like a gift from above, the clouds parted, the rain stopped and the sun made itself known. From then on, the weather was perfect. There was no reason not to celebrate.
Spectators standing along the Septima were rewarded with treats of all types: paper advertisements for Bogotá's best (and worst) gay-friendly spots, appropriately themed candies and coupons for a new gay hotel. The thriftiest spectators, however, were too busy pocketing the condoms that cascaded from the sky to notice. Before long everyone had joined in with the slow procession, and there were no bystanders any more.
Those who are still learning Spanish may have picked up a few words during the long walk to Plaza Bolivar. Like espuma, for the foam shooting in every direction, falling down to drench the unsuspecting with candy-scented goo (which wasn't, for the curious, edible). Or carrozas, the floats that put hard-bodied dancers up for all to see, and led the way for the rest to dance in their wake.
But the most important word of the day, the one everyone will remember, is obvious. Orgullo – Pride.
---
---
We speak to some of the participants…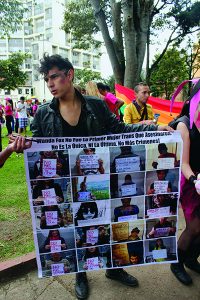 Why are you participating in the march?
"We are marching today to raise awareness about the issue of social cleansing in the LGBT world – a problem that happens too much within this community in Colombia. Gay Pride is a day to recognise our rights and also to raise awareness about various issues. But most of all, it's a day to enjoy ourselves and be happy and a day when the gay citizens of Colombia can come out and be themselves without any problems."
– Alejandro Lanz, with the NGO PARCES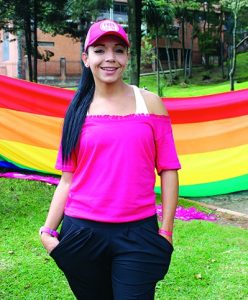 Is it difficult living as a trans person in Colombia?
"It is really difficult. There is no security in being a trans person here. People can't get their heads around it. It crosses the line of 'normality' and people don't get it. It makes things such as access to health, education, work and housing very difficult."
– Daniela Salamanca, FUCSIA representative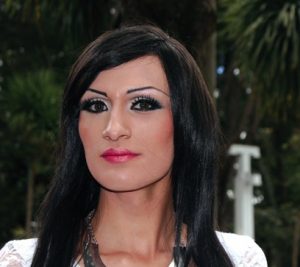 Why are you participating?
"We are here to support the rights of LGBT people in Colombia. Every year you can find a lot of beautifully decorated floats and people always enjoy themselves."
– The Rochelle Sisters, participants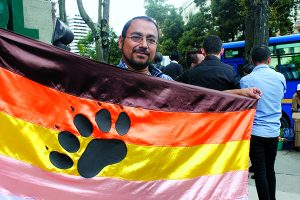 What is a Bear in the gay world?
"Bears are people who break the stereotypes of gay men. We have beards, we're chubby and we're hairy. Our group is quite new to the Gay Pride parade, but we are here to support the LGBT community and to support the peace process."
– Fredy Vela, Bear City Organisation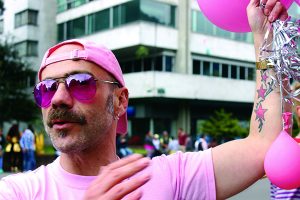 Do you believe it is difficult for LGBT people living in Colombia?
"It has been difficult, but now it is getting better. We are still struggling but going with the government, instead of against them. We believe that as Colombians we need our rights as we are exactly the same as everybody else."
– Miguel Rueda, Director of Pink Consultores
---
By Kelsey Menzel / all photos by Diego Arango