This weekend sees the very welcome return of Cafés de Colombia Expo 2023 to Bogotá. The coffee exhibition shows off dozens of small and large producers, heavy machinery and much more besides. Topping it all off are the national barista championships plus some smaller contests.
Coffee is inextricably linked to the country, with Colombia always up there in conversations about the world's best coffee. There's plenty to see and do, and it's well run. The coffee expo is in its fourteenth year and Cafés de Colombia Expo 2023 has representatives of all 23 coffee producing regions.
Even so, the sector is facing hard times with El Niño starting to hit hard and attacks on farms increasing, especially in Caquetá. The association of coffee producers is doing its best to mitigate these factors. It's also worth remembering that they are largely fair trade, with the association collectively bargaining for minimum prices to safeguard even smaller members.
Time for a coffee break
There are plenty of samples to be supped and enjoyed at Cafés de Colombia Expo 2023, so don't expect to sleep for three days afterwards. Pretty much every stand will happily serve you a shot and explain the differences between the products, making recommendations if necessary.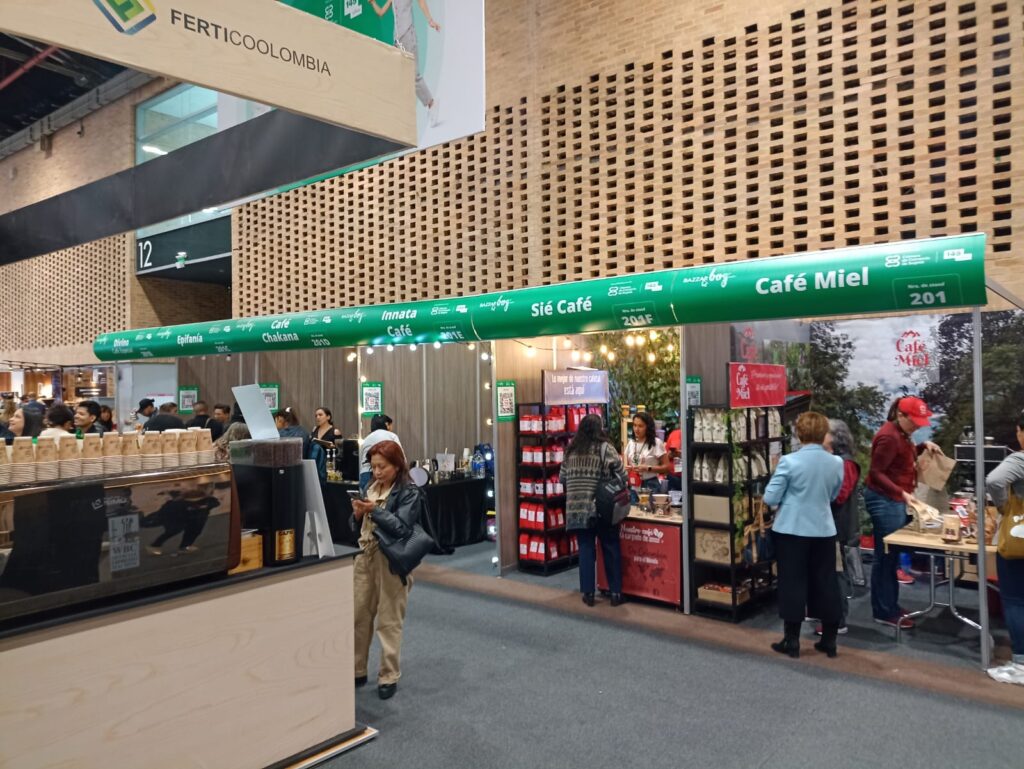 There's a heavy focus on integrating all parts of the country. The likes of Quindio and Huila have predictably enormous stands, but you'll also find producers coming out of the Amazon borders, and going as far south as Nariño and as far north as Santa Marta.
Best of all is the chance to find a small independent producer that hits your sweet spot perfectly. With so much on offer, you'll never have to settle for Águila Roja in the morning again. Better yet, you'll be directly supporting people who find it hard to reach a large market.
If you're obsessed with the big boys, you'll find them all clustered at the back here, with Tostao' in the literal shadow of Juan Váldez. Sensitively, they don't get top billing – that goes to the small outfits. Well managed, and not a single Starbucks in sight!
The barista championships at Cafés de Colombia Expo 2023
Cafés de Colombia Expo 2023 is the home of the 17th Campeonato Colombiano de Baristas, which takes place at the back of the exhibition. This is a highly contested championship, given Colombia's love of the drink, and the winners will be courted by the world's top coffee houses.
Also taking place during the event are smaller contests, such as the fourth Campeonato Nacional de Cold Brew and the second Campeonato de Preparación de Café de Olla. The latter is run by Amor Perfecto to promote traditional forms of coffee making and has a COP$10,000,000 prize for the winner.
If you're thinking of testing out your own barista chops at home, or simply fancy yourself as a master brewer, there are all sorts of gadgets on offer. Cafés de Colombia 2023 is the perfect palace to find espresso machines, home roasters and all kinds of fancy drip gubbins to turn your kitchen into a mad scientist's laboratory.
More than just coffee
However, the Cafés de Colombia Expo 2023 isn't just about slamming espresso shots down your neck. Everything coffee adjacent is in play as well, so you'll find tea stands, including green tea from Japan, and coffee liquors.
Recycling is highly encouraged and so you will find people who make art from old coffee plants or crockery from discarded husks. We picked up a rather snazzy mug made from discards from the production process from MakiNext, a paisa company with all kinds of recycled stuff. There's also bags made from old coffee sacks and keyrings etc.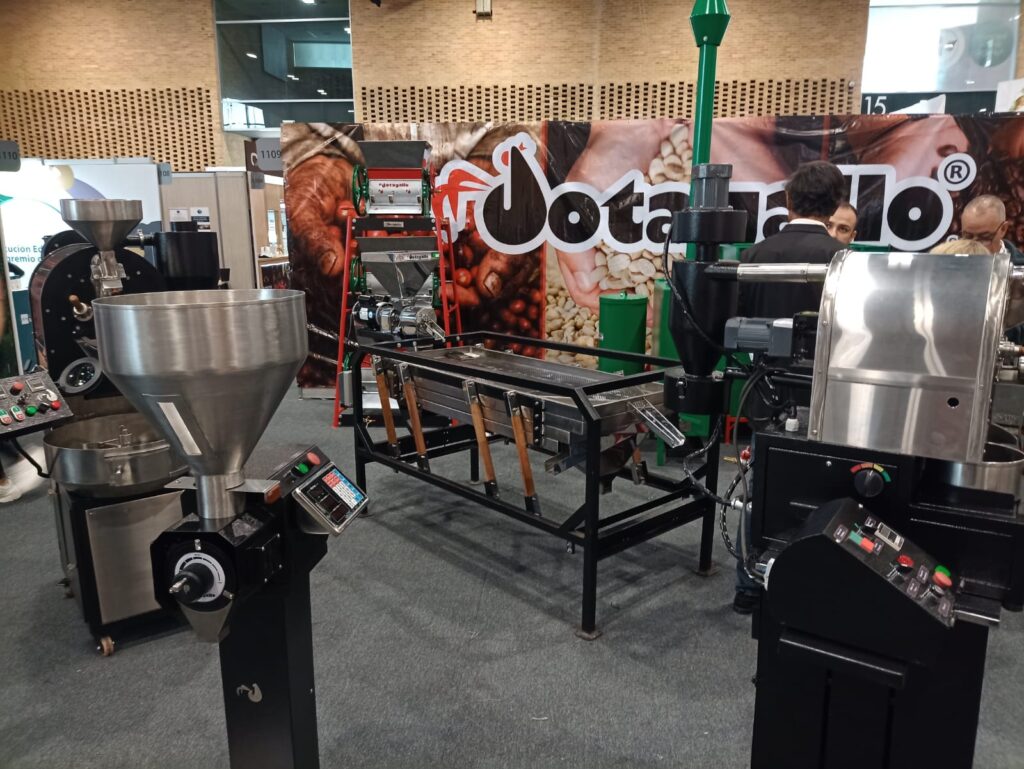 An impressive amount of heavy machinery is on show at Cafés de Colombia Expo 2023 in the shape of industrial grinders and roasters. Alongside these are fertilizer companies and farm equipment, as well as even exportation specialists. Few regular visitors will actually need these, but they are still fascinating to take a butchers' at.
Whether you're a casual coffee drinker or a dedicated home-roaster with a fancy machine for cold brewing, Cafés de Colombia Expo 2023 will have something for you. Get there early, and you'll have plenty of options for a cuppa.
Cafés de Colombia Expo 2023 runs until Sunday evening in Corferias (Carrera 37 # 24 – 67) from 10am to 8pm (7pm Sunday). Entry is COP$24,000. Use the Esperanza entrance (not the Arco), where there are ticket booths, or buy online here.