This new joint in the heart of Quinta Camacho doesn't just offer amazing culinary treats. It's also a cosy and casual space for art, film screenings, talks and even speed dating events.
---
The initial reason for my trip to Río – Sabores y experiencias, in the heart of Quinta Camacho, wasn't actually to eat but to check out the exhibition spaces above. However, who can resist an amazing salad, especially when it's only $7,000?
The one I tried, called Bosque Andino, was more than worth the price. Served on a bed of ubiquitous quinoa with a light yogurt vinaigrette, it features delicious mixed greens, cilantro, tomatoes, avocado and something described as 'picadillo de cebolla' (hashed onions).
When my salad arrived, I was stunned. I hadn't expected such a multi-hued combination of food! Tomatoes were finely chopped, onions less a hash than a minced accompaniment to the tomatoes. Flecks of coriander, daintily spread throughout, were a nice touch. All of it rested on the quinoa which had been prepared to perfection. Filling it out were the mixed greens – namely rocket and endive – fluttering alongside. There was just enough yogurt vinaigrette drizzled on top to tickle the taste buds without overpowering the succulent flavour of the salad ingredients.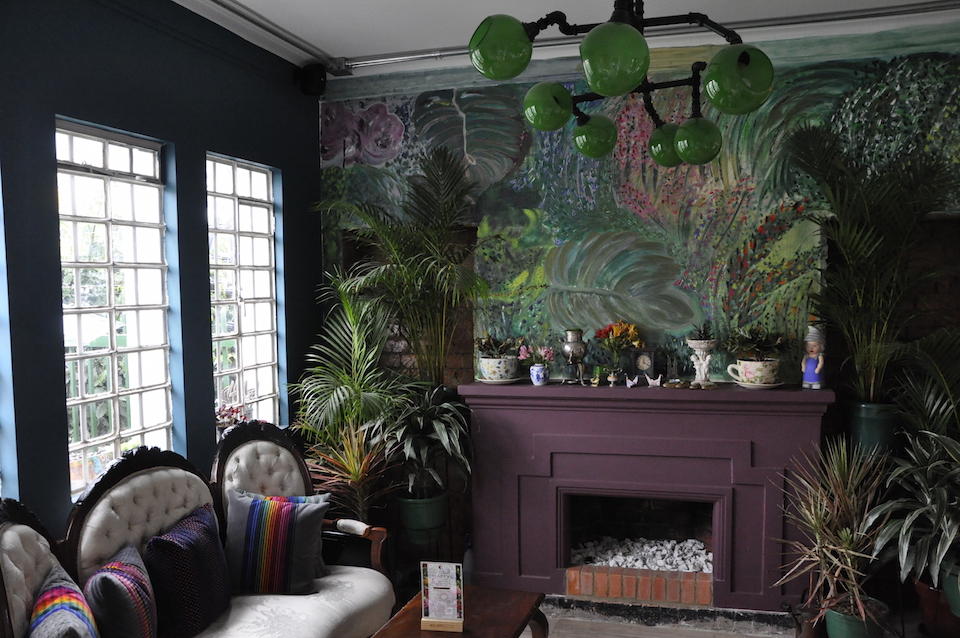 I was delighted by my choice and upon returning a few days later with friends, I had an equally delicious experience.
Before any of us had actually ordered, we shared an amuse bouche called the 'Paramo de las Papas' ($11,000). It was a plate of thinly sliced papas nativas, almost like mini potato crisps amidst bits of goat cheese and aubergine and served with various sauces. It was heaven and we hoovered it up in a matter of minutes.
My dinnermates decided to snack on the Vietnamita Mekong ($15,000) and a crackling chicken sandwich-burger (yes dear reader, it's both!), heaped with Asian-style pickled vegetables. Their sandwiches looked so mouth-watering that for a moment, I thought I had picked the wrong thing.
Related: El Cielo A gastronomic rollercoaster ride
However, when my picotrazos – skewered portions of chicken breast on a bed of mixed greens – arrived, my food envy subsided. The lightly-seasoned, bite-sized chicken morsels were succulent and slid easily off the aluminum skewer, meaning no fighting or mess with pulling them off, as can be the case.
Additional recommendations at Río – Sabores y experiencias include: Chips de tuberculos (made from papas nativas) ($3,000); the 'Verde Amazonas' salad with mixed lettuce, fried yuca, kale and hearts of palm ($6,000) and the cheese fondue (manantial de quesos colombianos), made with three types of Colombian cheeses (costeño, paipa and huilense)
When I asked María Alejandra Iregui, who runs and owns the space with her mother, why she chose the name "Río" and what it meant to her, she stated simply, that the word río "evokes all those things a river actually is. That place where you can enjoy spending and sharing time with your friends or to be alone."
Asked what some of her goals might be for the space, she told me that one was to "generate a sense of community through (fine) art, cinema, the humanities and events such as 'Aperitivo,' which is designed to hold talks for her foundation (she works with a local hospital on mental health issues).
The event, Aperitivo is held on Fridays, from 7pm-9pm. $20,000 gets you one drink and a plate of 'pasabocas'. Río is located on Calle 69 #10A-19
---