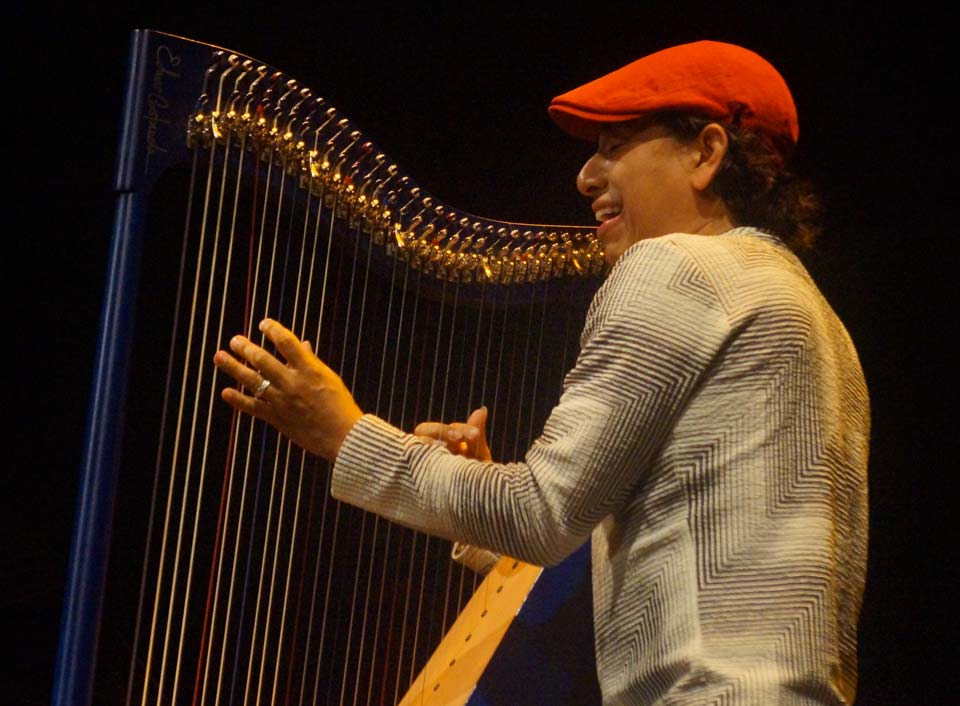 Cali's six day-long annual AJAZZGO festival has a special focus this year, programming a strong contingent of national talent.
---
Colombia's jazz musicians are becoming increasingly well known in jazz strongholds such as New York City and Buenos Aires, as well as throughout their home country.
This year they featured heavily on the programme for the AJAZZGO festival in Cali. Staged in a variety of indoor and outdoor concert venues, the festival, now in its 17th year, runs from September 12 to 17. The opening performance featured the country's most important and internationally-celebrated musician, harpist Edmar Castañeda. Paired with Japanese pianist Hiromi, another high-profile jazz star, the duo enthralled the audience in Cali's historic municipal theatre, which was packed to capacity on the festival's opening night. The interplay between the two artists was inspiring – a constant ebb and flow of spur-of-the-moment interchanges that defined the essence of improvisational music. At times, Hiromi plucked the strings of her concert grand piano, creating the illusion of two harps on the stage.
Castañeda is a Bogotá native whose long residency in New York City has afforded him the opportunity to perform with such jazz luminaries as saxophonist Paquito D'Rivera, pianist Gonzalo Rubalcaba and trumpeter Wynton Marsalis, among many others. He is truly a singular artist, thanks to his total mastery of the harpa llanera and his ability to utilise the rustic instrument as a solo voice in demanding improvisational settings. In Castañeda, Colombia has a certified jazz giant of true international stature.
Other national artists who are making their mark in the jazz world performed at AJAZZGO. Cununao, a quartet led by pianist Giovanni Caldas, a Cali native, incorporated the rhythms of Colombia's Afro community on the Pacific Coast. Featuring percussion instruments from the area, the group boasted both rhythmic passion and a sophisticated approach to ensemble playing, showcasing Caldas' haunting compositions. Another local favourite, saxophonist Jacobo Vélez, was featured as a guest artist for several arrangements and strongly proclaimed through his vivacious solos that he is an established talent.
Other Colombian groups on stage included two up-and-coming Cali based bands, Sultana Club and Kuattro Ensammble – youthful groups that are exploring jazz fusion and the appropriation of folk elements. Finally, a young female bassist, Cali-born Diana Arias, was featured as a member of Argentine pianist Ernesto Jodos' trio. Jodos a jazz notable from Argentina, is known for his cerebral approach to the tradition, and his refined, pensive and melodically charming compositions were warmly received by a full house in the city's Centro Cultural Comfandi. Playing the upright double bass, Dias was often the catalyst for the trio's explorations, laying down intricate ostinato lines (a repeated rhythmic phrase) that anchored the spirit of Jodos' probing, inquisitive works.
The event's closing artists, Cuban pianist Chucho Valdés and his quartet, and another Cuban keyboard sensation, Omar Sosa, underscored festival's intent to feature both top-flight international artists alongside accomplished national talent.
---
By Mark Holston
Mark Holston is a music journalist and critic who writes for JAZZIZ and LATINO magazines in the U.S. and the All About Jazz website.