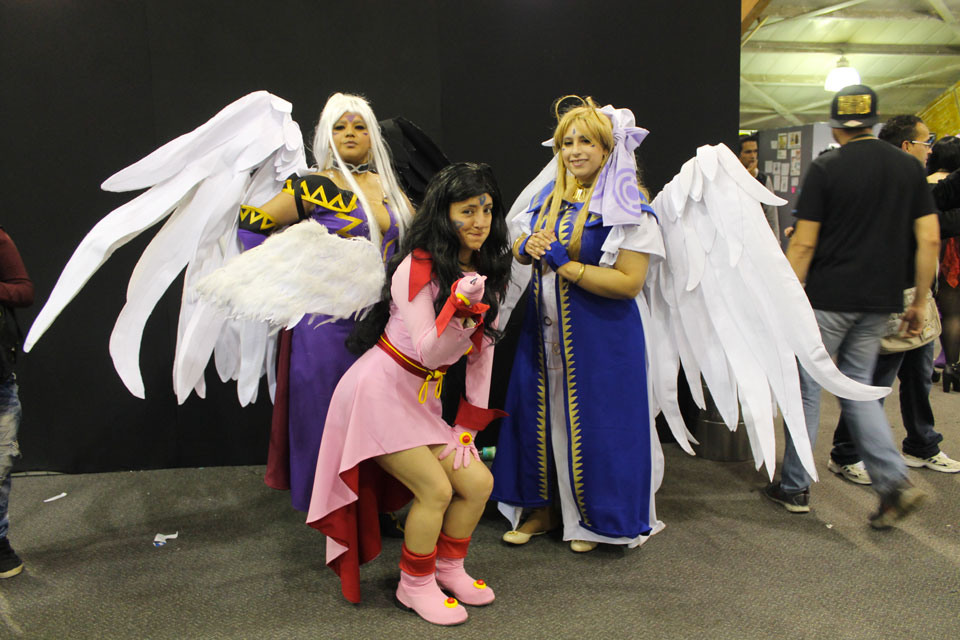 Phil Stoneman pays a visit to SOFA, Bogotá's annual geekfest, and finds out that one of the highlights of the year is still as vibrant an event as ever.
---
SOFA has come a long way from its humble origins. Its full name, the Salón de Ocio y Fantasia, still bears the mark of how it all began – as this once started out in a mere room. Those days are long gone now, as the sprawling event now takes up half of Corferias and has thousands of visitors each day.
One big reason why it's so popular is that SOFA offers a rare chance for the city's huge and diverse "alternative cultures" to get together and let their hair down. Amongst these cultures, you can find manga and anime fanatics, BMXers, skateboarders and graffiti artists, as well as people just wanting to get a few comic books on the cheap.
One thing that's great about SOFA is that you don't really need to do much there – just wandering around and taking in the sights and sounds is a lot of fun on its own. The legions of cosplayers were out in force again this year, with a colourful array of costumes and alternate personas. There can be fewer greater delights than walking past ninja turtles, Street Fighter characters, and small herds of Pokémon in just a matter of minutes!
I took the chance to talk to Valeria Gordillo, who has been taking part in cosplay for several years, and was doing it competitively for the first time. Dressed as Ruby Rose from the anime series RWBY, her costume included a scythe which was as big as she was. Judging by the number of times we were interrupted by people wanting a photo during our conversation, her performance was a hit. She told me that there are some strong cosplay communities in Colombia, and events like SOFA are the perfect chance for them to display their skills. As she says, the key to cosplay is all about having fun with it.
Some younger cosplayers who were also enjoying the event were Santiago and Juan Nicolás. They were dressing up for the first time and their double act of Sherlock Holmes and Watson worked well. The pair, both fans of the British detective, were keen to tell me that deciding what costume to wear was, well, elementary. They'll perhaps be participating in the competitions in a few years, but the competitive side is mostly incidental – the main thing is being part of the bigger canvas of SOFA, not to mention enjoying the attention!
Along with the many cosplayers at Corferias during the weekend, there were also a variety of shops appealing to seasoned and newbie geeks alike. Orenji, for example, carries everything you could ever want to make yourself up as a Japanese maid, which presumably comes in handy as they also have a maid café (Carrera 21 #53-92), where the owner Damian assures me that the ramen is well worth a try.
As well as the many individuals participating in SOFA, and the many accessory and clothing shops offering a plethora of comic-book-themed baseball caps, the event also offers a welcome platform for new ideas. One of the most unexpected I found goes by the name of Lapse, and is a project which seeks to recruit Colombian artistic talent for a company from the Philippines. Students from the SENA have been working in conjunction with the project to create characters for a video game which is expected to be released at the end of the year. Watch this space!
There was also space for smaller, more independent projects to show themselves off too. I ended up being quite impressed by Jesús Sebastián López and Jaime Pineda, who are two members of Mr. Alpaca, which is part of the Unity3D programmers group. The game they had on display and were inviting passers-by to try out was King of the Eggs, a rowdy party game which mostly involves protecting your egg, smashing those of the other players, and shouting obscenities when things go horribly wrong. The game took them about a year and a half to put together, and they'll be giving people a chance to win it online in December (on Facebook, MrAlpacaGames), before it goes on sale via the digital games position Steam in January. Going by how loudly the players were shouting, "I'm going to smash your ***** eggs!," I'd say that the reception was rather good.
There's always more to see at SOFA, and it keeps coming up with surprises that make it worth revisiting year after year. This particularly Colombian twist on geek culture has managed to make itself a date to look out for, and the event's attendees have clearly responded well. It only remains to be seen how SOFA will continue to grow in future years as more people embrace that geek side that they've had hidden away for far too long!
---
Photos: Claudia Canizales