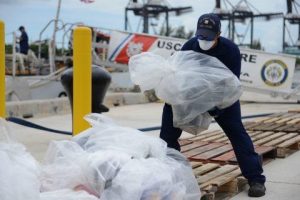 A new White House Report issued by the Office of National Drug Control Policy (ONDCP) claims that cocaine production hit record highs in 2017.
According to the report 209,000 hectares of land were being used in 2017 to grow coca plants, the leaves of which are used to produce cocaine. This represents an 11 per cent increase from 2016 when the figure was 188,000 hectares. Similarly, the amount of cocaine produced has also jumped by 19 per cent in a year to a record high of 921 metric tonnes in 2017. This is three times the yield produced in 2010 and the US has called for greater accountability to stem the flow of production.
ONCDP's acting director Jim Carroll said in a statement that "the steep upward trajectory is unnacceptable" and not in line with President Trump's pledge to reduce fatalities in the US by cocaine overdose. Although conceding that much had been done to counter the distribution of cocaine by way of crop eradication, Director Carroll stressed that more needed to be done by a crucial US ally to reverse "the record growth in cocaine production".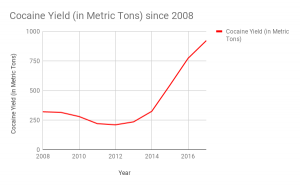 The new figures were not disputed by Colombian President Juan Manuel Santos but his focus remains on the achievements of law enforcement officials rather than the increase of cocaine production within Colombia.
Last week President Santos hailed the "unprecedented results" of his administration citing that two thousand tons of pure cocaine had been seized during his tenure along with 342 tons of coca base and 5,500 tons of coca leaf.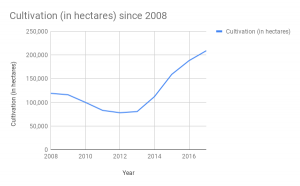 Following media accounts of the White House Report–which has yet to be made publicly available by ONCDP–President Santos announced last week that aerial spraying of coca crops would continue in a bid to curb the production of cocaine. Aerial spraying had been the advocated method of curbing cocaine production during former President Obama's administration. 
The use of aerial spraying in plant eradication has been a contentious issue in Colombian politics and featured as a hot-button topic in the country's recent presidential elections given the harmful and potentially carcinogenic effects of glyphosate, a compound used in fumigation of coca crops.  
During the elections, President-elect Iván Duque was in favour of aerial spraying and has vowed to maintain it after he takes office in August. Duque met with US Secretary of State Mike Pompeo on Friday to speak on a variety of matters including how best to curb cocaine production in Colombia. "[T]hey discussed the need for continued action to reduce coca cultivation and cocaine production in Colombia," the US Department of State's Bureau of International Narcotics and Law Enforcement (INL) tweeted.