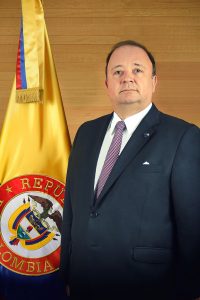 Venezuelans are taking part in ELN attacks, Colombia's defence minister has said, as border issues continue to cause troubles for both countries.
Luis Carlos Villegas said on Thursday that he had spoken to Venezuelan counterpart General Vladimir Padrino, and the two would meet to discuss security at the border.
He said that Venezuelans were collaborating with the ELN to carry out attacks and had also been involved in other crimes.
"The number of Venezuelans who've participated in actions with the ELN has been growing," he said.
He added that they weren't solely involved in "terrorist activity", but also "attacks against the Colombian population".
Villegas also said intelligence agents found that an attack by the ELN in Barranquilla was planned in Venezuela. Two Venezuelan members of the ELN killed themselves over the weekend, his statement added, when a device intended to destroy a section of highway exploded near the border blew up.
Colombia has said that it would tighten its borders as tens of thousands of Venezuelans flee their country – which has been hit hard by inflation, high crime, and a scarcity of basic goods. Many seek solace in large cities like Bogota and Medellin, while many choose to labour in local industries like the enormous rose farms in Colombia exported to the US.
Brazil and other countries are also struggling with the exodus, with Brazil this week saying it would increase the number of soldiers on the northern border.
The number of Venezuelans living in Colombia increased 62 percent to more than 550,000 in the second half of 2017, according to the migration has said.