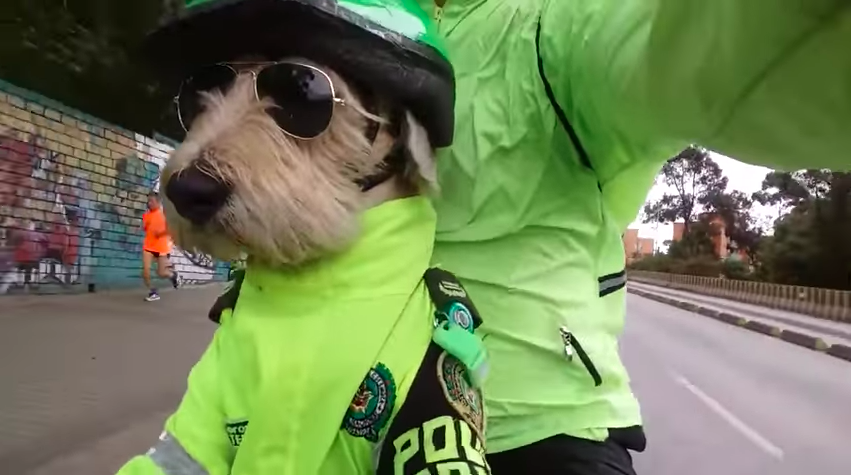 The Bogotá Post takes a look at the internet's Top 5 videos that got you clicking, watching and commenting this April.
1.This month, filming for his new movie 'Gemini Man' brought Will Smith to Cartagena, and news that the US actor was in town took the city by storm. Already a hugely popular figure in Colombia thanks to his collaboration with Bomba Estéreo on their smash hit 'Fuego', locals watched as Smith got jiggy with Nicky Jam and in exchange learnt the moves to his latest reggaetón hit 'X'. Smith was also spotted learning how to dance champeta with artist Mr. Black and trying his luck at mapalé with local dancers. This video was always guaranteed to appear on any Facebook timelines for at least a week.
https://www.youtube.com/watch?v=wdu7wn6HW1E
2. Meet Coronel, the police dog who shot to fame last year patrolling the streets of Bogotá through a taxi window. The dog, who was originally rescued from the streets of Suba and then given special training, was spotted again this month going to great lengths to complete his duties. Watch him as he rides his bike through the city and captures the hearts of bypassers: complete with uniform, helmet and aviators.
https://www.youtube.com/watch?v=B5ov5qWT6Pk
3. Footage of explicit evidence of racism in football has also received some of the highest numbers of views this month in Colombia. In a tackle by Colombian centre back Yerry Minas, who currently plays for Barcelona, against Celto de Vigo striker Iago Aspas, the infuriated Spaniard is captured shouting insults at Minas. When interviewed after the game, Minas reported that he called him a "negro de mierda", which roughly translates to: "black piece of shit". Colombian fans have since taken to social media to express their outrage.
https://www.youtube.com/watch?v=xQyT6rN3Ocw
4. Where have you been for the last month if you haven't been watching La Voz Kids? The reality talent contest, which allows children as young as seven-years-old to participate, has had the nation glued to their televisions. Colombian pop sensations-turned-judges Fanny Lu, Sebastián Yatra and Andrés Cepeda have been battling it out with their teams of youngsters who are competing for the 2018 title. Guest appearances from chart-toppers such as Juanes, Piso 21 and Greeicy Rendón have seen ratings shoot through the roof.
5. Seong Jin Esteban Ahn is an actor and vlogger who grew up in Gran Canaria, one of Spain's Canary Islands, and goes by the name of 'CoreanoLoco', thanks to his Korean heritage. His unusual accent and extroverted personality make him an intriguing watch as he documents his time as an expat in Colombia. The vlogger is also a hit on social media, with over 350 thousand followers on Instagram and over 250 thousand likes on Facebook.
https://www.youtube.com/watch?v=pzICjQK6a0M
Those are our 5 top videos for the month. Did we miss one?