VamosA brings together university students and young entrepreneurs to participate in educational experiences in Colombia with the goal of propelling social entrepreneurship. The Bogota Post spoke to founder Juan Felipe Cardona about the aims of the bootcamp.
After coming across VamosA, a startup bootcamp situated in Medellin seeking to attract entrepreneurs in the making from outside Colombia, I was curious and yet had my doubts. I could not wrap my brain around what bringing college students and aspiring gringo entrepreneurs to collaborate in Colombia had to do with "driving sustainable development". So I sat down with Juan Felipe Cardona to have him explain it to me.
Juan Felipe explains that while working with Georgetown MBA students in South Africa on "design sprints" to refine their business ideas, it occurred to him, "Why don't I do this for younger people in my own communities." Born in Cali but raised mostly in the US, VamosA is the bridging of his two cultural upbringings to create a social venture. Cardona decided to team up with Sophia Wood, his Seattle-raised classmate from Georgetown–fellow lover of Latin America and sustainable tourism projects–to launch VamosA.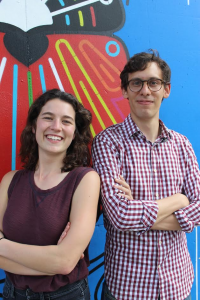 VamosA attracts university students and young entrepreneurs to Medellin and Cartagena to participate in educational experiences that they can come back from with tangible results they can then used to set up a startup (and perhaps the chance to launch it here in Colombia).
Their flagship program, Medellin Startup Bootcamp, consists of six workshops that give participants the training they need to hit the ground running:
What is your product and who will use it?

Business model and Minimum Viable Product design: After this participants walk away with a plan for the simplest product you can sell to validate their idea and a model to make it feasible.

Legal/Finance: Participants speak with accountants and lawyers to see the legal side, logistics, and finance aspects of running your own business.

Web design/development: Participants walk away with the beginnings of their potential startup's WordPress site.

Digital marketing: Participants gain knowledge how they can strategically use content and social media to reach their audience.

Design sprint: Participants have a collaborative consulting session where they leave with a plan of how their audience will interact with their product from start to finish.
Throughout the program participants have the chance to collaborate in co-working spaces including Medellin's landmark innovation center RutaN, and NODO in Poblado. Situated in the tourist hot spot of the country, participants can explore the city and neighbouring attractions, whilst developing and co-building ideas.
Cardona explains that VamosA offers so much more than an ordinary, strictly educational bootcamp,"it's also a networking experience, a chance to meet like-minded individuals who could end up being your co-founder."
So helping young entrepreneurs from the US is all fine and dandy but how is this benefiting the Colombian side of things, I asked.
Cardona shared some of VamosA's goals, "We want to help shape the business culture in Colombia by having people come in and collaborate. While doing this we aim to empower social ventures by working with businesses that have social ventures — collaborating with businesses that are tangibly making a difference in the community where they are located."
To illustrate, VamosA works with businesses like Tu Carerra, an interactive database of higher-education opportunities in Colombia. They aim to show that there are great educational opportunities in Colombia no matter what field interests you. In VamosA's startup bootcamp, participants get the chance to collaborate on digital consulting projects with social ventures such as Tu Carerra, testing out new skills by redesigning landing pages or creating marketing campaigns while helping to propel these local businesses.
He says that Crepes & Waffles, a company praised for its policy of only hiring single-mother head of households, is a favorite local example as well.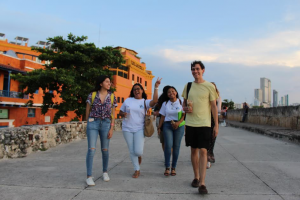 They are also working towards their Sistema B certification (Bcorp), a business that not only measures return on investment in money but in societal and environmental impact, a concept that gained momentum with debate over Ben & Jerry's Unilever acquisition. They hope to have their Sistema B certificate in the coming year.
After asking about the future, Juan shared his high hopes for the project."We want to be like Venture for America, but for Latin America, connecting talent with social venture startups,"
Other programs share similar avenues to educate, connect, and launch Latin-fueled startups such as PuenteLabs, a program that brings Latin American startups to Silicon Valley and helps them scale financially by connecting them with investors.
In the coming year VamosA hopes to host five startup bootcamps in Medellin and launch a summer-long fellowship program. If things go well, a possible expansion to other tech hubs in Latin America is on the table for 2019, to cities such as Mexico DF or Santiago, Chile. This would double their numbers in participants and eventually more toward job placement programs.
Cardona wrapped up by explaining the space that they want to fill, "There's tonnes of volunteer opportunities and immersive education programs in Latin America and they each have their trade-offs. We wanted to create a new kind of experience for people that want a balance of the two: VamosA is a learning experience where you walk away with new skills but you also have a chance to create meaningful connections with local entrepreneurs — the best of both worlds."
You could say our conversation was a microcosm of what VamosA does; it brings people together for an educational collaborative experience and to leave with a fresher perspective after.
If you'd like to learn more about VamosA you can visit their website or connect with them on social media. The next Startup Bootcamp in Medellin will be held on March 3-11, 2018.