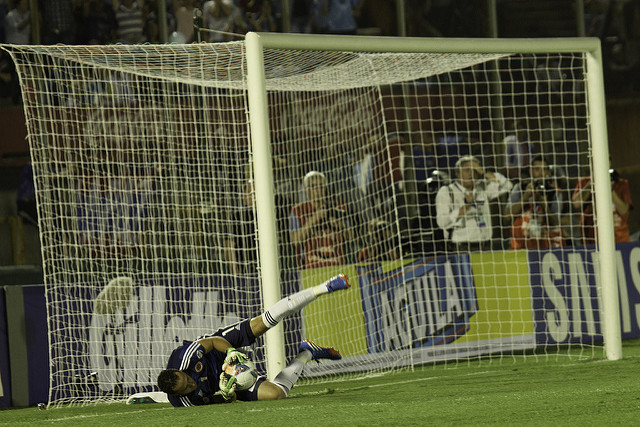 Colombian keeper David Ospina and Arsenal may have dropped Thursday's match 2-1 to Swedish side Ostersund in the Europa League Round of 32, but they're still advancing to the next round on an aggregate score of 4-2.
Ospina and Arsenal beat Ostersund 3-0 in last week's first leg where the Colombian shined with a trio of saves, including a penalty save, to keep his shutout intact. According to the Guardian, some sportsbooks had Ostersund at 100-1 odds to qualify to the Round of 16 due to its three-goal deficit coming into the second leg Thursday.
However, Ostersund scored a pair of goals in a two-minute span in the first half Thursday, quickly bringing the aggregate back to 3-2.
Both goals came off of careless mistakes from the backline and left Ospina with virtually no chance to save either. The rough first half put all the pressure on Arsenal's side despite the home field advantage at Emirates Stadium in London.
The Gunners then came out with a huge goal in the first two minutes of the second half when left-back Sead Kolasinac netted a ball into the top corner of the goal from a few yards away.
Minutes later, Ospina helped keep Arsenal's momentum by covering up a ricocheted free kick that looked like it was going to be poked in by Ostersund's Ronald Mukiibi.
Arsenal is now the latest team to qualify for the Round of 16 at the UEFA Europa League, the continent's second-tier club tournament behind the Champions League. The draw will be held Friday in Switzerland to decide matchups where some of Europe's top teams like Atlético Madrid, Dortmund, and AC Milan will join Arsenal.
In Arsenal's two-goalie system that they've used this season, manager Arsene Wenger has maintained that veteran Petr Cech will continue to start all Premier League games while Ospina gets the nod in cup competitions.
That means the 29-year-old Ospina will also be starting in goal during Sunday's highly anticipated Carabao Cup final against Premier League-leader Manchester City.