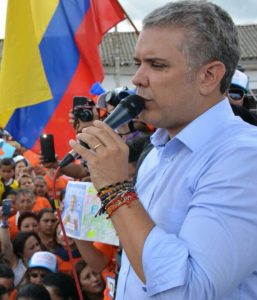 In a rainy season filled with landslides, Centro Democrático candidate Iván Duque will now look to cause a landslide of his own next week when Colombian voters decide on who the next President will be. Three recent polls have all been in Duque's favour over leftist rival Gustavo Petro, though to different degrees.
A tale of three polls
The Invamer poll showed the largest discrepancy between the two candidates and confirms the results of an earlier survey conducted by Centro Nacional de Consultoria and CM& which also showed a 20% difference between Duque and Colombia Humana's Petro. According to the Invamer poll, Duque now has 57% to Petro's 37%.
A more comprehensive poll of 1,983 people conducted by Ciffras y Conceptos on the other hand showed a smaller gap of less than 9% with Duque at 45.3% leading Petro's 36.4%. Around 18% of those surveyed have pledged to vote en blanco. The study included age demographics that clearly illustrate where Petro is lagging behind Duque. With the exception of voters aged between 18-25, Petro is now losing to Duque in every age range between 26 and 65 years of age.
Interestingly, despite his popular support among the working classes, according to the poll Petro is also losing to Duque in all economic brackets as well (referred to as NSE: a 6-tiered stratification determined by the location where the person resides).
Regionally, Petro is leading in Bogotá, Valle de Cauca, Pacifico and Caribe but is losing heavily in Antioquia, Central and Oriental.
More worryingly for Petro however, 42% of former Fajardo voters claimed they would now vote en blanco while only 34% would be willing to switch and vote for Petro (and 24% for Duque). Having a lead in all of the polls, Duque has the most to win by disaffected Fajardo voters choosing to vote en blanco.  
Related: Where to for Fajardo followers? A polarised election throws up difficult choices for voters who backed the former mayor of Medellín
And though the favourability and unfavourability ratings between the two candidates didn't show as wide a discrepancy, the study did conclude that the fear of having Petro as president outweighed the fear the respondents had for a return to power for Duque's mentor former president Álvaro Uribe.
A final poll released by Datexco shows the slimmest margin with only 6% separating the two candidates after surveying 1,993 people on their preferences. On this poll Duque has 46% to Petro's 42% and the former leads the latter on older age groups from 35 years and above. Results similar to the Cifras and Conceptos survey were found across socioeconomic groups and regions in Colombia.
Who's backing who?
News of the polls also accompanied the endorsements of influential groups and individuals hoping to sway people's views a week before the final round takes place on June 17.
For one, former mayor of Bogotá and liberal darling Antanas Mockus as well as Green party Senator Claudia López have thrown their weight behind Petro. In addition to this, former Green Party leader Íngrid Betancourt–who rose to international fame after being held as hostage for six and a half years by the FARC as well as the daring raid that led to her release–has also endorsed Petro's candidacy.
On the other hand Duque continues to attract the business community by securing the endorsement of the National Guild of Industry Groups (CGN) last Thursday. The trade group represents bankers, retailers and other industries and claimed that Duque's vision is "the right one to develop the reforms that the nation wants, to recover economic growth, strengthen employment and fight against corruption," according President of CGN Jorge Humberto Botero.
In addition to this Endeavor Colombia, a network that promotes high-impact entrepreneurs, has also put their weight behind Duque's candidacy. Speaking to The Bogotá Post, Managing Director Adriana Suárez was impressed by what Duque had to offer entrepreneurs in the country and will be hosting a Facebook Live event this Monday with the candidate.