Oli Pritchard takes The
Bogotá Post
on a speedy trip through this year's Dutch themed FILBo
---
Leer es Volar. To read is to fly. A succinct description of the joy of the written word. It sums up so well the joy of reading, of looking not outwards to the world, but inwards to your imagination. This apt phrase is part of the Colombian government's program to increase reading throughout the country. And at FILBo, this joy was writ large across Corferías, just off the road leading to the airport, for two glorious weeks.

If you've never been, Corferias, the exhibition space for Bogotá, is enormous. Sprawling across several dozen pavilions, some the size of aircraft hangars, it's rarely completely taken over. FILBo, though, did exactly that. With thousands of visitors, this really was a celebration of reading unparalleled in Colombia.
Although short on places to read, everywhere one cast a glance there were groups of people gathered on steps, nestled in alcoves, perched upon walls, huddled around food court tables, even lying in hedges or reclining upon grassy knolls. Each and every one with a book in their hand, preferred for the moment to some ghastly googlephone. We live in a world where people read constantly, yet rarely for any length of time or through any great text, which is what makes events such as FILBo so damn important.
Filbo was filled, though, with more than simply books. At every turn there were authors signing works, famous names giving talks and speeches, even musical events. We've highlighted some of these in previous articles (and here and here), although there was plenty more going on. We learnt about local markets from cheerily sexist historians, took notes on the state of Colombian forests and chuckled with Argentinian illustrator Maitena.
Alternative writers were well represented this year, whether they were there to shine a spotlight on often invisible groups like Colombian muslims, or promoting their own theories such as Astral Flying. Author Néstor Montes Salamanca gave us the lowdown on 'metaphysical journeys' as he promoted his book on the subject: "It's about using your whole mind, not just the parts you normally use. I want everyone to be able to open up their mind and travel through the astral realm". Perhaps not of interest to everyone, but there are stranger myths down the road at the Christian shops.
In among the wackiness and bookshops were also plenty of government ministries, charities and foundations. Esteemed personalities such as Education Minister Gina Parody were to be found here, happy to roll up her sleeves and listen to children learning to read and giving mini-presentations.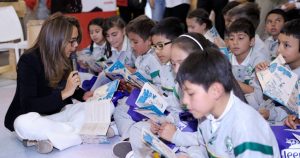 With peace seemingly ahead of Colombia, there were a multitude of references to the future. Everyone is jumping on this bandwagon, from government ministries to universities and even the military. This last group is not to be dismissed lightly – the Colombian military has gone in hard to rework their image for peacetime. With a harsh light likely to be shone on their conduct throughout the times of conflict, this was a heavy barrage of propaganda.
Other projects could be found throughout the centre, such as the excellent library project from the Banco de la Republica. Best of all, though, was the upcoming Centro de Memoría and a team member, Diana Zerda, who kindly gave us a few words. "It's a chance to make visible the work we have planned and to give a stage to the victims (…) It's important to record historical memory and inform people about everything that has happened in the armed conflict over the years".
Speaking of political pushes, the already-embattled Peñalosa got his people to work too. His proud declaration at the opening ceremony that "this is the first year local government agencies have been the primary sponsors of FILBo", was backed up with plenty of presence. The great leader himself contributed to the interactive displays with glib statements about writing (in peculiarly poor writing).
Most spectacular was the enormous "Bogotá mejor por todos" tent front and centre, which housed a giant floor map of Bogotá over which we enthusiastically scrambled in search of our houses, like horrendous clichés. Surrounding us were dozens of plants, creating a garden-like atmosphere replete with books to be borrowed for free to relax with in deckchairs.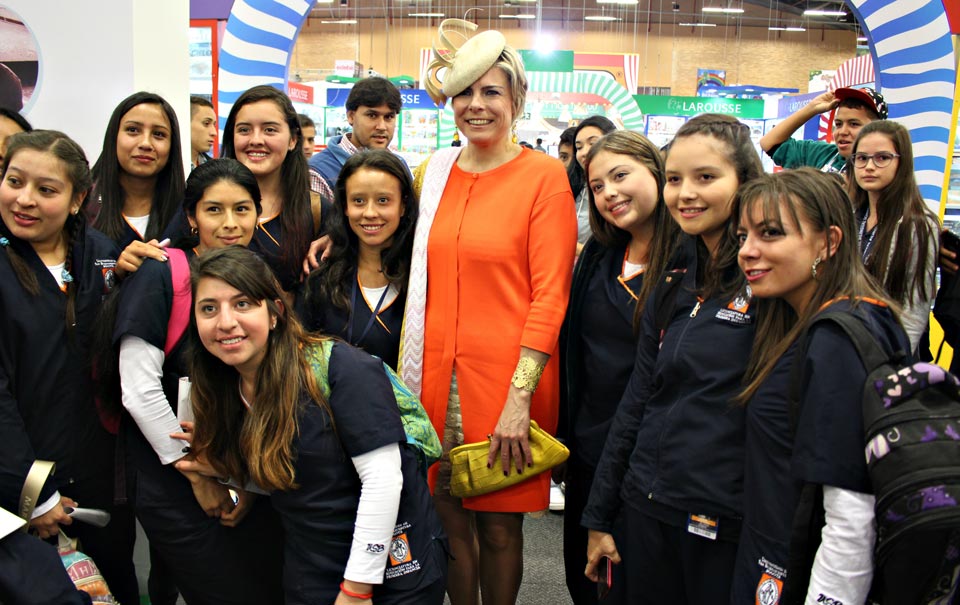 In a country with frighteningly low reading levels (fewer than two books a year, according to the Ministry of Culture), the attendance of hundreds of younguns can only be applauded by us all, even if it means tolerating a bit more noise than one would like.
In the end, this is the point of events like FILBo, and they're something Bogotá does very, very well. This really is Bogotá for Bogotanos, not just the rich elite with money to burn, but neither is it sidelined and tucked away in some forgotten barrio. So next time someone starts chuntering off on how there's never any culture here in Colombia, remind them of what FILBo brings to the city.
---