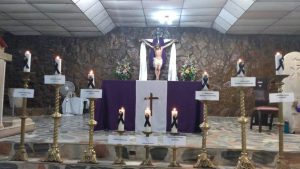 A shooting in a billiard hall in the small village of El Tarra has been blamed on rival feuds among left-wing rebel groups. The victims were killed in the attack as a group opened fire into a crowd around 3pm on Monday. According to a local farmer's association, the victims included community leader Frederman Quintero, adding to the already growing list of murdered social leaders in the country.
The Catatumbo region, where El Tarra is located, is troubled by continued fighting relating to drug routes that traverse across the Colombia-Venezuela border. Initial reports claimed that the attack was most probably a result of an ongoing feud between the National Liberation Army (ELN) and rival faction Popular Liberation Army (EPL). Both groups, however, have denied responsibility for the incident.
President-elect Duque too has not formed conclusions as to who was behind the attack though he did call for a quick and thorough response. "We repudiate the murders in El Tarra," he tweeted yesterday. "The principles of legality and justice must prevail in every corner of the country. Authorities should clarify who is responsible and capture them."
President Juan Manuel Santos, in his final week as Colombian President, also tweeted a statement in solidarity with the victims of El Tarra in Catatumbo.

Around two and a half hours from the border, the violence in the region of Catatumbo has increased between the armed groups ELN, which is currently undergoing peace talks with the government, and their rival faction EPL.
Earlier this month the Office for the Coordination of Humanitarian Affairs of the United Nations claimed that human rights violations by the two armed groups were responsible for the displacement of 16,000 people–around 5,168 families–in the municipalities of San Calixto, Teorama, Tibú, La Playa de Belén, Ábrego and Hacarí.
OCHA also observed that, during this period, at least three social leaders were killed and a large number of community leaders have had their lives threatened in the region.  In addition to this, 44,829 children and adolescents have had their right to an education severely curtailed since the beginning of the crisis with more than 2,900 children who continue to be out of school.
The region now braces itself for the aftermath of yet another attack on its people, this time in a crowded urban location in broad daylight. Authorities have yet to find any leads on the culprits behind the billiard hall attack and have offered $100,000,000 for information that would lead to any arrests.