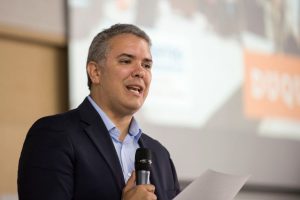 The candidates for next year's presidential election are slowly surfacing, with the party of Uribe choosing their candidate at the weekend.
Senator Ivan Duque was announced for the right-wing Democratic Centre, receiving support from ex-president Uribe, El Tiempo reported. 
Duque, much like the former president, hopes to change the peace deal that was signed a year ago. 
The football-loving lawyer previously told the Bogotá Post that he backed the 'No' campaign in the referendum last year. He said that a 'no' vote was not a vote against peace, but a vote against the agreement as it stands.
The senator has said that his policy would be based on four key pillars: economic recovery, job generation, innovation and environmental sustainability and preservation.
In Bogotá, senators Claudia Lopez and Jorge Robledo endorsed Sergio Fajardo – a centrist from Medellín who formed a coalition with López and Robledo called "Coalición Colombia." The team will be a centre-left option for voters.
Furthermore, former Bogotá mayor Clara Rojas said she endorsed Gustavo Petro, a former guerrilla who will run independently.
Petro was a senator until 2010 and served as Bogotá mayor from 2012 – 2015. His presidential campaign has the name "Colombia Humana", whose pillars are "true democracy, social justice, fight against climate change, and peace."
Meanwhile, former vice-president Germán Vargas Lleras is hoping to appeal to more conservative votes by running independently.
Lleras comes from one of the country's most prominent presidential families. During his vice-presidency he didn't show full support for Santos's process with the FARC but said he would vote 'yes' – adding he would have made modifications to the agreement.
Hot topics in next year's election are likely to be the ongoing peace process, the treatment of ex-rebels and corruption.