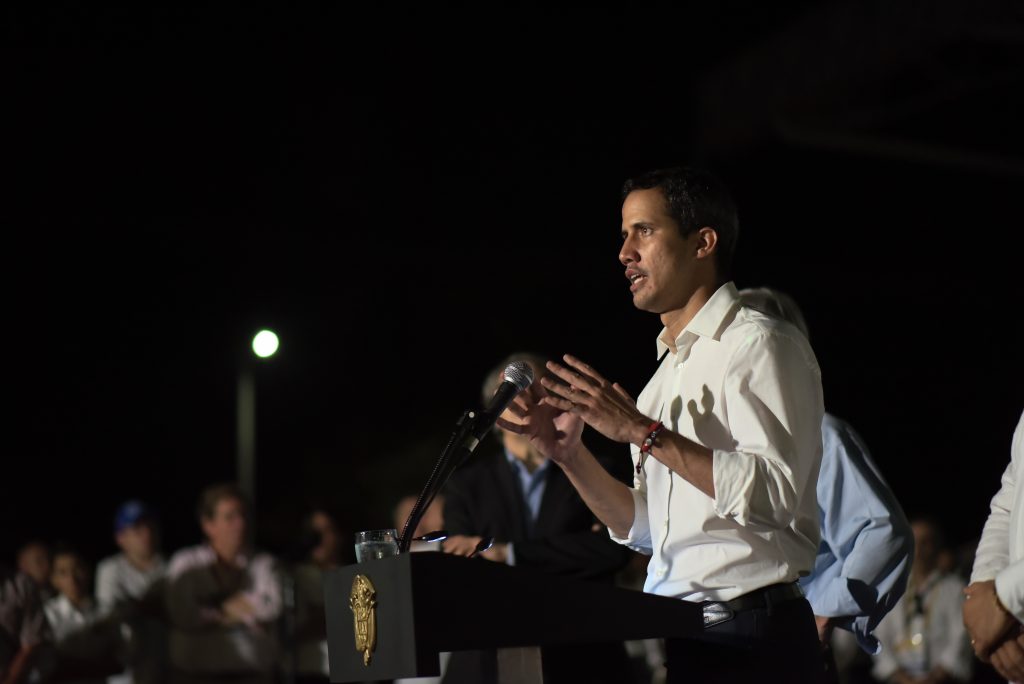 It has been over a month since Juan Guaidó declared himself interim president of Venezuela by the National Assembly, an act of defiance against ruling president Nicolás Maduro. Guaidó's international recognition has been followed by a standoff with Maduro at the border with duelling music festivals, a whirlwind tour of South America to visit supporters, and a triumphant return to Maiquetía airport in Caracas calling for fresh protests on Saturday. Could this all backfire on Guaidó and his supporters?

I will be the first to congratulate Juan Guaidó, interim president of Venezuela, for his bravery in returning to Caracas. Guaidó is risking a lot by walking into the lion's den to confront his adversary Maduro who still has the support of the military forces, the armed colectivos, and a still significant portion of the population of Venezuela. Venezuela´s interim president has called on supporters to stage a massive protest on Saturday to once again call for the ousting of Maduro and a democratic transition within the country. The momentum will likely pick up ahead of the protests which could lead to a "make it or break it" moment for Guaidó´s efforts to unseat Maduro.

The international support that Guaidó has amassed will become necessary not only to protect Guaidó in the days ahead of the protest, but also to urge Maduro to exercise restraint, call for dialogue, and avoid confrontation between government forces and protesters – which has the potential to escalate internationally as well. Although Guaidó has called for the international community to intervene, his request was not embraced with enthusiasm. This weekend's protests have the potential to force the international community's hand.

The enthusiasm to unseat Maduro has the potential to backfire. It could backfire on Guaidó, who likely faces jail time. It could backfire on the protesters who are likely to face the national guard, the police, and possibly angry counter-protesters on Saturday. It could backfire on President Ivan Duque and other international supporters of Guaidó for potentially egging on a bloodbath. Finally, it will likely backfire on the Venezuelan people, who will likely continue to suffer the food shortages, a crumbling economy, a sanitary, and social crisis that will happen regardless of the outcome of Saturday's protest, that is why it is important that the world pay attention.

Make it or break it moment?

The momentum for a definitive clash between Guaidó and Maduro has been building for a while. When the National Assembly declared Guaidó president, many thought he would be detained by the SEBIN and confined to prison for a long time, like Leopoldo López was. When Guaidó was released and staged a protest on January 22, we thought this would be a definitive moment. When UK billionaire Richard Branson called for a massive concert on the border on February 22, on the eve of an international plan to bring in aid to Venezuela, we thought this would be the definitive moment. When Maduro blocked the aid from entering Venezuela at the border with Colombia and Brazil, we thought that it would be a definitive moment (do you see where I am going with this?).

Now Guaidó is back in Caracas, a courageous move considering that he faces long odds to successfully remove Maduro from power. At best he faces imprisonment by the Maduro regime, at worst his calls for a massive protest movement throughout the country could unleash major confrontation.
Maduro still holds a grip on power in Venezuela, not least because in spite of more than 500 defections – and counting – the military, still loyal to him, has total control over the country's economy, food supply, gasoline supply, and a vast arsenal of weapons.

From a communication's point of view Guaidó has given his followers a winning vision but the truth is that, although Maduro's regime has lost legitimacy domestically and internationally, it is not closer to capitulation than it was a month ago. Saturday, which is likely to be elevated by Guaidó and the international media as a major milestone, may end up disappointing many.

International support

Many members of the international community have steadfastly stood in support of Guaidó who in two months has obtained the legitimate recognition of close to 54 countries. The United States, Colombia, Brazil and other members of the Lima Group have been inspired by Guaidó's courageous defiance of Maduro and have pledged to support him.  

That support, however, has its limits. When the Lima group met in Bogotá on 25 February, Guaidó raised the spectre of international military intervention, following the lack of success of the aid caravan entering the country. His proposal was received with little enthusiasm by neighboring countries who reiterated their support for Guaidó but did not endorse the use of force to oust Maduro.

Guaidó's renewed call for a protest this weekend is likely to be supported by the international community. Multitudinous turnout at the protest this weekend will help insulate Guaidó and members of the National Assembly from backlash from the Venezuelan military and police who are likely to, again, show restraint when the world is watching.

Parties are likely to call for restraint on both sides in an effort to avoid violence and a more open confrontation between supporters of Guaidó and Maduro. Although the potential for violence grows as does the momentum for the protests on Saturday. The combustible situation has the potential to become a turning point for the opposition, who desperately need it, or it could backfire.
This could backfire

First, Guaidó is risking his freedom and putting his life on the line this weekend. He is well aware of the fact that Maduro's patience is running thin. The protests scheduled for this weekend are potentially also putting thousands if not hundreds of thousands of supporters in harm's way in the face of possible backlash from national guardsmen, the colectivos and the military. It will be important for Guaidó and leading members of the opposition to show that they are putting their money where their mouth is, lest they give the impression as they did in Cúcuta that they send others to do their fighting for them.

Iván Duque and other international supporters of Guaidó, including US envoy Elliot Abrams, Chilean President Sebastian Piñera, Argentinian President Mauricio Macri, Brazilian President Jair Bolsonaro, and Paraguayan President Mario Abdo Benítez are also likely to be held responsible if Guaidó's efforts to unseat Maduro are unsuccessful in building momentum this weekend (at best) or quashed violently (at worst). A violent confrontation this weekend with the potential to escalate into a larger fight with domestic or international implications must be avoided at all costs. Though many global leaders have staked their reputation in support of Guaidó, nobody wants to have blood on their hands or be held responsible for provoking a war.

Finally, and perhaps most saliently, the Venezuelan people will suffer as a result of the country's crumbling political, economic and security conditions. This is likely to be the case regardless of the outcome of Saturday's protest movement. Guaidó has put an unstoppable force in a collision course with an immovable object this weekend. The collision will likely be a tipping point for a short-term transition, but suffering that will irredeemably follow the weekend's events.

Sergio Guzmán is the Director of Colombia Risk Analysis, a political risk consulting firm based in Bogotá. Follow him on twitter @serguzes and @ColombiaRisk

This opinion column is intended as a space to discuss some of the most pressing issues faced by Colombia and the region in these uncertain times. All opinions and content are solely the opinion of the author and do not represent the viewpoints of The Bogotá Post.