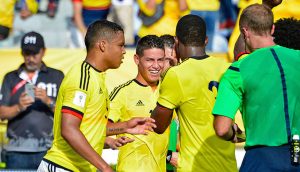 Around the 27-year-old midfielder will be Colombia's other big names that were present for the previous two post-World Cup friendlies. Captain Radamel Falcao will be taking a break from Ligue 1 in France, while both keeper David Ospina and winger Juan Cuadrado will be coming in from Italy for the friendlies against CONCACAF competition.
Another notable call-up comes in the form of 19-year-old sensation Juan Camilo "Cucho" Hernández, who plays with Huesca in Spain. The young striker is considered by many to be the heir apparent to James and Falcao as the next star of Colombian football and it will be interesting to see if interim coach Arturo Reyes gives the youngster time against either the US or Costa Rica.
Unfortunately for Colombia, defender Yerry Mina will be absent again as he continues to recover from an injury that has prevented him from debuting with new team Everton.
The last time Colombia met Costa Rica and the U.S. in international competition was in the Copa América Centenario in 2016. The three teams were drawn in the same group, as Colombia beat the US 2-0 in the opener before losing to Costa Rica 3-2 in the final group game without its normal starters and qualification already in hand. Colombia then went on to top the US again in the third-place game as it secured its highest Copa América finish since winning the tournament in 2001.
Colombia will first kick off against the US in Chicago on October 11 before going to New Jersey to face "Los Ticos" on October 16.
The full roster list is below, courtesy of the Colombian Football Federation:
David Ospina Napoli (Italia)
Juan Guillermo Cuadrado Juventus (Italia)
James Rodríguez FC Bayern Münich (Alemania)
Dávinson Sánchez Tottenham Hotspur (Inglaterra)
Carlos Bacca Villarreal (España)
Jeison Fabián Murillo Valencia (España)
Santiago Arias Naranjo (Atlético de Madrid)
Juan Camilo Hernández Suárez Huesca (España)
Didier Andrés Moreno Asprilla Deportivo de la Coruña (España)
Radamel Falcao AS Mónaco (Francia)
Oscar Fabián Murillo Pachuca (México)
Andrés Mateus Uribe Villa América (México)
Cristian Borja Gonzalez Toluca (México)
Wílmar Enrique Barrios Boca Juniors (Argentina)
Sebastián Villa Cano Boca Juniors (Argentina)
Edwin Andrés Cardona Bedoya Boca Juniors (Argentina)
Juan Fernando Quintero River Plate (Argentina)
Miguel Ángel Borja Hernández Palmeiras (Brasil)
Yimmi Javier Chará Zamora Atlético Mineiro (Brasil)
Felipe Aguilar Mendoza Atlético Nacional (Colombia)
Helibelton Palacios Zapata Atlético Nacional (Colombia)
Déiver Santiago Machado Mena Atlético Nacional (Colombia)
Alvaro David Montero Perales Deportes Tolima (Colombia)
Juan Daniel Roa Reyes Independiente Santa Fe (Colombia)
This article originally appeared on Colombia Focus.