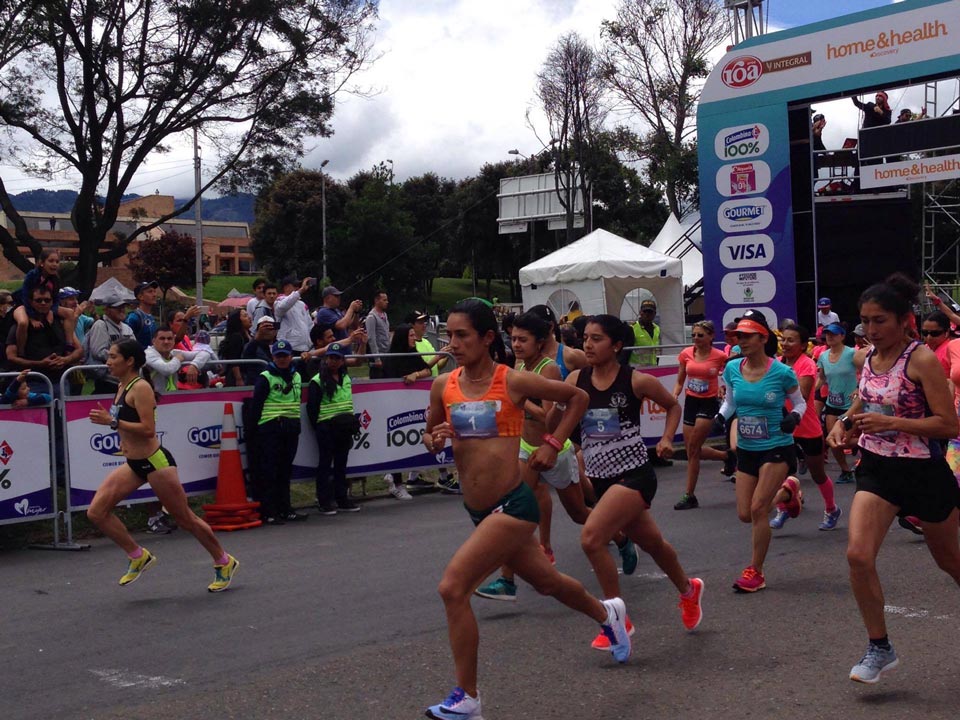 Girl power, unity, support towards women, and health awareness were all important themes at the tenth version of La Carrera de la Mujer, which Colombian athlete, Angie Orjuela won once again on Sunday, September 17.
---
The race brought more than 15,000 women from all over the country to Parque Simón Bolívar. In addition to encouraging women to participate and to meet their goals, La Carrera de la Mujer strives to improve women's health habits and to create awareness of the role of women in society. There was a strong emphasis on healthy eating, as well as prevention of violence against women and breast cancer awareness.
Orjuela, who also won last year's race, and today remains the champion of La Carrera de la Mujer, said this was one of her favourite races since she believes it's important to empower women and to motivate them through running.
"I'm very happy to have won this beautiful race," Orjuela said. "I'm an inspiration to many women and I want to keep motivating us [women] with regard to health and sport."
Last year, Orjuela won the race in a time of 36:32. This year she improved her time to 35:32.
Orjuela said she was delighted with the results of the race and that although she plans on running different races around the country, her focus will now be on preparing for the XVIII Juegos Bolivarianos that takes place in Santa Marta during the month of November.
"I'm 100% committed to the Juegos Bolivarianos," Orjuela said.
Ruby Riativa, who has won titles in Duitama and Rionegro, placed second, arriving a little over two minutes later than Orjuela. Ginary Camargo took third place, with a time of 38:21.
Related: Media Maratón de Bogotá
Orjuela said that at the beginning of the race her competitors stayed close to her, and that she was somewhat nervous as they were also using her race strategy, but after the second kilometre, she was running by herself until the end of the race.
Another important figure of the race was Orjuela's sister, who came fifth, with a time of 40:10.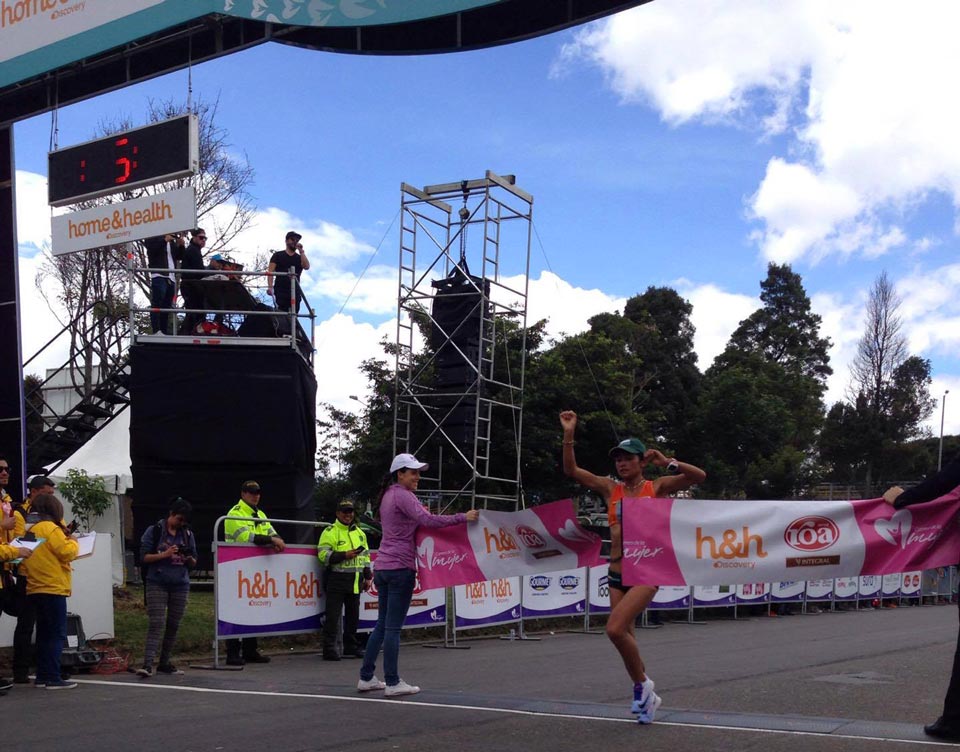 Two races took place: the 5K and the 10K. However, the most important difference, besides the distance, was that the 10K was limited to just women. Although, dogs happened to be the exception to the rule, as many were seen running next to their owner during both races.
The 5K, on the other hand, stood out for the support shown by men, who were able to participate in the shorter competition. Some people also ran in couples. But all in all, women were the centre of attention. Presenters would yell supporting words towards women and encouraged them to go all the way and to support each other. They also asked the men to cheer women and they weren't shy in their cheers. They clapped and praised with joy.
Carolina Martínez, a recreational athlete who ran the 5K said her experience was fantastic because besides her running with friends, she felt motivated.
"I wanted to run because I want to improve my health habits as well as improve my race, because I ran and usually get really tired, so I wanted to improve that," Martínez said.
La Carrera de la Mujer supports La Liga Contra el Cancer in Bogotá, and this year the donations went to breast cancer research.
Related: Running vocabulary in Spanish
Gloria Inés Forero, president of the organisation in Bogota, said "We thank La Carrera de la Mujer for the support to La Liga Contra el Cancer, it's important to keep generating healthy life habits. With the donations from the race we will help patients of low income."
Juan Carlos González, General Director of Ergofitness, said next year La Carrera de la Mujer wants to organize a girls' race. He said if women practice at least 120 minutes of exercise per week from an early age, the risk of breast cancer is reduced up to 82%, so they want to encourage girls at a young age to exercise and practice healthy life habits.
Results
Angie Orjuela – Porvenir Team – 35:32
Ruby Riativa – Bogotá – 37:46
Ginary Camargo – Boyacá – 38:21
Leidy Romero – Bogotá – 39:59
Ana Milena Orjuela – Bogotá– 40:10
---