Bogotá is red once more after four goals in 18 second half minutes saw Independiente Santa Fe beat rivals Millonarios — who played for over 40 minutes with nine men — 4-2 in Liga BetPlay Dimayor on a wet Sunday evening at El Campín.
After going 1-0 up through Jader Valencia, red cards for captain David Macalister Silva and Daniel Giraldo either side of the interval left Millos with too much to do to protect their slim lead.
And, after hanging on for just eight minutes, quickfire goals from Christian Marrugo, Emerson Batalla and a brace from Yeison Moreno brought ecstasy for the Santa Fe contingent in the Sur and agony for a Millos team in disarray.
A consolation goal from Jader Valencia left only the most optimistic dreaming of a historical remontada for Los Embajadores, but the damage from the two dismissals had been done.
A storied and bitter rivalry
The 313th league meeting between the two rivals saw Santa Fe begin the match sixth in the table having shown promising, though not groundbreaking, progress under new coach Hubert Bodhert.
Meanwhile, defending league champions Millonarios kicked off having had a wholly unconvincing start to the season. Boasting the worst attacking record in the league, their four goals scored in nine games — with not a single one away from home — had left them in 13th position, largely thanks to a similarly miserly defence that had conceded just six.
Kicking off in the pouring Bogotá rain, it was Santa Fe who came closest to opening the scoring early on after José Aja's headed effort from the first corner of the game cannoned off the crossbar after the initial cross eluded an onrushing Juan Moreno.
Ever Valencia was then similarly denied by the woodwork, with his exceptionally controlled chest and volley from outside the box sneaking past Moreno but crashing against the post.
While the initial momentum was with Santa Fe, it was Millos who took the lead on 36 minutes. A low cross from the right from Sander Navarro was deflected into the path of an onrushing Jader Valencia, who was able to withstand pressure to poke it over the line from three yards out.
Blue Pain
The tide was to turn just before half time, however, after a rash challenge from captain David Macalister Silva on Santa Fe's Jhojan Torres was referred to VAR and the initial yellow card upgraded to a red.
Alberto Gamero's team talk was already in need of a tweak but very nearly came to being completely torn up and started again after Ever Valencia chipped over Moreno into the back of the Millos goal in first half injury time. However, the rapturous celebrations were curtailed after the forward was judged to have strayed offside, leaving it 1-0 to the azules at the break.
Dan Giraldo sees red and Millos collapse
It was deja vu less than a minute into the second half for Millionarios after their remaining centre midfielder Daniel Giraldo scythed Ever Valencia down with a two-footed challenge. VAR wasn't required this time, with referee Carlos Ortega producing a straight red card for violent conduct.
With the match now 11 versus nine it took Santa Fe just eight minutes to draw level, with captain Christian Marrugo demonstrating some deft control to cushion Valencia's cross into the box before pirouetting to fire home on 55 minutes.
Just six minutes later, a first-time left footed finish from Emerson Batalla — his first of the campaign — gave Los Cardenales the lead.
In dire need of changes in the chaos (and with a potential eye on damage limitation), Alberto Gamero then sacrificed attackers Leonardo Castro and Daniel Cataño and replaced them with defender Jorge Arias and midfielder Juan Carlos Pereira.
The lead became 3-1 to the reds shortly after, however, when Juan Moreno — back in goal while regular starter Álvaro Montero is with La Selección for the CONMEBOL qualifiers — spilled a speculative effort from Ever Valencia into the path of Yeison Moreno, who coolly slotted home.
And on 73 minutes it was that man Moreno again, taking advantage of the stretched Millos back line to grab a brace from a low effort into the far corner and make it 4-1 to Santa Fe.
The result now more-or-less a foregone conclusion, many Millonarios fans took the opportunity to save themselves from further pain (and rain) and leave El Campín with time to spare. Santa Fe's substitute goalkeeper had a similar idea, receiving a red card from the bench for unprofessional behaviour.
A consolatory second goal of the match from Jader Valencia, who had demonstrated an admirably Kipling-esque ability throughout the match to keep his head while his teammates lost theirs, made it 4-2 on 76 minutes.
This, however, helped crystallise the focus of the Santa Fe players, who comfortably saw out the remaining time to assure themselves of all three points and their first win in six in the Clásico Capitalino.
Lost Their Bottle
In unfortunate scenes after the final whistle the victorious Santa Fe players were instructed to stay on the pitch for approximately ten minutes under the protection of both security staff and the attending National Police.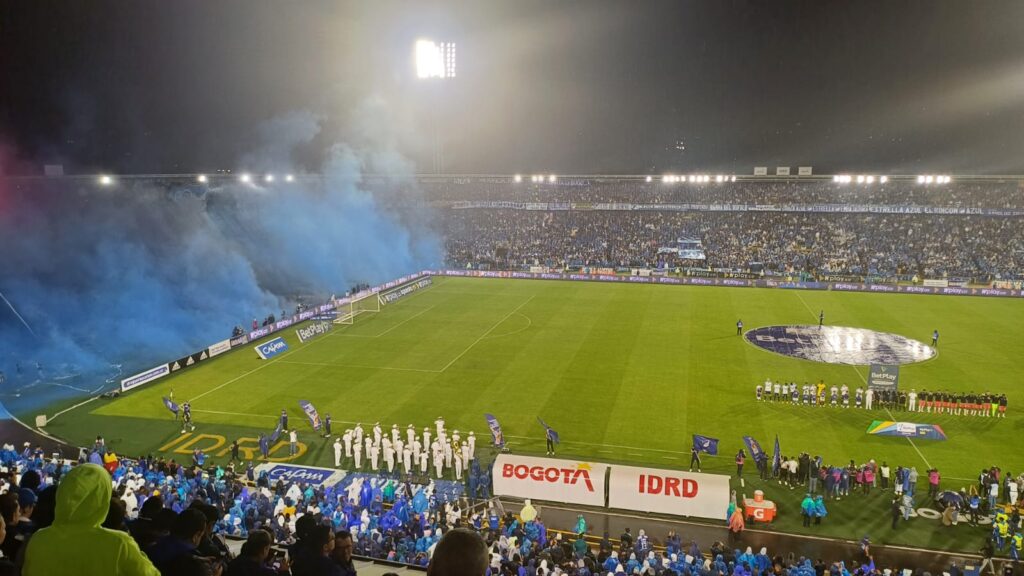 This stemmed from the Millonarios hinchada seated in the Occidental stands behind the player tunnel peppering the players with bottles when Santa Fe tried to exit the field of play.
Millonarios supporters had been subjected to announcements over the stadium PA system at their last home match against Atlético Nacional after poor behaviour towards each other, opposing fans and opposing players.
Furthermore, a Millonarios fanzine distributed at the Santa Fe match included an article calling on improved behaviour among the fan base following the occurrences against Nacional.
But with this second incident in just over two weeks, plus two red cards for violent conduct on the pitch in this match and the result leaving them still in 13th place, the disharmony among Los Embajadores seems likely to continue for the time being.
Santa Fe, meanwhile, find themselves in third place and just one point behind unbeaten leaders Águilas Doradas and move closer to securing a classification spot for the cuadrangulares after missing out entirely last season.
Next Matches:
Boyacá Chico v Santa Fe – Wed 13 September, KO 5:45pm
Millonarios v Atlético Bucaramanga – Fri 15 September, KO 8:30pm