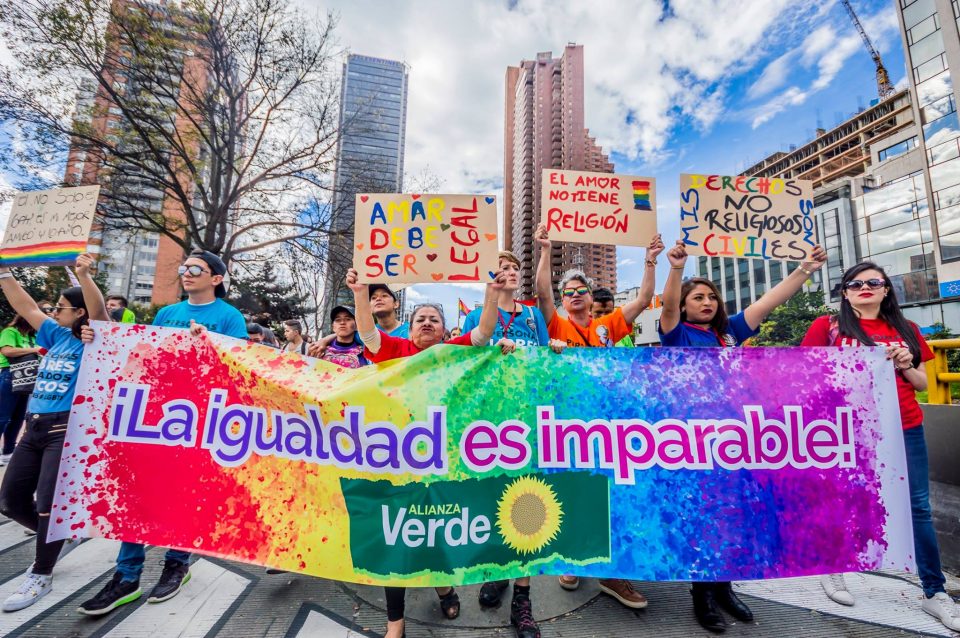 Participants of the Bogotá gay pride parade enjoyed the sunshine and marched under rainbow flags, celebrating diversity and inclusivity in the city.
---
Rainbow flags permeated the sky on Sunday, July 2 when around 55,000 people attended the Bogotá gay pride parade 2017. For the 21st year, participants of the city's orgullo gay march celebrated freedom of sexual orientation and fought against discrimination, carrying banners from various LGBTI groups.
The mood was proud and celebratory with political undertones. Fabulous drag queens posed for photos with rainbow face-painted supporters while political speeches were made at Plaza Bolivar.
The afternoon event was organised by Mesa Distrital LGBT de Bogotá, a group that works for LGBT rights in the city, and passed through the Séptima and Avenida 19, ending with performances and speeches at a crowded Plaza Bolívar. In the evening, nightclubs in Chapinero were packed with colourful balloons as the slightly more serious atmosphere of the march made way for rumba.
Although the Bogotá gay pride parade pales in comparison to leading cities like Sao Paulo, Madrid, and San Francisco, which have had at least a million participants, Colombia is considered relatively progressive when it comes to LGBT rights. Consensual homosexual activity was decriminalised in 1980 – early compared to other Latin American countries. In April of last year, same-sex marriage was legalised nationally, while same sex adoption was legalised in November 2015.
In addition, Colombia has been marketing itself as a LGBT tourist destination where visitors can travel freely without discrimination. This year, Colombia was nominated as the "best emerging LGBT tourist destination" by the Fería Internacional de Turismo (FITUR), an international tourism fair.
Despite these advances, the LGBT community of Colombia still faces significant challenges, with people reporting they suffer discrimination and attacks purely because of their sexual orientation and prominent politicians still openly condemning homosexuality. The Bogotá gay pride parade is an important way for everybody in the city to show solidarity – including parents and even grandparents marching to support their LGBT relatives.
Internationally, legalisation of same-sex marriage is increasingly common (with Germany most recently added to the list), but according to the International Lesbian, Gay, Bisexual, Trans and Intersex Association (ILGA), homosexuality continues be a punishable crime in 72 countries and punishable by death in eight of those.
---
Photos: Laura Brinkley & Rainier Latchu