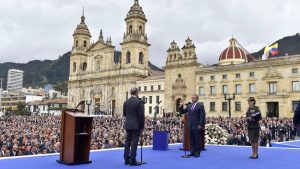 One week into his administration, Iván Duque and the members of his cabinet have said and done things that have received criticism from both supporters and detractors. What does his first week in office signal going forward? In his weekly column, El Mohán lets us know.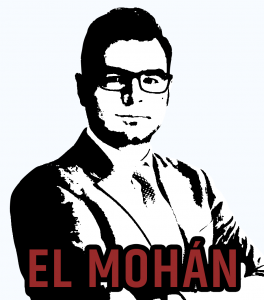 A week into his presidency, Iván Duque has traveled to some of the country's historically abandoned regions such as Tibú (Norte de Santander department) and Tumaco (Nariño department), as well as San Andres, Guainía, and Vichada departments. There he discussed the main themes of the campaign such as reinstating security, promoting economic development, and transforming the country – this time as President. Duque also celebrated his first "Nation Building" workshop in Girardot (Tolima department), reacted to his first public emergency – a landslide in Mocoa (Putumayo department) –introduced his first set of bills to Congress, and had his first diplomatic incident with Israel. All within seven days!
Both supporters and detractors alike have been impressed with Duque's vigorous start so far, although not all are pleased with him being in the role. As Duque's tenure advances he is likely to continue walking a public opinion tightrope. As all presidents, Duque will be held accountable by members of his party for straying far from their more extreme views, while at the same time be loathed by the opposition for following through on his campaign promises. When pushed, Duque will likely fall behind members of his party while showing strains of independence.
Love
Duque's supporters rejoice in the fact that Duque's first order of government was to travel to distant areas of the country to state that their abandonment by the central government was over. On his first day, he travelled to San Andrés where he made commitments to improving the island's economic and healthcare woes. His second day was spent in Tibú where he made a commitment to restoring security in the Catatumbo region, as well as a new beginning in the relationship between the central government and the periphery. On his third day, he travelled to Tumaco where he reiterated his campaign promise to fight drug trafficking organizations who, according to Duque, were allowed to flourish under the previous administration. On his fourth day Duque brushed his populist stripes inaugurating the "Nation Building" workshops – an offshoot of the "Community Councils" run by his predecessor Álvaro Uribe.
In his visits to the region, Duque did not completely belittle the past administration's accomplishments, but neither did he celebrate them. Instead Duque, as many presidents prior, announced the dawn of a new era in Colombian politics – one that the regions are used to hear – that promises development, progress and a new relationship with the regions.
Opinion: The Anti-corruption Consultation should pass this month. But don't hold your breath.
Duque also put forward a set of anti-corruption initiatives for his party to introduce in Congress. These include a term-limit for elected officials, a standardization of public contracting, a mandate for public officials to be transparent about their conflicts of interests, and the elimination of the statute of limitations for crimes of corruption. You may have heard about some of these points elsewhere. Duque has stopped short of endorsing the Anti-corruption consultation, which his party is now against. His party sustains that the consultation in an expensive effort tantamount to wasteful spending, since the measures have to be approved by congress at a later date anyway.
Finally, Duque backtracked the former administration in its recognition of Palestine as a state and dropped out of Unasur. Although Carlos Holmes Trujillo, Minister of Foreign Relations, admitted that he was given notice of the decision by his predecessor, his move to reverse Palestine's recognition signaled a departure from the previous government. To reiterate this departure, Duque also withdrew Colombia's membership to Unasur, an ossified political organization that failed to serve its purpose to deal with regional crises. While, the Palestine affair was improvised and the Unasur move was widely expected both satisfied conservatives.
Supporters of Duque touted his first week in office as revolutionary, dynamic and game-changing. However, his first week was more akin to a reconnaissance that any newcomer would do. Granted, Duque could have stayed in Bogotá to put the house in order, but he deployed to the regions first. This is objectively a good start.
Hate
Opponents of the new administration have been waiting for Duque to slip or otherwise keep some of his more unpopular campaign commitments. In this regard, he has also delivered. Some of Duque's ministers have done his critic's job for him.
First, the newly appointed Finance Minister Alberto Carrasquilla, suggested to broaden the tax base through the implementation of a tax reform that would charge income tax to all those making above two monthly minimum wages (COP 1.9m or USD 800). Furthermore, the move was coupled with the suggestion that corporate taxes need to be lowered to boost competitiveness. Although the move is in line with OECD recommendations, the announcement of greater taxes for individuals did not sit well with the majority of Colombians who would be affected by the move. Adding insult to injury, Labor Minister Alicia Arango repeated a long-standing conservative talking point – that lowering corporate taxes would increase wages and employment – one that has been widely disputed by economists citing evidence that lower corporate taxes have resulted in increased dividend payments and stock buybacks, not higher wages and investment in research and development. Finally, if that wasn't enough, Mining Minister María Fernanda Suárez said that hydraulic fracturing – commonly known as fracking – could be done in a way that is responsible with the environment. As fracking was a key discussion point in the campaign following an oil spill in Santander department, the announcement was perceived by opponents as spit in the face of environmental conservation. It is likely to ready the environmental groups and social movements in potential fracking areas for a fight.
"For now, Duque seems to be who he was elected to be. Keen to assess the state of the country and loyal to the ideas that got him elected." — El Mohán
Not only are his detractors somewhat unhappy with the announcements of Duque and his cabinet, some of his supporters also feel that the president is not the most radical version that he promised. As Duque has confirmed some public servants in their positions and appointed former government officials to new positions in the vice-ministerial ranks, some of the more fervent Uribistas believe that Duque is too generous with former administration officials. Further to that, Duque has not made appointments that include members of different parties to his own, in that regard, there seems to be no "quota" of politicians from the Conservative Party, the Radical Change Party, the National Unity Party, or the Liberal Party, all of whom allegedly supported Duque's election in the second round. Duque will have a hard time passing his initiatives through Congress if he's also unable to keep the party ranks happy.
What it means going forward
For now, Duque seems to be who he was elected to be. Keen to assess the state of the country and loyal to the ideas that got him elected. At the same time the mix of technocrats and loyalists he tasked with cabinet-level positions are doing the dirty work for him while he still enjoys a public opinion honeymoon.
There will come a time when Duque's tightrope will force him to make more overt policy choices. Opponents to Duque are waiting for him to make mistakes, but more importantly they are waiting for Duque to need their votes in Congress to pass his initiatives. That's when they will exact their price on the new president.
Sergio Guzmán is a freelance political risk consultant based in Bogotá. Follow him on twitter @serguzes
El Mohán's* opinion column is intended as a space to discuss some of the most pressing issues faced by Colombia and the region in these uncertain times. All opinions and content are solely the opinion of the author and do not represent the viewpoints of The Bogotá Post.
*El Mohán is a Colombian mythological figure. He is described as a hairy humanoid figure associated with natural forces such as great rivers and the mysteries lying within the forests. It is said, El Mohán was a shaman who had an anticipated vision of the arrival of the Spanish conquerors and the terrors they brought along.