On the eve of his first of two concerts in Colombia, James Rhodes spoke to us about memory, the lives of the great composers and why he struggles with the idea of collaborating.
If you ask English classical pianist James Rhodes what pieces he has committed to memory he would tell you he remembers all too much. "My memory's terrible in life," Rhodes confesses. He says he has difficulty in recollecting names, places and what day it is."But the first hundred thousand notes, that's ok. I don't know why that is and I try not to question it too much."
Having started with a piano teacher at the age of 14, certain things came easy for Rhodes. His education and a talent for music were things he inherited naturally during the course of his life. Rhodes abruptly ended his piano studies when he was 18 and didn't start playing again until a decade had passed. For fans familiar with his appearances on English television or readers of his unsparing autobiography, Instrumental, his story is a difficult one to forget.
Scarred by a former gym teacher who raped him at school at the age of 6, both addiction and instutionalisation conspired to distance him from his passion for the piano. When asked about his difficult past he said that there are "some things you never forget. And when you put yourself back in that time it's easy enough to remember it again. It's usually my short-term memory that I have a problem with. Maybe it's all the drugs I did."
''Rather than the concert being 'listen to me', it has to be 'fucking hell, listen to this!''
A day later he played in Medellin at the Teatro Metropolitano. His set-list included the Partita and Chaconne by Bach (transcribed by Busoni) as well as the Fourth Ballade by Chopin, which he considers "the greatest thing [Chopin] ever composed. It's his musical autobiography. It's almost like he's improvising and talking and it's another way of storytelling."
Rhodes is himself an able storyteller. He segments his concerts with brief biographical detail that's more valued for his enthusiasm than its accuracy. It's an approach that may not convince everyone but one's never in doubt as to whether Rhodes is convinced himself.
In his memoir Instrumental, Rhodes used this technique to great effect, blending the anecdotes of famous classical composers and compositions along with his own upbringing. It is often the deeply tragic and the redemptive qualities of his favourite composers that he is drawn to—whether it be speaking of Beethoven being unlucky in love, losing his hearing or being nearly beaten to death by his father, or Prokofieff's violent music dedicated to a suicidal friend—and he uses these approachable snippets of composer's lives as a way to engage his audience into appreciating the music. He believes musicological terms are 'dull and irrelevant' and that the background of a composer's life can bring the piece to life without dumbing it down.
The method is not only pedagogical for the purposes of getting more people into concert halls. Rhodes also feels that learning about composers informs the way he approaches them in his playing. "I have very firm ideas about certain composers. People say Bach isn't Romantic and so he shouldn't be played in a romantic way. That's utter bullshit.When you read about Bach you realise how intensely personal his work is. And that too informs the way I might play him."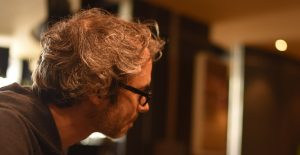 Rhodes has enough Spanish under his belt to have a favourite word in the language: duende. "It's kinda like when everything just comes together and flows." It's a concept he likes when he talks about how playing live in front of an audience improves him as a pianist. 'Practicing' live rather than alone allows Rhodes the chance to participate in the emotion that he's inducing in the listener. It means taking a risk because there are certain pieces that are so complicated that you feel that you have to be focused on every note, but actually you just have to trust yourself that it's in your hands and that you know what you're doing and you let go and time disappears and you go into that zone.' he says.
His concerts are unlike any other one may encounter in classical music. Shrouding the entire concert in darkness save for the piano, pianist and those audacious enough to use the flash of their smartphones to take pictures, a receptive Medellin crowd were moved by Rhodes' withdrawn figure on stage. The grandness of the theatre reduced to one man and his vulnerabilities. Pieces like the Melody from Orfeo by Gluck or the Adagio by Bach/Marcello are incredibly tense in their stillness. Rhodes doesn't so much take risks as he does reveal how fragile they are.
The timelessness of much of Rhodes' favourite music also can give a sense of time having passed. He spoke of how he could "really understand why musicians rerecord the same piece of music," referencing multiple pianists who had attempted and then reattempted Beethoven's monumental cycle of 32 sonatas. "That's the magic trick with this music that you can play the same piece of music and it's always going to be something different. You hear new voices, new ideas. It's a strange thing with this music that it's just so complicated when you dig into it."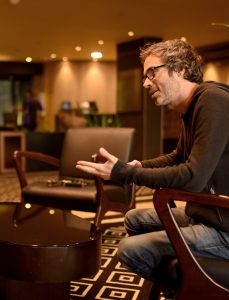 He may love all 32 Beethoven sonatas but the idea of recording all of them doesn't sound like his cup of tea. As a rule, his albums have all been a mixture of works from different composers. This includes his latest effort Fire on All Sides, which is due out early next year. The album features a wide range of his interests, from Bach and Chopin to Beethoven's profound 31st sonata.
One common thread over all of his albums is that it is almost always for solo piano. When asked about the future possibility of collaboration he said that "I'm too much of a control freak. I find it difficult to work with others. I much prefer just being on my own.". Rhodes betrays no signs of his introverted nature. He is engaged and engaging. He is quick-witted, affable, entertains small talk and draws wide open hand gestures in the air when he speaks.
Yet his real life seems more withdrawn. Speaking openly of having few close friendships and the difficulty of collaborating musically, Rhodes admitted he doesn't feel prepared to play with an orchestra despite his immense talent and love for, by way of example, the monumental Brahms piano concertos. If the stars aligned, however, he does harbour a desire to play a Mozart piano concerto or Mendelssohn's 2nd Piano Concerto. After all, James Rhodes is a transformed man. This just might be his next transformation.