Transport and student strike action continue to rock the capital.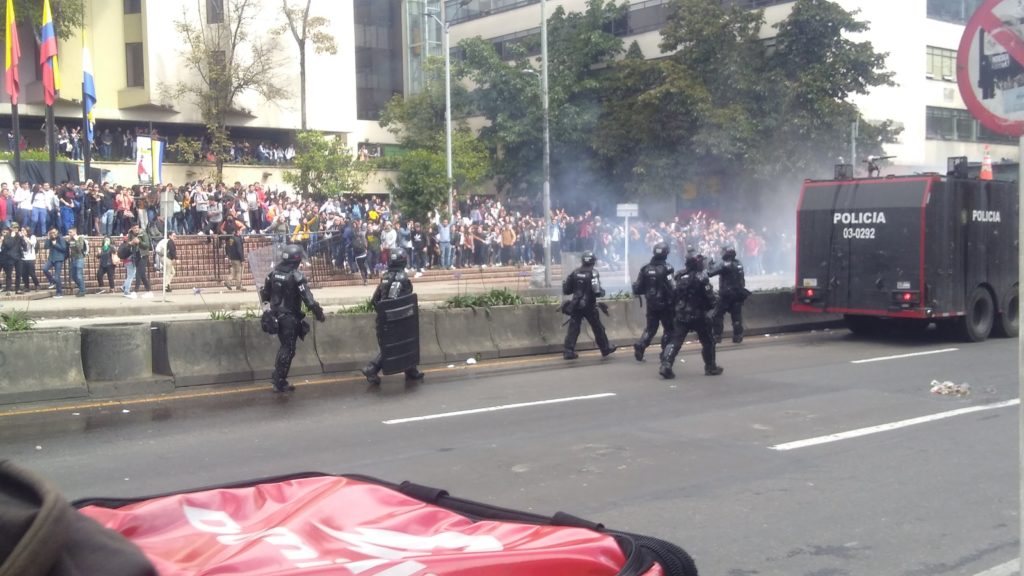 Protests rocked Bogotá this week bringing transport misery to millions and accusations of heavy-handed policing as tear gas wafted through university sectors of the city.
Clashes between students and special police – known as ESMAD – are an almost annual event in Colombia's capital, but were complicated this year by a transport strike instigated by commercial drivers facing draconian legal penalties such a life-long licence bans for minor traffic infractions.
President Iván Duque roundly condemned the violence saying on Twitter: "The irrational attitude of the violent protesters cannot undermine the right to peaceful social protest, a right respected by the government."
But while student leaders continued to insist that their protests were peaceful, and partly in support of the transporters strike, the presence of masked thugs suggested infiltration by other actors leading to the deployment of water cannons and tear gas.
Riots flared at the usual locations of the Universidad Distrital and Universidad Pedagogica, with several injuries reported from 'papa' bombs, homemade explosives sometimes made by protesters to throw at police.
By Thursday this week unrest had spread to the Universidad Nacional and Javeriana. Meanwhile rolling transport strikes peaked earlier in the week with angry transportistas sabotaging buses and trucks on the main roads into the city.
Mostly the blockade affected the city's peripheries and particularly Soacha, forcing local buses off the road and affecting many people's chances to get to work: Many walked or caught rides with private cars, but many others stayed home. Public transport from satellite towns such as Chia and Madrid was also cut.
"Schools suspended classes for the safety of the children," a Soacha resident told The Bogotá Post at the height of the disturbances. "So I had to leave my daughter alone at home and try and find transport to work. After walking I found cars with spiked tyres and broken glass from cars that had tried to transport people."
Others reported extortionate prices being charged by private transporters for local journeys, adding to the economic woes of those living in the worst affected high-density barrios down south.
Related: Colombia joins international climate strike
According to local news media, the transport dispute stemmed from a recent enforcing of legal codes that has seen drivers losing their licences after two infractions within a six-month period. Some drivers have been handed lifetime bans effectively ending their employment, and risking jail if they drive unlicensed. In the last two years 90,000 drivers have had suspensions, according to the government's mobility secretary.
The protesters argued that such steep measures are unfair for professional transports facing difficult conditions in congested Colombian cities. But after three days of on-off transport blockades it was still unclear exactly what organisation was behind the strikes. Other transport unions – such as the powerful taxi and truck groups – rejected the paro claiming it was provoked on social media by a 'minority sector'.
Taxi drivers told the The Bogotá Post last night that drivers working illegally for Uber-type private car transporters were behind the strike.
"They're facing huge fines and losing their licences and now they're hitting back," an official transporter told us ."It's just a few people causing all this trouble."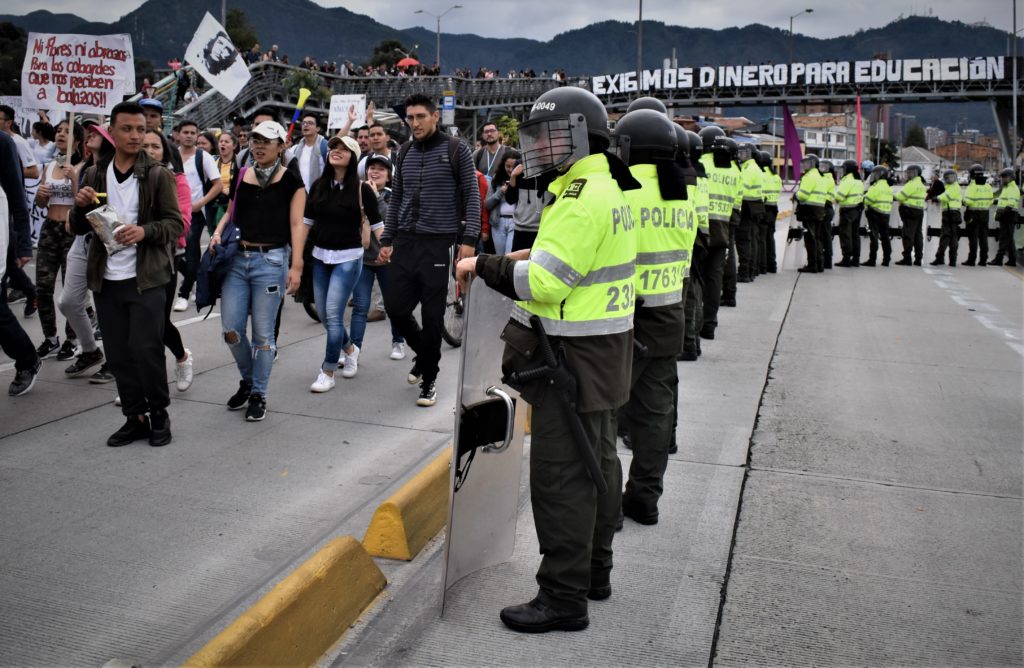 Meanwhile the student protests were sparked by a recent corruption scandal at the Universidad Distrital, with students from other centres joining in to protest the brutal response from ESMAD riot police.
According to a twitter announcement by student collective José Marti, ESMAD police "invaded the Universidad Javeriana de Bogotá, students were beaten and injured."
The riot cops had also launched tear gas inside the University Hospital San Ignacio, affecting patients in the clinic that forms part of the Javeriana grounds, reported the collective.
At present the striking transportistas are in talks to resolve the drivers' licences issues, but the student protests appear to be escalating.
Bogotá Post staff caught in the university frays witnessed police attacks on young people and were tear gassed while trying to pass by the events.
For many years Colombia's underfunding of universities has created a tinder box for unrest, with some student strikes lasting months, such as in 2018.
University students were "fed up" with budget cuts, and the students' academic needs and services "not being properly covered" said long term Bogotá Post contributor and Universidad Nacional alumni Ángela Forero-Aponte.
"I was one to think peaceful protests would achieve something, but those are, unfortunately, ignored. Students had to resort to more vehement actions."