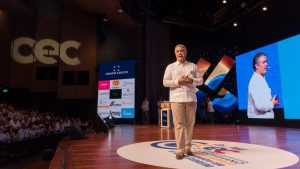 George HW Bush once famously pronounced at the Republican National Convention in 1988 that his presidency wouldn't result in a hike in taxes. "Read my lips," the former US President snarled, "No new taxes." What happened after was a study in the art of breaking election promises as President HW Bush did in fact go on to raise many taxes under the 1990 budget.
After having made a similar promise during his election campaign, most prominently at the Pacifico debate, President Iván Duque is now also in a similar position of having to retract earlier promises relating to the increase of taxes on Colombian workers.
Duque had frequently touted the party line of reducing taxes on businesses to stimulate the economy and rely on entrepreneurs to raise salaries of middle-class workers. He had opposed the VAT increase from 16% to 19%, saying it would hurt middle-income Colombia hardest. In May, Duque tweeted on the campaign trail that he was going to "be a president  who's going to aim for lowering taxes and improve the wages of Colombian workers."
#Bogotá| Voy a ser el presidente que se la juegue por bajar impuestos y mejorar los salarios de los trabajadores colombianos. #ElFuturoEsDeTodos

— Iván Duque (@IvanDuque) 23 May 2018
However, during the third Colombian Business Congress in Cartagena, convened by the National Association of Businessmen of Colombia (Andi), the Minister of Finance Alberto Carrasquilla suggested that the government intended to expand the  personal income base that would bring it in line with more international standards and would in fact increase taxes on Colombian workers.
Carrasquilla claimed that the tax burden is currently overwhelmingly shouldered by private companies (85%) whereas 15% over the overall tax bill is being paid by private individuals. In developed countries the Minister of Finance claimed that the situation was in reverse.
The proposed measure will increase the numbers of people with a taxable income. Currently, only those earning more than $3.5 million Colombian pesos a month are taxable (around 2.6 million people) though this income will now reduce to $1.9 million Colombian pesos a month. As a result, over 4.5 million people would have to declare their taxes under the new tax plan.
In contrast, Duque has proposed tax exemptions for companies that operate in the creative 'orange' economy for a period of five years. The stimulation of the creative sector had been a key plank in candidate Duque's economic policy and the plan was met with warmth at the Colombian Business Congress.        
A fuller version of Duque's tax plan is expected to flesh out more details on savings and expenses that private companies and individuals can make. It is anticipated that any new measures will be explicit and that the Colombian voter, many of whom who voted for Duque for his conservative fiscal policies, will not have to resort to any lip reading from hereon in.