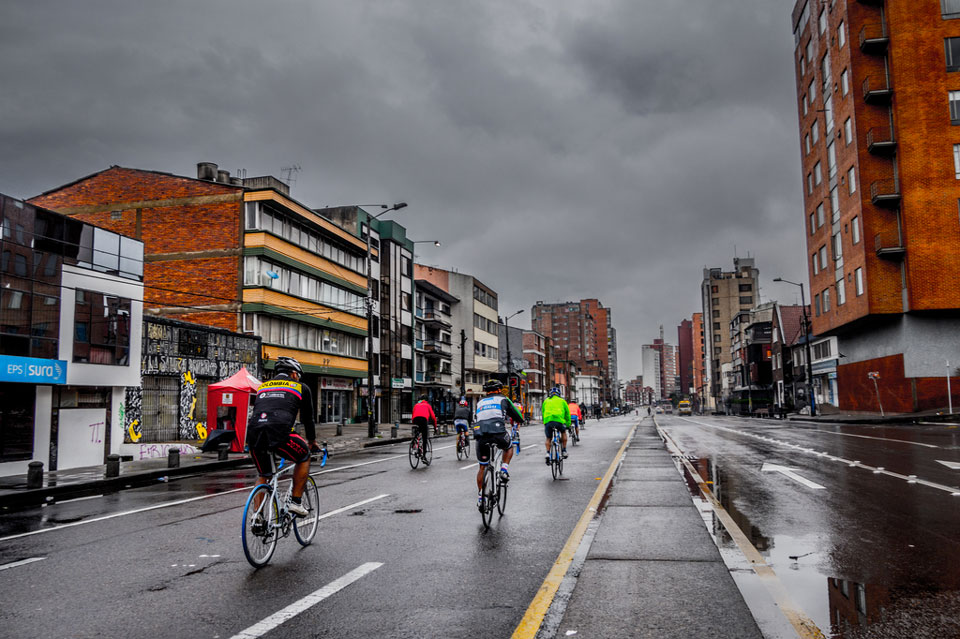 With more wet weather on the cards, Oli Pritchard promises you'll be wet but happy with his guide for riding in the rain.
---
Riding in the rain. It isn't much fun. But it's fairly unavoidable given that we're in Bogotá, so it's something you should learn to live with. After all, everyone loves getting wet, right? The good news is it's not the end of the world. (That's when the sky falls on your head, not when a bit of H2O dampens you). Precipitation also brings some benefits: the rainier it gets, the fewer other cyclists and pedestrians there are to get in your way.
Waterproofing will be your first necessity on the riparian roads of Bogotá. There's plenty of gear available, much of which incurs a heavy bike tax because it's slightly longer in certain places and/or has a poncey logo. Stick to standard waterproofs which are easily and widely available in the capital. Ponchos are a good call for short rides, but it's spray from the wheels you have to watch out for, rather than the rain actually falling from the sky. You will find that your shoes bear the brunt of this. Soaked shoes are worse than soaked knickers, as you can't take them off so quick and they'll give you trenchfoot. As far as I know, there's no such thing as trenchgenitals. Keep the speed low and you'll get less water hitting your shoes. Keep them dry and the rest of your clothes can generally dry faster.
Of course, you can go the other way and just get out there and get wet. I'm sweet, but I'm not made of sugar, so I don't dissolve in the shower. Though I should take more of them… Anyway, you can simply ride, get drenched, and change at the other end. Obviously this'll work better on the way home, but it can be possible as long as you know what conditions are like at the other end. If there will be a spot where you can whip off the lycra and slip on some real boring-world clothes, then it's a goer.
Then there's water protection on your bike itself. Mudguards are bloody horrible to look at, but so's a wet arse (each to their own I suppose, there's a lot of things in the dark corners of t'internet…). More popular in Bogotá than ragout and Mal-uma are those little wedge mudguards. They slip under your seat like a penguin in the sea and mean you'll be nowhere near as wet.
We need to talk about brakes. These fail pretty quickly in the downpours that plague Bogotá. Luckily, simply testing the brakes, even when on the flat when you don't need to slow down, will help shed some of the excess water and give reassurance that you can actually stop. Or indeed, tell you you're fucked… but at least you can do something about it before a critical situation looms high on the horizon!
Anyone riding regularly in Bogotá will know all about potholes. In the rain, though, they provide a fresh hell, like Justin Bieber bounding onto stage midway through a Coldplay gig. Like Coldplay, puddles are usually shallow and feeble, but unlike the British rock band they occasionally hide a massive bastard pothole. Don't go fast through them – the joy of kicking up a spray and feeling like Moses will evaporate when you hit a jolt that goes up your arms and back down your spine.
With rain come clouds and a basic lack of visibility. So take anything that'll make you stand out more. Use your lights even when it's not night; wear colours brighter than a Scandinavian hospital; take reflective gear. Better yet, anticipate that cars will have trouble seeing you and may be suffering their own problems. Take fewer risks than normal and ride with extreme caution. Because of the aforementioned spray, more riding time can actually keep you drier anyway. This, more than owt else, will keep you safe.
Rain isn't acid, but the tears of Our Lord do corrode your bike, so be doubly careful with checking that everything is in working order. It's worth cleaning the bike once a week (guilty here!) and re-greasing the chain. Dry contact creates friction and chafing. Lube up. Slips and skids are part and parcel of the rainscape. They'll come fast and furious on paint and metal, so give them a wider berth than your neighbours. Avoid turning on these surfaces if at all possible and take the lines between the white stripes on zebra crossings, for example.
So, take heart, remember how fucking awful traffic is in the rain, and brave the elements. As Wang Chi once said to Jack Burton, a brave man likes to feel the weather on his face. After all, if you're not riding in the rain, you don't ride. End of story.
---