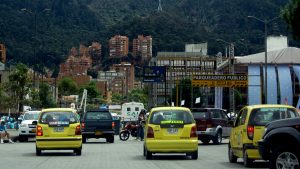 At 4:00 AM on Monday, hundreds of taxi drivers took over several main streets of the Colombian capital, declaring a strike to demand safety assurances, less burdening regulations on the occupation, and more regulation on competitors such as Uber.
Mobility in Bogota is in chaos today, as swathes of yellow taxis cluster around key areas and vow to remain on strike for an 'indefinite amount of time' in order to attract attention to their pressing problems.
The taxi drivers have gathered in groups of 20-300 cars on key intersections of the city, especially along Boyaca and Americas. Seven major taxi companies are supporting the strike, as well as an undetermined amount of independent taxis.
Bloqueada la boyaca con Américas #ParoDeTaxistas @PoliciaColombia @Citytv @SectorMovilidad pic.twitter.com/SEIs5wIHiu

— Lorena Trompa (@LorenaTrompa) 23 de octubre de 2017
A citizen reports a major block on an artery on the east side of Bogota.
The strike is a result of three main issues, according to the taxi drivers' list of demands.
The first is a recent decision by the Secretary of Transportation of Bogota to implement a GPS-based system in every taxi. The system includes an app in a authority-sanctioned tablet drivers must purchase. The drivers argue this will endanger their lives as they become an easy target for thieves, already an issue in their line of work, on top of adding to the expenses that legal taxis are burdened with.
The list of demands also questions the legality of such decision. Only one model of tablet will be permitted, and the call for tender in the multi-million contract may violate some preexisting laws, the statement claims with no further backup.
Second, the drivers are unhappy with the strong push the city has given preferential lanes for buses, bikes, and lately for ride-sharing and carpooling. Taxi drivers also have to deal with Pico & Placa, the weekly schedule all cars in Bogota must observe and which prevents them from touching the pavement several days per week.
The third issue is related to the long-standing, worldwide feud between taxis and Uber, Cabify, and similar mobility services. While not legal in Colombia, these disruptive startups have earned a loyal customer base in Bogota, and continue to operate as they fights for legal status. Colombian taxi drivers are demanding crackdowns and 'exemplary penalties' for those providing such services.
A complex scenario
"In most places where both taxis and services like Uber are legal, they are regulated differently because they operate under different business models. This difference in regulation, while appropriate on some levels, can often introduce its own problems," said Adam Stocker, researcher at the Transportation Sustainability Research Center of UC Berkeley.
"I think Bogota and other Colombian cities will want to gain access to as much data from operators as possible and work with all stakeholders if and when they begin to craft regulations around on-demand mobility companies," he stressed.
In Colombia, traditional taxi services do not have incentives to provide outstanding customer service nor they offer up-front fare calculation systems. Thus, many users have turned to Uber as a kinder and fairer alternative. Adding to the issue, safety and profitability concerns have led to a strong preference of taxi drivers for specific areas, resulting in frequent service denials to passengers heading outside the drivers' preferred driving zones.
Taxis involved in the strike specifically target other taxis to prevent them from providing their service wherever the strikers are present. The Bogota Post interviewed an independent taxi driver who did not want to be named due to fear of direct retaliation from other drivers.
He explained that the strike is mostly led by a small group of self-appointed leaders that take advantage of the disorganization that is rife among the guild, and that do not represent most of the 50,000 hard-working drivers of the city who wish for better working conditions without disrupting transportation across the city.
While recognizing economic and working conditions could be improved for his colleagues, he, like most other taxi drivers in the city, is not participating in this strike as he believes taxis should face competition from Uber-like services by stepping up their customer service and becoming more reliant on technological aids.
Public transportation strikes and hold-ups are not infrequent in the fourth-largest city in Latin America, severely affecting its population of 8 million in each occasion. On May 10, 2017 a similar strike aimed specifically against Uber drew more than 300,000 taxi drivers countrywide, causing widespread blockages in most major cities.