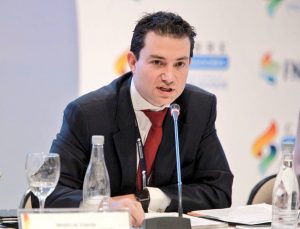 Felipe Córdoba was voted in with overwhelming bipartisan support as Colombia's newest Comptroller General, taking on the role as the country's top defender against corruption. Is the deck stacked against him or can he succeed where others have failed?
Former Director of the National Federation of the Departments Carlos Felipe Córdoba has been voted in as Colombia's next Comptroller General, making him the country's top watchdog against corruption. The Comptroller General is tasked with the duty of overlooking the spending of public finances in the country as well as the regular auditing of public institutions as per the Constitution.
Córdoba was able to garner 203 votes in a resounding victory over Uribe-backed candidate José Félix Lafaurie, who only garnered 12 votes within Congress. Julio César Cárdenas, the favoured candidate of Senator Gustavo Petro, won 31 votes.
In winning the backing of the Liberal Party, the Partido de la U, Cambio Radical and the Conservative Party, Córdoba has a vast swathe of political support and is entrusted now to take on some of the weightier corruption scandals that have engulfed Colombian politics.
Córdoba's victory comes at a time when public dissatisfaction with corruption in Colombian politics has reached fever pitch and will take to the voting ballots this Sunday in the form of an Anti-corruption consultation over specific propositions ranging from openness in financial disclosure to jail terms for politicians and public officials convicted of corruption.
At a cost of $50 trillion pesos a year, corruption issues a heavy toll on Colombia and Cordobá will have his work cut out for him at an entity that overlooks 63 Offices of the Comptroller in other departments and a financial portfolio valued at over $600 billion pesos.
Córdoba's predecessor, Edgardo Maya Villazón, presided over a period of monumental losses that may have resulted in a loss of $14 trillion pesos over a period of 4 years.
"They're stealing everything," Maya told weekly magazine Semana, "We are living one of those moments in the history of the country where we have to take drastic measures to end corruption."
Among the scandals that lie before Córdoba, the 38-year-old from Pereira has to tackle the notorious School Nutrition Plan (known as PAE) whereby only 4 million school children were being serviced with school meals in a program that was intended to feed over 8 million children. 5 governors, 7 ex-governors, 8 mayors and 45 former mayors have been implicated in the scandal for irregularities in the spending of public monies for the program.
Another major investigation will be over the failure of the Tolima Games to materialise despite heavy investment from the government that has left athletes in the region without adequate sports facilities. In addition to these, Córdoba will have his hands full on a number of current audits against contractors on public projects as well as investigations against private health insurers and clinics that have misused public funds.
It is hoped that with broad political appeal and in addressing the myriad investigations into corruption, Córdoba can improve on his predecessor's record and will stay true to his promise to be "a standard-bearer in the fight against corruption."