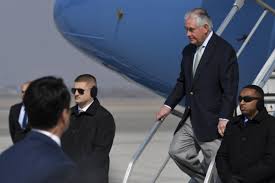 The first thing President Santos showed Secretary of State Rex Tillerson as he welcomed him to the Presidential Palace was a Botero called Madre Superiora. Painted in 1980, the enormous painting depicts a bloated nun characteristic of Botero's work. Armed with a crucifix in one hand and a rosary in the other, it is a figure of humour and ridicule.
Since joining on as Secretary of State in February this year, Rex Tillerson is learning how best to deal with ridicule. To Tillerson's great credit, his southern drawl and eloquent delivery betrays little of the sentiments he is reported to have had about his boss. Referring to countries in the crosshairs of the War on Drugs, during a meeting in Virginia, President Trump said that "We think they're our friends, and we send them massive aid, and I won't mention names right now…But I look at these countries, I look at the numbers we send them, we send them massive aid and they're pouring drugs into our country and they're laughing at us."
President Trump in fact mentioned names; Mexico, El Salvador, Honduras and Guatemala. Despite Colombia not being named however, it was implied that the country, being one of the top 2 exporters of cocaine in the world, was going to be in the firing line for foreign aid from the US government. Colombia received $325M in foreign aid in 2016, much of it distributed by the US Agency for International Development and the Department of Defence. Aid to Colombia had been on the rise during the second term of the Obama administration, culminating in a high of $841M in 2015.
Yet, President Trump's perceived ridicule then transfers, as has been the pattern, to the very real balancing act that Tillerson has to effect in attempting not to contradict the President's words and strike a conciliatory tone at the same time.  The first question from the media that Tillerson received at a press conference with Colombian President Juan Manual Santos was unsurprisingly about Trump's comments.
Tillerson answered that "President Trump has made [the illicit drug trade] a high priority of his, both in terms of addressing the supply, but as you know, he's made it a high priority to acknowledge that the U.S. is the market – we are the demand, we are the consumer – and the President has put in place a very comprehensive program for drug demand reduction as well… And we talked about important ways to measure whether we're gaining on this. We need to see those metrics going in the correct way…And that's all President Trump wants as well, and I think what he was communicating is how serious he sees this problem and how seriously he takes the steps to reverse these trends. And he clearly is very interested and we'll be following the results, and that's what matters, is the results."
President Santos, on the other hand, denied that Colombia was among the list of countries that were mocking Trump.
"I don't think that President Trump …was referring to Colombia because Colombia is not laughing at the U.S. On the contrary, we think we're working together on a problem and the challenge needs cooperation from both countries. As I said, there would be no supply of drugs if there is no demand, and there would be no demand if there is no supply. And Colombia does not laugh at this very important issue for us because it's a matter of national security." [Translation by the US State Department]
Instead, the Colombian President focused on the metrics that Tillerson alluded to; like the eradication of 54,000 hectares of coca crops, and the ambition to clear more than 150,000 hectares by the end of the year. Agreements had also been made with 124,000 families with over 105,000 hectares of illegal crops where "almost 30,000 of these families today are currently substituting their illegal crops." In addition to this, the Colombian government has also confiscated over 1,800 metric tons of cocaine, according to President Santos.
The two statesmen also discussed the deteriorating situation in Venezuela. "We are all heartbroken by what we see happening in Venezuela, such a great a country, and we are also heartbroken to see the impact it's having on Colombia" Tillerson said, while Santos stressed the importance of free and fair elections. "Maduro would never, never accept participating in free, clean elections because he knows he will lose," the Colombian President said, reinstating that a strong unified international response would be necessary to improve conditions in the beleaguered country.
Whether President Trump will offer such tempered or thoughtful analysis on a complex topic like Venezuela is as likely as Botero painting flacos. In any event, Tillerson continues to fulfill his job of  interpreting his President's comments for the wider public through the prism of reason and reasonableness.