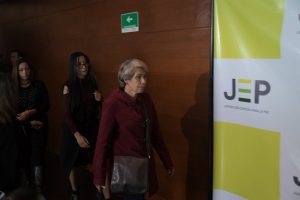 A decade after their children disappeared, the mothers of five young men met with 14 members of the military who have been accused of their extra-judicial killings in the villages of Soacha.
In a session that lasted seven hours, the day gave the victims of the killings–who represent a small sliver of a larger dark chapter in Colombia's history–to meet the accused face-to-face in a trial setting.
Julio Mesa, Jáder Palacio, Víctor Gómez, Jhonatan Soto and Diego Tamayo disappeared on August 2008, were taken to a false checkpoint in Soacha and killed. They were made to be guerrilla combatants and were counted as such, a concept referred to as "false positives". When the incident was initially brought to public attention, the Army claimed that the young men were killed in combat in either Santander or Norte de Santander.
The specific stories around the acts are horrific. Bermudez, for example, was 17 when he was taken and killed in the department of Norte de Santander. Bustamante and Gomez were made false offers of work in Ocaña, where they were plied with alcohol and drugged before being killed and counted as guerrilla combatants.
The year 2008 represented the height of the so-called 'false positives' murders that took place under the tenure of former President Álvaro Uribe and Juan Manuel Santos, who was Minister of Defence at the time. Officially, around 2,248 young men were killed and counted as guerrilla combatants. In total, 1,750 members of the army have been implicated for their part in the killings.
As restitution, the victims have asked for a pardon for those killed that is made public on the institution's websites, a book that recounts the stories and a public monument in Soacha. Idali Garcera, mother of Diego Tamayo, also had her chance to speak on her expectations of justice.  "I would like the high-ranking commanders to be here," Garcera told a packed courtroom, "Those who ordered them to commit these acts. I hope I'll receive the full truth from everyone",
Despite the trial being of 14, one official had been singled out for much of the media coverage. Former General Gabriel Rincón Amado was head of operations of Mobile Brigade 15 and, after having been sentenced to 46 years in prison for his pivotal role in the killings, Rincón Amado's case has been transferred to the JEP.  
Just after 3pm, Amado himself spoke: "I ask for forgiveness from all the victims of the armed conflict. What was done should never be repeated."
Another soldier Geiner Fuerte Billermo also showed remorse in his statement though he was the only soldier not to accept responsibility for the killing : "I apologize, with all my heart and the deepths of my soul, if I have committed any fault or mistake with a decision I have made, I ask for forgiveness from Colombia, Soacha society and the Army for those whose bad decisions affected the name of the institution."
The JEP, fully known as Jurisdicción Especial para la Paz in Spanish, is a special Tribunal set up by the landmark peace accord between the Colombian government and the Marxist guerrilla group FARC. The Tribunal will have open hearings of crimes committed by either side of the conflict in exchange for more lenient sentences. Such sentences, however, will not apply to grave crimes for which amnesties are unavailable.