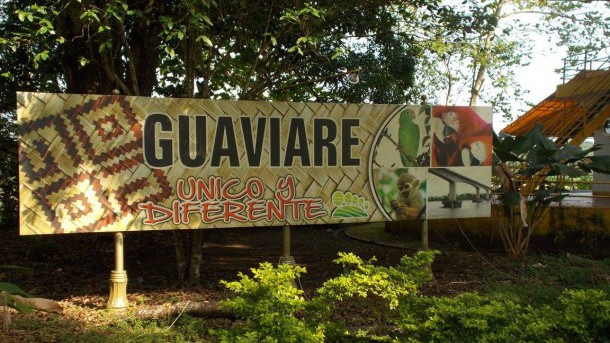 Undiscovered jungle, isolation and violence define the little-visited region of Guaviare, although Greg Haugan discovers it has plenty for the careful tourist
---
San Jose del Guaviare is not a typical destination for a Semana Santa visit, or really for visiting at any time, unless you are taken there by necessity – the area is a hotbed for coca cultivation, trafficking, and guerrilla activity. Putting my faith in the hands of a local tourism project, a man named Javier I had only corresponded with through email, I was trusting that there was indeed something worth seeing. I soon discovered during my three-day stay, the tourist infrastructure in Guaviare is surprisingly developed given the circumstances.
I was there with fellow The Bogota Post writer Oli 'Lord of Beards' Pritchard – imagine a metal fan of sizable stature dressed like a bearded Indiana Jones with long, Barbie Doll hair and you'll get a pretty accurate picture. Chuck me, a blonde, blue-eyed American who stands at 1.63 metres on a good day, into the equation and we make an odd pair of travellers, bound to draw some attention. Indeed, our stay started with a drink at a tienda-style bar off the city's central plaza, where we immediately drew interest, both from locals – who were immediately suspicious and not-so-subtly moved tables to distance themselves from us – as well as from more friendly patrons, eager to strike up a conversation.
The following day, after checking in with the tourism police who updated us on the local security situation, we met up with the aforementioned Javier, from the ecotourism project outside of town. Playa Güio is a cooperative of former coca growers that now host tourists in basic cabañas next to the Caño Negro, a small stream, bursting with biodiversity. The accommodation is basic, with solar panels that provide a few hours of light at night, but are not capable of charging a cell phone. At Playa Güio, the sounds of the jungle accompany visitors through the night, and roosters and howler monkeys wake them early in the morning.
Through the cooperative, we visited the local attractions. Our first day entailed a canoe ride down the Caño Negro into the Laguna Negra, where we swam, admired the staggering variety of birds and a few leaping monkeys, before spending the evening fishing for piranha. The area is, with absolutely no exaggeration, the stuff that bird watchers can only dream of.
The next day we found ourselves in a taxi bouncing down dirt roads across some 30km to the ancient cliff paintings an unknown group of pre-Columbian indigenous people left at the rocky site of Nueva Tolima. On the way back, we saw Ciudad de la Piedra, the remains of an ancient coral reef, now oddly isolated hundreds of kilometres from any sea, that resemble the archaeological ruins of some ancient Lovecraftian city. We then stopped at some natural pools and saw other strange rock formations, including La Puerta de Orion, an impressive stone arch with views of the surrounding llano landscapes. We returned just before dark and enjoyed a simple fish dinner before retiring early for the night – while there's plenty of nightlife in the middle of the jungle, it's not for humans.
Our final day presented us with our first real logistical problem of the trip and our first encounter with security concerns. We were told that there were no security issues with visiting the cliff paintings at Cerro Azul, some 25km from Playa Güio down another rough road, but we received mixed reports about the situation for visiting the paintings at Raudal del Guayabero, just five or so kilometres further on, where our guide told us he was briefly held by an armed group he chose not to name about a year ago, and is now unable to return. The two sites are so near to each other that it would have been a shame not to see both, and if we'd visited only Cerro Azul we would have returned at midday, likely wasting the second half of the day with nothing to do. After consulting with the cooperative, we decided to visit Cerro Azul and then proceed to Raudal, stopping to announce ourselves to locals along the way and request advice and permission to continue on to our destination.
We ended up with no regrets regarding our course of action. It's a tough, sweaty, uphill hike to Cerro Azul, but the paintings and views from the top are impressive. Hot and literally dripping with perspiration, we enjoyed a short cool-off as we trudged through a cave, flashlights in hand and bats darting about. We eventually came out on the other side to a spectacular panorama of the llanos stretching out at our feet and commanding views of the Serrania Lindosa, a series of plateaus that creates a dramatic picture set against the flat plains of the Guaviare and Meta departments.
Continuing on to Raudal, it might just have been my imagination but our vehicle appeared to be met with suspicious stares from the riders of passing motorcycles, and we were no longer greeted by the friendly honks of passing vehicles that met us along the other roads we had traversed during our journey. Yet upon entering the village, which houses the remaining 20 residents of what we were told was once a much more prosperous town, we spoke to the president of the village association, who assured us that our presence was not a problem and offered to personally take us along the river to the site of the paintings.
We climbed aboard as he powered the motor on the wooden canoe that took us upriver, a short journey with stunning scenery. Even now in the dry season, when the river's waters are low, we could feel the power of the current as we sped through the river canyon and took in the views of the cliff sides, keeping an eye out for river dolphins. Getting to the paintings requires a short walk up a steep hill on the property of a not-so-friendly farmer, but the paintings are massive and definitely worth the journey.
Upon our return to Raudal, we knocked back a couple of warm beers at a small tienda and chatted with the owner, a woman named Disney, who has lived there her entire life. Talking to her and our jeep driver, we learned that two decades ago, coming to Raudal for lunch and a few beers was a typical Sunday outing for residents of San Jose, and fish restaurants lined the river. This is no longer the case and no one needs to say why – for years the town has been caught in the crossfire of the Colombian conflict and the violence accompanying the drug trade. The jeep driver estimated that it had been 15 years since his last visit.
Overall, Guaviare left a good impression on us. It certainly has more sites to see than we'd thought, and they are unexpectedly interesting. Due to visiting during the dry season, we still didn't see it all – the guides at Playa Güio raved about the waterfalls that begin to run when the rains come and from June to August an area known as Tranquilandia hosts the same colorful algae found in the well-known Caño Cristales river, only Tranquilandia is much cheaper and easier to get to.
Yet visiting Guaviare comes with two important caveats. The first is security: while we encountered no real problems, the situation at Raudal del Guayabero was difficult to assess, and it was clear that any questions beyond "Is it okay for us to be here?" and basic small talk weren't welcome. Travelling in Guaviare requires being the type of tourist who can stay within the lines, listen to advice, and take recommended security precautions. Such precautions include travelling with a guide. If you're the type of traveller who thinks that hiring a guide is beneath you no matter the situation, Guaviare is probably not a destination for you. Without being accompanied by a friendly face known by the locals, you could be confused for a member of an intelligence agency, and that would be a very bad thing.
A high level of Spanish is advisable too, if for no other reason than to explain yourself to local police and national security forces, who may be understandably suspicious of the intentions of your visit. Perhaps even more importantly, this does not strike me as a place where getting into conversations about politics or asking specific questions about the guerrilla is a good idea. During my three days here, I heard the phrases "public order", "irregular groups", and "complicated situation" used frequently, but I never once heard anyone specifically say "FARC" or "guerrilla". I don't think this was a coincidence.
The second caveat is the cost: despite being far-out and underdeveloped, tourism here isn't cheap. A three-day, four-night trip topped a million pesos between the two of us. As tourism in the area is still developing, several of the sites we visited required paying local families whose properties hosted the sites, and our guides at Playa Güio weren't always 100 percent clear on how much this would cost. Similar situations popped up a handful of times, sometimes ending up in our favor, but usually not. It's worth pointing out that a few more people with us wouldn't have increased the total costs that much, so travellers in groups should save a lot more.
We've all met the type of traveller who will fight tooth and nail over prices that differ by any amount from what has been originally stated. To me, it seems that such attitudes would not only put tourists in an awkward position in Guaviare, but might have serious potential for harming local projects still in their infancy stages. It's important to remember that this is a region that has long been abandoned and abused, that not everyone here has entirely friendly attitudes towards Colombians from other parts of the country, let alone foreign travellers, and that convincing locals that tourism constitutes a viable industry here is still going to take some work.
At the risk of overstating the gravity of the situation, petty arguments with locals over a COP$30,000 vs COP $25,000 entrance fee might not just harm the development of regional tourism, but could end up being an impediment to peace in Colombia. On the other hand, the sustained arrival of tourists who are respectful, show interest in the region and its people, and are willing to pay a little extra could go a long way towards changing long-held negative attitudes towards integrating the region with the national government and the formal economy.
Want to visit Guaviare?

Sanjosedelguaviare.travel has excellent information in both English and Spanish to help with logistics. From Bogota, you can fly to San Jose del Guaviare with Satena airlines, or take a 10-hour bus ride with Flotas Macarena. Contact Playa Guio in advance to ensure room availability and to verify the sites that can be visited, keeping in mind security conditions on the ground and weather conditions. Phone: 317 2299292, Email: [email protected]
---
Greg Haugan has been living in Colombia since October 2008. Including Guaviare, he has visited 27 of Colombia's 32 departments (and lived in two). He is currently finishing his Master's in Economics at the Universidad de Los Andes and is a teacher at the Universidad Externado de Colombia.