As shops and street sellers in Bogotá gear up to meet the festive season head-on, The Bogotá Post asked the team for their recommendations on what to buy for your nearest and dearest. Wherever you are spending Christmas, check out our comprehensive guide to the traditional and the not-so-traditional, set to force a smile from that difficult-to-please relative
---
Something quirky
Galerias and Calle 53: Galerias is home to some great woodwork shops and workshops. For a small fee, you can get personalised photo frames, boxes and letters which make for an original Christmas present. Items are generally not too heavy, meaning that you can fit several in your suitcase without worrying about extra baggage charges!
Citywide: Look out for special edition aguardiente bottles that will make a perfect present for someone who may not have been introduced to this Colombian delicacy. Even if they don't especially take to the drink itself, the bottle is special enough to keep as a memento or to use as a cool vase.
In and around Las Pulgas de la 26 (on Sundays and festivos): This flea market has some really great gift ideas. Not only is each stand original and packed with interesting trinkets, bargaining is welcomed and you really will be able to shop for the whole family. Gifts range from door hangers to beautiful fabrics and well-worn books. My personal favourites are the old bus signs which are a true piece of local history (around COP$25,000). Get them quick though – the new SITP bus system means that these are becoming harder to find – and they are an authentic gift which will be a talking point for years to come.
---
Typical gifts
Pasaje Rivas, Calle 10 #10: A truly hidden gem – and a crafty paradise – in the heart of Bogotá. In this handicraft-filled market you will find everything from the traditional Vueltiao or Aguadeño hat, Wayúu hammocks or woven mochilas.
La Pajarera, Calle 11 #10a: This three-storey building is always bustling with a mix of locals selling jewellery and other trinkets. The perfect place to find a nice present for your friends and family.
Monserrate: Aside from being a tourist hotspot, Monserrate also is home to a handicraft market. This little passage offers a mix of crafts and religious items, set to please any good Catholic. You can also find artisan liquors aged with local herbs. Although they don't look appetising, they are definitely worth trying.
Paloquemao, Calle 19 #25-02: If food is your thing, this is the place to stock up on gastronomic specialities. Walk around and try the dishes on offer, buy delicacies like Bocadillo Veleño or organic coffee, and if you're feeling ambitious, grab some Colombian fruits and make your own jammy gifts.
By Linda Gómez
---
Sharing the luxury
For my international friends, those everyday things they miss from home – whether it's cheese, chocolate or tea – now make a great luxury gift. And it's a great time to share your favourite traditions with your Colombian friends too. Getting your hands on imported goods is easier, if not cheaper, with every passing month.
For a pretty penny, you can buy Cadbury's and Hershey's chocolate in Carulla and Panamericana. But why waste your cash on imported stuff when the folk at Lok chocolates are producing a quality Colombian chocolate that's cheaper and tastes incredible?
Not only are Lok fairtrade and organic, they do cocoa and coffee too.
When I stopped in at Gastronomy Market a few weeks ago, they had a growing display of hampers, plus wines, chocolates, spices and all kinds of luxury goods.
You will find everything you need to make your own garam masala – or other spicy gifts – at Paloquemao or around Calle 10 and Carrera 14 – plus dried fruit for mince pies and Christmas cake. If you don't want to bake your own, why not go Colombian with their baked good hampers?
Books are always a reliable gift staple. Some good options for English classics include Lerner Books, Taschen, La Madriguera del Conejo, Wilborada 1047 and Luvina. Plus the team at bookworm.com.co have a great range of books that they deliver throughout the country, and are opening a showroom on Calle 138 #10a-84 throughout December from 10am-8pm.
By Emma Newbery
---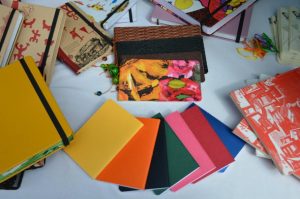 Gifts for those hard to buy for
Ricardo Corazón de Papel, Calle 20 #3-29, La Candelaria: Ricardo's notepads are handmade at his bookbinding workshop in La Candelaria, using recycled paper. Designs vary on a monthly basis and are all created by local Bogotá artists. If you ask nicely they will even gift wrap for you!
Innovo, Calle 69a #5-59: As well as being a great place to pop in for a quick coffee break, Innovo is also home to a gift shop. Funky jewellery and quirky household goods are just some of the gifts on offer.
Expoartesanias, Corferias, December 4-17: What's that you say, all of Colombia's handicrafts under one roof here in Bogotá? Entry tickets are $17,000 for this two-week long fair held in Corferias' various pavilions. Food and drink, typical Colombian handicrafts and jewellery are just some of the wonders on offer – but take cash with you, most stallholders don't accept card payments.
If the craft fair inspires you to try your own hand, there's plenty of supplies and inspiration on Calle 53. Or try making your own advent calendar by filling 25 small paper bags with sweets, marking each with a number and clipping them to a piece of string.
I'm also a fan of Las Pulgas de la 26 where you will find something for everyone.  Clay tableware from La Chamba, copper candlesticks and military paraphernalia are just some of the items you will stumble across.
---
Bogotá Rucksack Project
The season for giving doesn't have to stop with your family and friends. There are many NGOs and charities active in Bogotá, and many people in need.
Gina Shergold got in touch with us about the Bogotá Rucksack Project, a worldwide movement that aims to help those sleeping rough by distributing rucksacks containing items such as warm clothes, food and blankets.
She says "Anyone can help with this mission, because the project is not about one person trying to do a lot, but about the many, each just doing a little to make a big difference in the world."
Search for the group on Facebook and join the 200 plus people who are hoping to help.
---