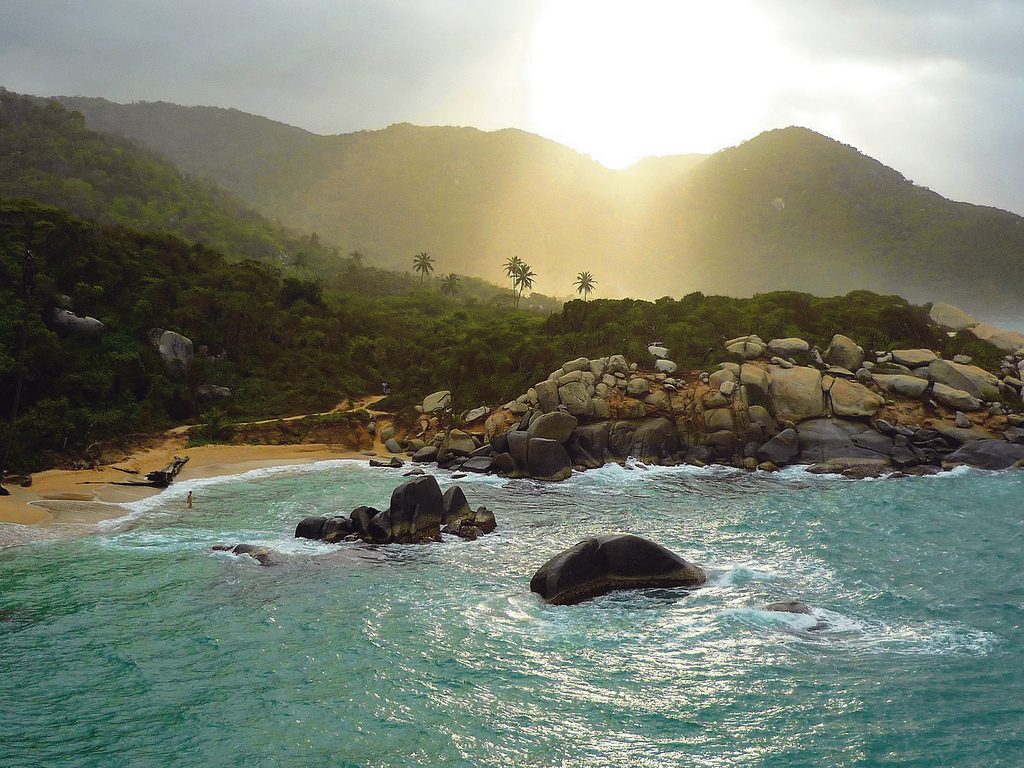 Nine exclusively Colombian rhythms have been declared Cultural Heritage of the Americas, thanks to a tourism campaign run by ProColombia, the government entity in charge of tourism, foreign investment and non-traditional exports in Colombia.
The campaign, 'Colombia, Tierra de la Sabrosura', which launches this Sunday, 22 April in Washington DC, tells the story of 12 different destinations across the country through music.
Each destination, or region of Colombia, represents a different musical genre. Spanning from North to South, the journey starts on the island of San Andrés, crossing the sea to the Caribbean coast and the cities of Santa Marta, Barranquilla and Cartagena. It then spans to the west, to the Pacific coast and across to the city of Medellín, with a quick detour to the beautiful countryside of Santander. Winding down further, we reach the coffee region, before travelling to Bogotá and the Llanos Orientales. The last stops on this musical tour of Colombia are the city of Cali, followed by the most southerly rainforest region of Amazonas.
From the Caribbean, folkloric rhythms such as cumbia and vallenato have been recognised as part of the Cultural Heritage, along with Afro-Colombian mapalé.
httpa://www.youtube.com/watch?v=z5trCPFeq3c
CUMBIA – Totó La Momposina: 'Yo Me Llamo Cumbia'
Out of all of the genres, vallenato is perhaps the most popular in Colombia. It has been popularised thanks to national treasures such as Carlos Vives, who has integrated it into the pop scene through collaborations with reggaetón artists. In fact, the importance of preserving vallenato had already been recognised, when UNESCO named it an Intangible Cultural Heritage in 2015. Cumbia is also popular throughout Colombia, featuring heavily at annual folkloric celebrations such as Barranquilla Carnival.
httpa://www.youtube.com/watch?v=Nmb80HXWsFQ
VALLENATO – Carlos Vives: 'La Gota Fría'
As a genre, mapalé remains still true to its origins on the Caribbean coast. In recent years, it has also become somewhat a tourist attraction in cities such as Cartagena, where visitors gather to watch the dancers and listen to the live music.
httpa://www.youtube.com/watch?v=mobatN0G23M
MAPALÉ – Totó La Momposina: 'Prende La Vela' 
httpa://www.youtube.com/watch?v=LRXTIjYFNrw
Mapalé en Cartagena de Indias.
From the Pacific, rhythms that stem from the marimba instrument (similar to a xylophone), such as curralao, and folkloric dances from Chocó like berejó and contradanza, have also been given Cultural Heritage status.
httpa://www.youtube.com/watch?v=M2yYd8YFzfo
CURRALAO – Grupo Bahía: 'El Curralao Me Llama'
httpa://www.youtube.com/watch?v=oChC_4KoQZw
CONTRADANZA
Pop groups that have taken inspiration from their Pacific heritage include family group Herencia de Timbiquí and Chocoans ChocQuibTown.
httpa://www.youtube.com/watch?v=BuBrF_npl_g
Herencia de Timbiquí: 'Amanece'
httpa://www.youtube.com/watch?v=reB4YLs-49U
ChocQuibTown: 'Somos Pacífico'
From the Andean regions of Cundinamarca and Boyacá, folkloric and more campesino genres that have been given Cultural Heritage status often include traditional dances, such as bambuco and torbellino. However, the reality is that in the big metropolitan cities of the region such as the Capital Bogotá, popular music is more urban, featuring lots of reggaetón and artists from around the world.
httpa://www.youtube.com/watch?v=ShwUxwn6b28
BAMBUCO – Trio de Cámara Colombiano: 'Facativa'
httpa://www.youtube.com/watch?v=WPxVorsRQrU
TORBELLINO
Other Amazonian rhythms were also given special status by the Organisation of American States, whose aim is to "preserve their legacy for the Americas and the world", according to Colombian Ambassador to the United States, Camilo Reyes, in conversation with Billboard magazine.
In keeping with the idea of capturing the essence of multiple regions of the country, the campaign's theme song 'Sabrosura' features paisa sensations Sebastián Yatras and Piso 21, costeña stars Maía and Martina la Peligrosa and Pacific-born Alexis Play and Herencia de Timbiquí. Speaking to Billboard, ProColombia president Felipe Jaramillo explained that in Colombia, "people not only listen to music, but live through it", and that the purpose of the campaign is to "sing to the world the reasons why to visit Colombia's multiple destinations".
http://www.youtube.com/watch?v=5ZZmGoG7_Yw
Sebastián Yatra – SABROSURA – Piso 21, Maia, Martina La Peligrosa, Herencia De Timbiquí, Alexis Play:
Swing, flow, smiles, beat, good vibe… Is the word sabrosura impossible to translate? The campaign cleverly and indirectly incorporates this puzzle into its message, describing the word as "the mysterious force that makes Colombians absolutely unique, and the only way to understand it is by experiencing it on your own".