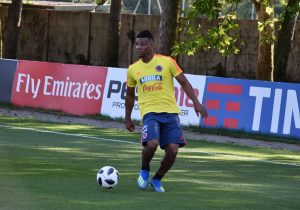 Frank Fabra has been ruled out of the World Cup following an injury to his left knee that he incurred during training yesterday. The 27-year-old left-back was due to make his first World Cup finals appearance for Colombia but relayed the tragic news that he had torn his anterior cruciate ligament, ruling him out of the competition that is due to start next Thursday.
Posting on Instagram that "there was only one purpose, to be part of this global dream, to fight, to work hard and to improve what I was doing every day. And today my heart is broken into 50 million pieces…", Fabra went on to thank his fans, family and support staff.
Fabra was a zippy talent that was expected to be in the starting 15 against Japan, Colombia's first group game in the tournament which will be on June 19. Fabra made his starts at Colombian clubs Envigado and Deportivo Cali before signing up for a spot in the Argentine Primera División with a 3-year-contract for Boca Juniors.
He made his debut for Colombia in 2015 and was expected to achieve great things with a hotly-favoured Colombian side.
Colombian goalkeeper David Ospina, who had been at the training session when Fabra injured himself, said to El Tiempo that "the first goal will be his recovery. He has a future ahead of him and we continue to focus on the great objectives we have for him, for the country and for the families."
At this stage no replacement has been announced though many have suggested Farid Diaz as most likely to take Fabra's place in Russia.