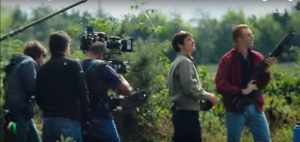 A new law being proposed before Congress threatens to strip benefits for foreign films shot in Colombia. The law proposes changing an amendment added in 2012 to an existing law that funded Colombian cinema. The amendment intended to bring in more foreign filmmakers into the country and the tax advantages were attractive enough for major Hollywood studios to have their films shot in Colombia. In recent times, films shot here have starred Charlize Theron, Nicolas Cage, Mark Wahlberg, Will Smith, Javier Bardem and Penélope Cruz.
Since the new changes were proposed earlier this month, Colombian filmmakers have expressed their frustrations over the possible effects on the local film industry. The move to remove benefits for foreign filmmakers came as a surprise to the industry as it appeared at odds with President Duque's promise to prioritise the 'orange economy'; the industries based on creation and innovation.
"The law not only energised the cinema industry but also had effects on other services like hotels and transport," filmmaker Pablo Gonzalez told The Bogotá Post. Gonzalez had just finished speaking at a panel in Berlin promoting Colombian short films, and the consensus on the panel–which included Bogoshorts director Jaime Manrique–was that the proposed changes would be detrimental to the film industry.  "The law also helped professionalise our industry," Gonzalez added, saying that it served the country well to have more experienced filmmakers to learn from. "They have a much more advanced way of doing things and this would help our industry as well. They'll definitely not be coming to Colombia if the law is changed."
Shooting in Colombia has been an inviting proposition for many filmmakers given its relative safety and opportunity for diverse locations within the country. The first three seasons of Netflix's Narcos were shot in the country and were considered commercial successes on their release. Given rising violence among drug cartels along the US border, Colombia is also now being seen as a 'safer alternative' to shooting in Mexico.
In addition to threatening future foreign films, new changes might also affect local production as the government will also be looking into establishing a value added tax (VAT) on movie tickets which could affect ticket sales and also threaten important local public funds for cinema like Fondo de Desarrollo Cinematografico (FDC.)
Both FDC and Proimágenes are vital financial lifelines that sustain much of local cinema. The funds were responsible for energising the local film industry, taking the total number of films from four films in 2001 to around 40 this year. This year alone has seen an investment of around 143 billion pesos into the local economy from foreign films. The funds were also credited for having improved the quality of the films, culminating in Colombia's first Oscar nomination with El Abrazo de la Serpiente in 2016.