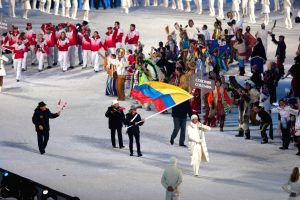 A record four Colombians will make their Olympic debuts in the 2018 Pyeongchang Winter Games that begin Saturday.
This is the first time the country has sent multiple athletes and only the second time that Colombia has been represented in the Winter Olympics. Skier Cynthia Denzler carried the yellow, blue, and red flag through the 2010 games in Vancouver, Canada where she competed in that year's giant slalom and slalom events.
Colombia is one of just eight Latin American nations present at the Pyeongchang Games that conclude on Feb. 25.
In this year's Olympics in South Korea this quartet of Colombians will be participating in speed skating and alpine skiing:
Pedro Causil, speed skater
The 26-year-old skater from Cartagena will debut Monday, Feb. 19 in the 500-meter speed skating finals and then have a second chance at medaling on Friday, Feb. 23 in the 1,000-meter finals.
Causil comes to South Korea already being heavily decorated as a roller skater. He won gold in the 200-meter World Speed Skating Championship in 2013 and has won multiple medals at the Pan American Games. In all, he has won nine roller skating world championships. Causil is the first men's speed skater from South America to qualify for the Winter Olympics.
Desfile de nuestros embajadores en #pyeongchang2018 #COLxMás #COC #COL pic.twitter.com/31dbjGJ2xX

— Comité Olímpico COL (@OlimpicoCol) February 9, 2018
Laura Goméz Quintero, speed skater
Also a trained roller skater, Goméz incredibly qualified for the Olympics despite taking up speed skating just six months ago. Though this will be the 27-year-old's first major competition on ice, she began roller skating at the age of three and has represented Colombia in world championships in her traditional sport.
"To be in Korea is a super surprise," Goméz is quoted as saying on the official Olympic site. "It is cold. It is horrible because we are used to the summer all the time but this is the real winter and we are at the winter Olympics."
Goméz will have all her events on Saturday, Feb. 24 as she competes in two semifinals and a final in the new mass star category of speed skating.
Michael Poettoz, alpine skier
The Caleño who grew up skiing in France is the first Colombian-born athlete to qualify for the Winter Olympics, as Denzler was born in the U.S. despite later earning Colombian citizenship. He was also the first Colombian to ever participate in the Winter Youth Olympics, where in Norway in 2016, he finished 35th in the giant slalom.
Aged 19, Poettoz is by far the youngest of Colombia's athletes in Pyeongchang. He will compete on Sunday, Feb. 18 in two giant slalom events and on Thursday, Feb. 22 in two more slalom races.
Sebastián Uprimny, alpine skier
More than twice the age of Poettoz, the 42-year-old Uprimny will be taking part in the cross country race in his lone event on Friday, Feb. 16. The elder statesman of the group is realistic about his slim medal odds, but told the Colombian Olympic Committee that he wants to improve on his times and make his native Colombia proud.
"You have to be realistic and know that we're going against the best in the world," Uprimny told the committee's official site. "It's a very demanding competition and I will give it my all."