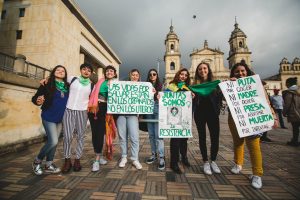 After much argument inside and outside the Constitutional Court, Colombia's highest court on constitutional issues has maintained the status quo on abortion rights. The decision related to whether a woman's right to abort her child, which can currently occur at any stage of the pregnancy, should be prohibited where the foetus can survive outside of the womb (around 22-24 weeks).
The question had initially been brought before the court by Constitutional Court Judge Cristina Pardo, who argued that a foetus is viable at 24 weeks and should therefore be afforded the rights of any natural human.  By a margin of 6-3, however, the court held that its 2006 decision–one in which abortion was legalised in limited circumstances–would remain as it is and that no time limit would be placed on mothers requesting a legal termination.
The right to an abortion is currently restricted in Colombia to limited cases; where the pregnancy endangers the health of the mother; where the foetus suffers from an abnormality incompatible with life; or in the cases of rape or incest.
Despite being a highly divisive issue, the adoption of time limits for abortion do not fall cleanly along liberal and conservative lines. Time limits are accepted by conservatives so as to restrict abortion rights but by liberals as well, many of whom believe that once a child can survive outside the womb, it can only be terminated if it endangers the health of the mother.
Marcha por la Vida: Pro-Life NGO organises national protests against abortion
Many countries that have legalised abortion have limits for women wishing to pursue a termination in the third trimester. Within the US alone there exist a myriad of time limits where even liberal states like California and New York prohibit abortions after 24 weeks.
The position in Colombia, however, is somewhat more complicated given the delays involved in establishing the legal grounds for abortion. Many legal hurdles are faced by Colombian women in attempting to seek out lawful terminations and some are dissuaded by medical personnel when doing so.
A recent case involved a woman who had established that her child suffered abnormalities but faced repeated delays, including confronting a clinic that refused to abort the foetus and being required to undergo psychiatric evaluation prior to the abortion. Her legal right to an abortion had only been established by the 24th week.
Dissenters like Judge Pardo, however, argued that this case was a reason to introduce reasonable limits, as aborting a foetus on the basis of foetal abnormality is counter to laws on discrimination. "[T]he idea that a foetus with abnormalities is a burden for the parents to suffer is the result of social discrimination against people with disabilities, which not only attacks the dignity of those with disabilities, but also attacks the Constitution and its principles," Pardo said.
Meanwhile, Colombia's equivalent of Planned Parenthood, Profamilia, welcomed the decision, tweeting that "today the Court ratified the right to choose for women in Colombia. Now we need a commitment to eliminate barriers so that no woman dies from unsafe abortions."
Given the metaphysical complexities of the subject and the continued dominance of Catholic doctrine in the country, abortion remains a hot-button issue in Colombia with many women unable to meet the legal standards for procuring a lawful termination. Last night's decision is unlikely to have settled the issue, even if the Constitutional Court has settled on keeping things as they are.
Correction: An earlier version of this article incorrectly labelled the protesters in the featured photo as 'pro-life' when in fact they are 'pro-choice' demonstrators.