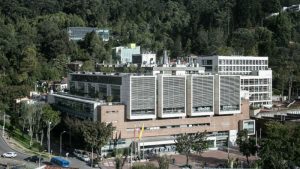 Colombian university Universidad de los Andes remains one of the continent's top universities, according to a recent Times Higher Education report. Appearing at number eight on the list, the private university in Bogota remains the best in the country despite slipping three places from its 2017 ranking.
The list is heavily dominated with universities from Brazil, Chile and Argentina with the next highest-placed Colombian university being Universidad de Antioquia, placed at number 20.
Brazilian universities accounted for six out of the top ten with State University of Campinas–near Sao Paulo–maintaining its crown as the best university in Latin America. Argentina also performed well with all seven of its institutions making it onto the list of 129 universities.
With around 16,000 students, Universidad los Andes scored highest on its research output and influence: measured in the number of citations its academics get. The university has nine schools: Medicine, Science, Engineering, Law, Economics, Social Science, Arts and Humanities, Business Administration, and Architecture and Design. Its notable alumni include former Medellin mayor Sergio Fajardo and former president César Gaviria.
In compiling its rankings, The Times Higher Education report relied on data that judges the institutions across five categories, namely teaching (the learning environment), research (volume, income and reputation), citations (research influence), international outlook (staff, students and research) and industry income (the transfer of knowledge).
The data is submitted by the universities themselves and some choose not to participate in the process. Latin American universities still remain low on global rankings though Colombian universities have seen a surge overall.
The list of the top 10 universities in Latin America are:
Universidad Estatal de Campinas (Brasil)

Universidad de Sao Paulo (Brasil)

Pontificia Universidad Católica de Chile

Universidad Federal de Sao Paulo (Brasil)

Instituto Tecnológico y de Estudios Superiores de Monterrey (México)

Universidad de Chile

Pontificia Universidad Católica de Río de Janeiro (Brasil)

Universidad de los Andes (Colombia)

Universidad Federal de Minas Geráis (Brasil)

Universidad Federal del Río Grande del Sur (Brasil)