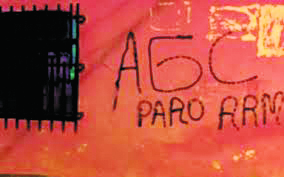 As Colombian paramilitaries continue to threaten rural communities, Emma Newbery reports on the increasing turmoil.
---
More than 200 paramilitaries, wearing camouflage and Autodefensas Gaitanistas (AGC) armbands descended on the small community of Peña Azul in Alto Baudó, Chocó and started firing indiscriminately.
According to a March 4 alert from the Congreso de los Pueblos (rural human rights campaigners), only five of the 28 families who fled their homes have made it to the safety of the nearby town, Pie de Pató. The AGC soldiers clashed with ELN guerrillas already present in the area.
Such reports are increasingly common as the paramilitary presence increases in rural areas, especially in zones vacated by the FARC. Community leaders in districts of Nariño, Chocó, Putumayo, Cauca, Córdoba and Antioquia bemoan the lack of state presence as they face increased incidents of violence, threats and robbery and ask: 'Post conflict, what post conflict?'
The AGC – also known as the Urabeños or Clan del Golfo – are by far the biggest armed group. They formed after the supposed demilitarisation of the Autodefensas Unidos de Colombia (AUC) over a decade ago and have an estimated 3,000 members.
Indepaz, who have been monitoring the presence of armed groups in the country since 2006 said in their recent annual report that there was narco paramilitary activity in 344 municipalities throughout 31 departments last year.
They also reported that the AGC has been consolidating its presence, and that the Águilas Negras have doubled the number of municipalities in which they are active.
Another shocking instance of local residents being forced out by the turf war – as gangs fight for control of regions with coca farming and illegal mining – was in Catatumbo, Norte de Santander. Locals initially tried to block the departure of FARC members, claiming it would leave them unprotected, unsurprising as the region has been hard hit by paramilitary violence in the past, with a reported 333 massacres by the AUC between 1999 and 2006.
On February 9 and 10, reports emerged of hundreds of people seeking refuge in Venezuela, complaining of paramilitary incursions. By February 17, the National Commission for Refugees (CONARE) had registered a total of 402 people as displaced.
Colombia has the highest number of internally displaced people in the world, with over 6.7 million people reportedly displaced during the conflict. Those who thought the signing of the peace agreement would mean some of these people could return home were mistaken as for now at least, the displacement looks set to continue.
---