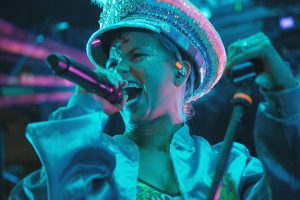 Barranquilla's carnival, the second largest carnival in the world, surpassed only by Rio de Janeiro, kicked off last weekend with feathers, face paint and festivities on display all over the coastal Colombian city.
With the region celebrating an extravaganza of culture, dance and music, we thought we would take a look at some of the most promising Latino artists, who have cemented themselves as stars, not only in Latin America but on the world stage. After all, Shakira, the queen of latin pop, hails from Barranquilla. 
2017 was perhaps the revival year of Latin pop, with numerous artists breaking into the U.S mainstream. On Spotify, global listening to Latin music grew 110%, with 10 different Hispanic singles climbing into the platform's Global Top 50 chart, according to Rolling Stone.
Luis Fonsi and Daddy Yankee's chart-topping single, Despacito, had the whole world singing in Spanish. From Medellin's Parque Lleras, to a New York City cab, to the beaches of the Philippines, the reggaeton-pop track has been played on repeat all year. Thanks to the Puerto Rican's successful collaboration with Justin Bieber, Despacito has become the first Spanish-language single to reach No.1 in the U.S since Los del Río's classic Macarena in 1996.
However, Latin America's world-wide breakthrough has streamed far beyond the success of Despacito.
Colombia's own Bomba Estéreo has had explosive success in recent years thanks to their beautifully chaotic mix of electro-tropical beats and psychedelic cumbia. The answer to their international exposure lies largely in the brilliance of their energetic and empowering music videos. Their track titled Soy Yo, which celebrates individuality, rippled through the US in 2016, along with its feel-good music video featuring a bad ass, self-assured Latina girl owning the streets of New Jersey.
Bomba Estéreo have toured the West Coast, performed at Coachella, Glastonbury, and more. They even joined Arcade Fire on their South American "Infinite Content" tour late last year. Their irresistible tunes and topical lyrics have landed them on the growing list of Latino stars to storm onto the international music scene.
Another artist who has received unprecedented international success is reggaeton Colombian king, J Balvin. His singles, Mi Gente and Ahora Dice have both appeared on YouTube's top 10 annual list, making him one of YouTube's most viewed artists in 2017. After a quick rise to the top of Latin American popular music, J Balvin has since side-stepped his way into the US, with his reggaeton and bachata fuelled rhythms. In fact, his international arrival was perhaps the fastest for any Latino artist, as Mi Gente bypassed Despacito on Spotify's Global Top 50 chart just four weeks after its release last June. With North American tour dates set in the diary for 2018, J Balvin's spicy sound is sure to sign the Colombian star as the next Pitbull, or should I say "Mr. Worldwide".
Venezuelan phenomenon, Danny Ocean, has also charmed his way out of the Latin American sphere and into the hearts of Americans and Europeans. His heart-rending song, Me Rehuso, was named No.1 most-listened track in Colombia, Chile and Mexico but has since entered the international charts, landing in 18th position on the prestigious Spotify Top 50 Global chart list. Once hailed as the "hottest unsigned Latin artist on Spotify" Ocean has now joined Warner Music Group, who will no doubt continue his critically-acclaimed career. With his blend of dance, soca and drum-machine beat, Ocean's music, despite the language barrier has managed to speak to an international audience.
Youtube, Spotify and other social media platforms, have undoubtedly helped these Latino legends land on the US and global stage. The fusion of transcontinental styles is what's dragging everyone to their feet, including newer platforms willing to become a part of this new cultural wave in music. One such platform includes crowdfunding, which has been catapulting its way into new markets, including music. Weeshing, a crowdfunding platform used in Latin America, and the United States, gives users the chance to not only bring certain concerts to life, but even profit from those shows. As Latin music hits US mainstream, tools such as Weeshing will undoubtedly help bring fans and artist closer than ever, increasing opportunities for Latino stars to play and influence fans across borders.