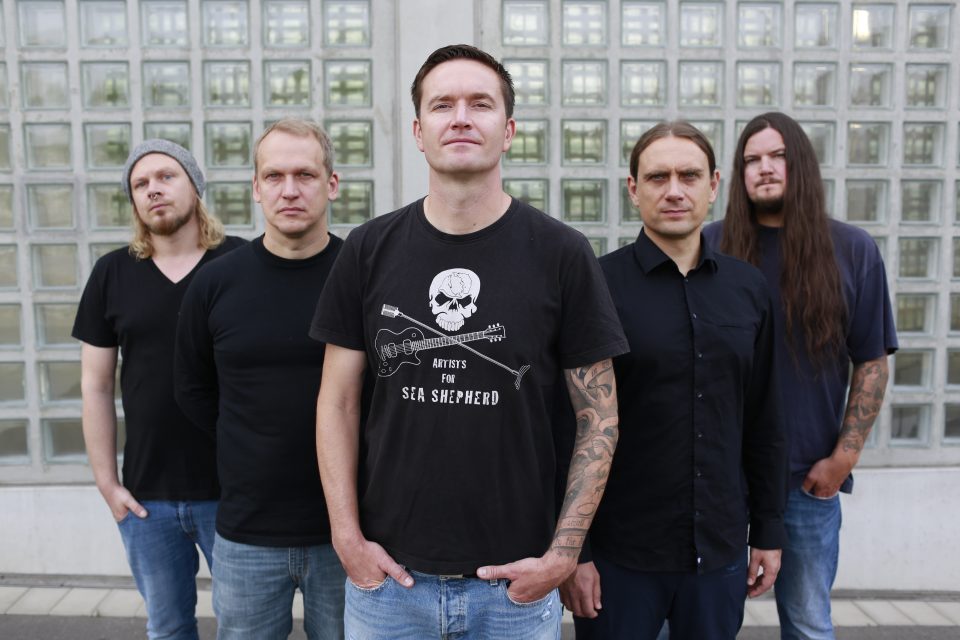 Heaven Shall Burn guitarist, Maik Weichert discusses human rights, FARC re-integration and veganism with Oliver Pritchard, showing that those who assume metalheads are simple couldn't be more wrong.
---
German death metallers Heaven Shall Burn are one of the biggest names at this year's Rock al Parque. With a brutal sound that mixes precision with sheer mind-shredding noise, they're technically excellent. What sets them apart from the crowd are their blistering and socially aware lyrics. Unlike many contemporary metal bands, Heaven Shall Burn are not afraid to tackle big issues head on.
Guitarist Maik Weichert spoke to The Bogotá Post before heading out to Colombia. He's interested in the peace process, explaining that, "from Germany it's always a positive to hear about peace. I'm not deep enough into Colombian life to know everything about the process. It seems to me that there is a big difference between the guys out in the jungle and in the cities." He's curious about the reasons for the 'No' vote and how the process moved forwards afterwards.
Maik's surprisingly well-informed about Colombia. He mentions the phone tapping scandal of 2009 as an example of how we need to be careful about personal liberties. He's a lawyer, specialising in German constitutional law. "The telephone checking, I read about it. I hear a lot about the human rights problems in Colombia. I think there's a big role for human rights in the process." He asks for details on the constitutional court judgment here, shocked that it could affect the peace agreement. "I'm very curious about this. Unfortunately, it's always true that whoever is in power will twist the constitution to suit their needs. That's why we need to watch them carefully."
The Iron Curtain was a part of Maik's life as a kid. Heaven Shall Burn are an East German band, and he sees parallels with the FARC re-entering society. "It reminds me about East Germany. People had to adapt, we had to switch from communism to capitalism very fast. That's what these guys have to do, to come out of the jungle and into another world." He makes the point that things are difficult. "People are aware now that government systems aren't for an eternity. Who knows what could happen next?"
In an era when many are quick to criticise the youth of today, calling then snowflakes or disparagingly referring to millennials as though they were another species, Maik chimes differently. "We played here in 2015 with Parkway Drive. I was really impressed with the kids I spoke to. They were young and interested in our lyrics. That was inspiring and I spent a lot of time in conversation, asking questions. All of those kids seemed to be very well informed. We hear a lot about South America, about enthusiastic parties, and that's cool, but I was happy to find such in-depth knowledge from so many people."
The band are all vegan, an important part of the band's identity. I comment that it's hard to find vegans in a meat-obsessed country like Colombia. "Well, like the political dimension, we like to get these things through the back door", he replies. "Instead of preaching. I don't think that really works, you know? It's not the style we like. The people who mail me, they're interested in the stand we take about animal rights, that's important." When he learns that bullfighting is taking place once more in Bogotá, his stance changes to a slightly more aggressive one: "I hope some toreros are killed then," he says with a laugh.
Almost as an afterthought comes the music talk. He's quick to assure me that it'll be a varied set. "When we play to fans that don't see us every week, we mix in a lot of our hits. Besides Brazil and Argentina, Colombia is one of the countries that we receive most mails from in Latin America. Of course we'll play some songs from the latest album and we give people what they want to hear." The message is clear – fire off some mails to Heaven Shall Burn asap. If you're too late, don't worry – "I'm pretty confident no one will be disappointed", claims Maik, just before we finish the conversation.
---